Was reading the Chinese tabloids recently and one article caught my attention. The owner of Yummy Claypot from Joo Chiat has invested a 6 figure sums to open a high-end Chinese restaurant in MacPherson. I was quite curious who would want to open a high end restaurant in an industrial estate, so I made my way down to take a look.
It's not easy finding this place. The restaurant is located in a new office building called Crescent @ Kallang. The funny thing is that its location Kallang Pudding Road is nowhere near Kallang, but within MacPherson Road. You can park your car along the small road outside of the restaurant. A row of red lanterns will guide you to the main door (above).
Upon entering the restaurant, we know where all the 6 figure sums went to. According to news reports, the owner went to different parts of China to source for antiques and beautiful decorations for his new investment.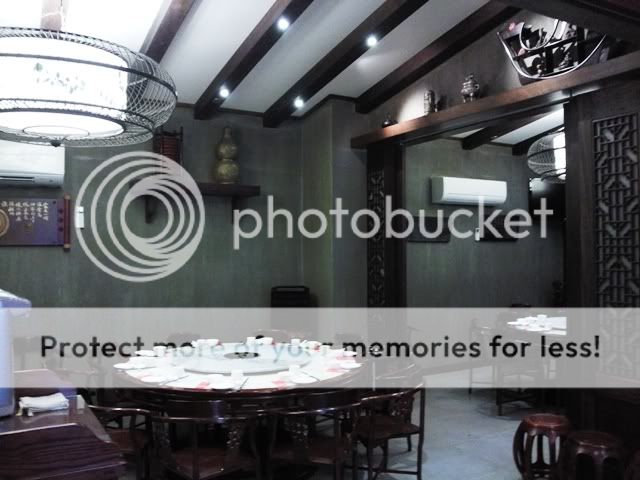 There are 2 sections to this restaurant. On your right is a family round table section.
On your left is the small table sections, perfect for groups of 2 to 4.
The staffs here are really one of the most attentive and most courteous guys for a Chinese restaurant. Although most are mainland China staffs, but their service level is top notched. We were served the Braised Peanuts (S$2) while looking through the menu.
After ordering, the waitress wheeled out a huge black pot. When I say huge, I really mean HUGE! Guess what's inside?
The answer is Double Boiled Pig Stomach Soup (S$38 for one huge pot). This huge pot of soup can easily serve 10 big bowls of soup. But if you can gather 4 to 5 soup lovers, it will be gone in no time. This pig stomach soup, one of their signature and a Hokkien specialty, has a really intense taste and aroma. We can tell that the soup has been boiled for hours and hours in the big pot. A must try.
A whole chicken was stuffed inside the entire pig stomach to make this soup. The chicken meat was still tender when I tried it.
Also had this Sambal Long Beans with Seafood. Beans were crunchy and the sambal had a nice kick.
Tofu lovers will love this Special Tofu Treasure Box with Seafood. Forgot the price, but everyone enjoyed this too.
Yummy Recipes also has another house specialty - Braised Duck with potato and yam (S$16). The braised duck was really smooth and tender, and if I didn't remember wrongly, was also boneless too. Try the meat together with a piece of yam or potato. Another must order.
There is this unique vegetable dish called Double Prosperity Kailan (S$10). It's basically Kailan cooked 2 ways. On the left is the normal garlic stir fry style, but on the right is a special deep fried kai lan. Tasted almost like crispy seaweed.
The last dish we had was the Sri Lanka Crab Baked Rice (S$58). Crab was fresh and sweet, but I find that there is too much minced garlic inside the baked rice. Perhaps a little less garlic would be better. But still, the rice was very flavourful.
品珍私房菜 Yummy Recipes
Crescent @ Kallang
47 Kallang Pudding Road
#01-08