We are big fans of L'Atelier. After trying them out here in Singapore, and also in Tokyo, we thought of going back again to Sentosa. Sad to say, we didn't really enjoy our latest dinner there. In fact, we find it even worse than other non-Michelin stars restaurant.
The signature trademark entrance. A very French design with checkered black and white tiles.
The interior was warm and inviting. Had 2 sets of RWS Invites Member Special (S$138++) and some top-ups here and there.
To start off our dinner, ordered the Bardoit Water (S$9 per bottle)
The bread basket. We enjoyed the buttery rolls which was very flaky.
Started off with the diced tomato starter.
Our 1st ala carte order - Le Jambon : iberico de Bellota ham with toasted tomato bread (S$50). The ham was ok, and portion was just right for 2.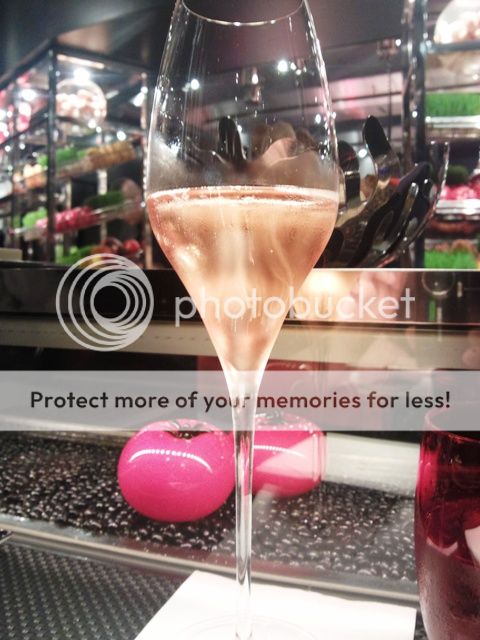 To was off all our food, we had Rose champagne
The chammagne was this Bruno Paillard Brut Premiere Cuvée Rose MV (S$125). Light and fruity.
Amuse bouche : foie gras custard with red Porto wine and Parmesan foam
One of the worst dish for the night was the Le Thon : tuna belly confit on meli-melo with sweet gem lettuce. Tuna belly is not suppose to taste like those that came out from the can right? But here, it tasted exactly like that. Very disappointed with this.
Le Crabe : king crab on thin layers of turnip with sweet and sour sauce. This was ok, some tangy flavours here and there.
La Volaille : chicken tsukune style on a vegetable broth with foie gras. Find the chicken broth very bland.
Le Navet : daikon bouillon flavored with citrus oil (S$25). This soup is one of their recommended dish. Find it not as good as the previous times.
La Morue : fresh cod flakes and brandade with fine herbs. I like the cod fish, tender and soft.
Le Foie Gras : pan seared foie gras with cherries, rosemary and fresh almond. Good job on the foe gras,
Le Bœuf : French style hanger steak with shallots. I guess the skills of the chef was good, just that the quality of the beef was not as good as what we expected.
Creamy mash potato - Their signature sides.
Le Poulet : crispy chicken breast "tonato" style. Basically, it's chicken done in various styles.
La Sphere : coated with ivory chocolate and tangy raspberries, gently melted by dripping warm raspberries sauce over it
La Framboise : raspberry sablé Breton Sicilien pistachio ice cream
Decaf coffee
A Michelin guide judge once said that in order to be promoted from a 2 stars to a 3 stars restaurant, consistency is very important. Under the name of world's most decorated by Michelin star, the Singapore outpost is not consistent. Sometimes good sometimes bad. Though currently there is no Michelin guide here yet, with the vibrant food scene, these establishments, especially under the name of well respected chefs, should position themselves as one. Afterall, the pricing here is positioned to be equivalent or even exceeded their starred parents overseas.
L'Atelier de Joël Robuchon
Hotel Michael Level 1,
8 Sentosa Gateway,
Resorts World Sentosa