It's our first visit to Antoinette. Took some time to find where their main outlet was - It's actually behind Citylights condo located next to Lavander MRT.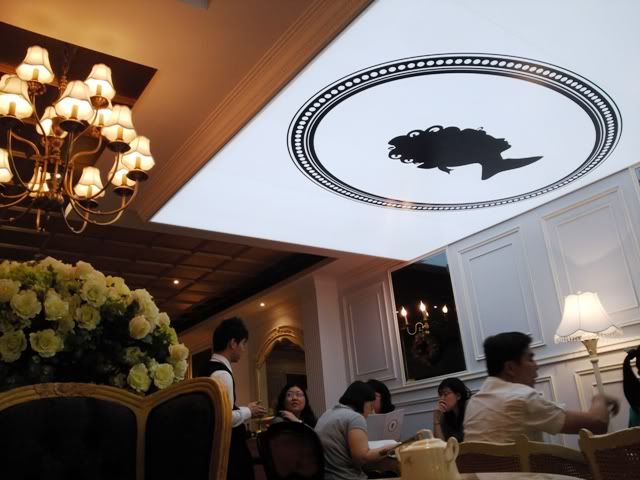 The decor inside Antoinette is quite a contrast to the surroundings. It's located in a shophouse, and the shops outside are mainly small repair shops. Personally, I find the decor quite pleasing to the eyes. It's bright, unlike other French restaurants which tends to look rather dim.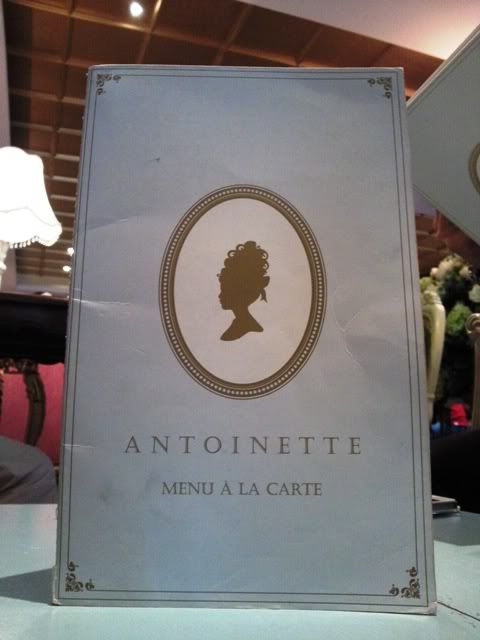 A word on the service here: After returning home, I read quite a few comments on HungryGoWhere. And they all had the same complaints: Service. We ourselves encountered bad services here too. Save for this friendly Filipino waitress, the service from the rest were rather terrible. Especially for one local Singaporean guy who literally "threw" our food on our small table when there were no more space left on our table. I hope Antoinette will retrain their service staffs as the food and dessert is of good standards. Pity about the service though.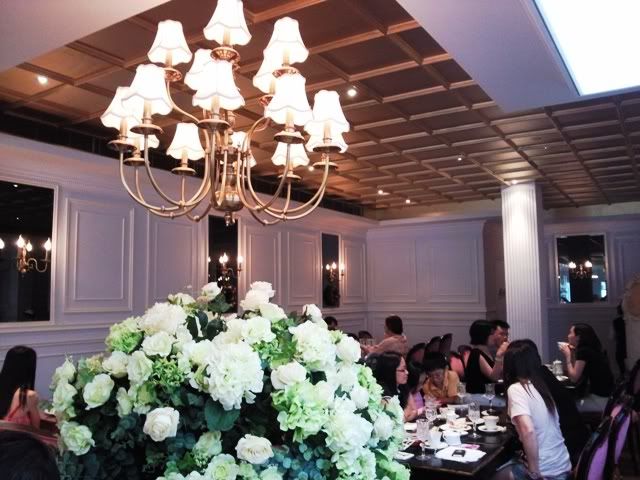 This was taken at around 2pm on a Sunday afternoon. As you can see, it's full house. And only the outlet at Penhas Road allows reservation, and it's strongly recommended.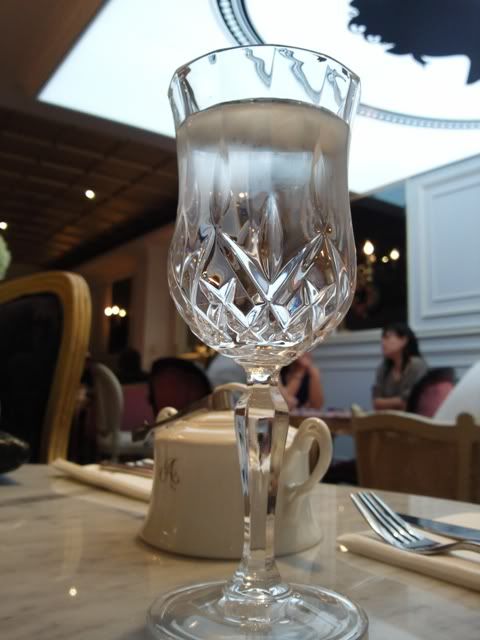 I like how iced water is served in these glass wares.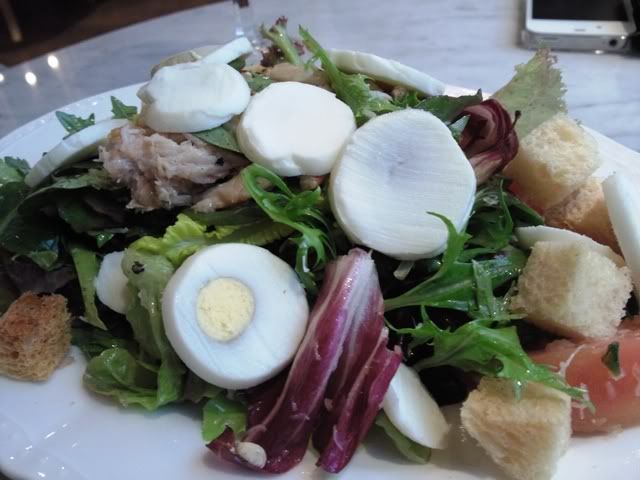 Ordered a salad: Salade Antoinette - Crab Meat, Boiled Egg, Yuzu Dressing, Tomato, Pine Nuts, Toasted Brioche and Mixed Greens (S$14.50). The salad had a citrus and tangy flavour, and the vegetables were fresh and crisp.
This 24 Hours Baguette with Serrano Ham, Emmental Cheese & French Butter (S$14) was suppose to be their signature, but I didn't think the Baguette, which had been allowed to be ferment for 24 hours, was really that exceptionally good. Rather average.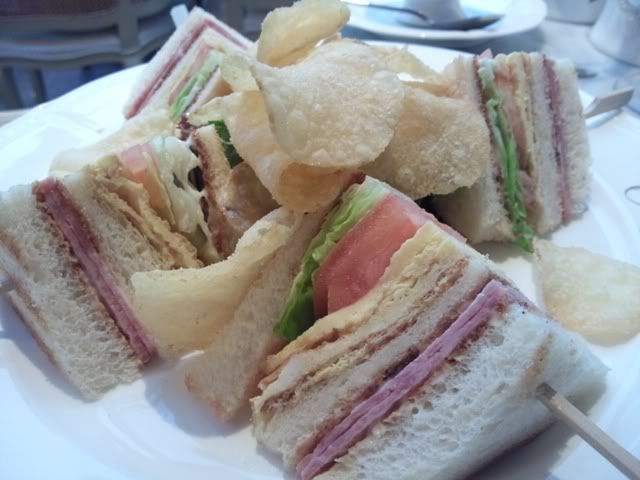 On the other hand, this Club Honey Baked Ham (S$15) - Pain de Mie toast, honey baked ham, omelette, mayonnaise, tomato, potato chips, fresh lettuce and petit salad with house dressing, which used your typical white bread, tasted much better. Perhaps due to the fillings.
As it was tea time, we selected 3 types of tea - Lapsang Souchong Imperial (S$9), The'de Porcelaine Rose (S$9) and Ange de I'himalaya (S$8). We enjoyed the light taste of the tea, as they went well with our food and later on, our desserts.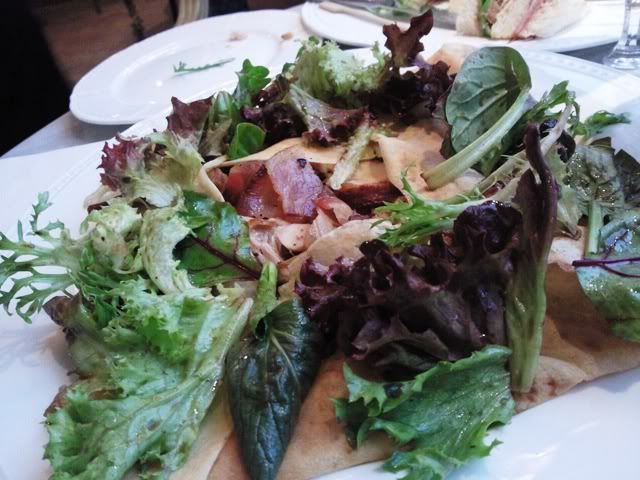 Savoury Crepe Concorde (S$18.50) - Roasted Chicken with Bacon and Creamy Morel Mushroom Sauce served on the side. On first look, this looked like a salad dish, but it's actually quite substantial. The mushroom sauce went well with the succulent roast chicken.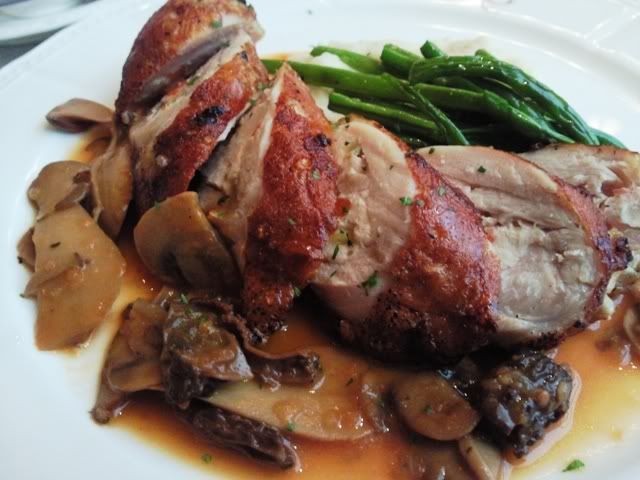 The last mains we had was the Ballotine de Poulet a' la Grandmere (S$26) which means Grandmother's style styffed chicken leg - Roasted Chicken Leg roulade a'la chasseur with pomme puree and seasonal vegetables. We are always wary of ordering chicken as it may turn out to be too dry for our liking, but the poultry dishes here are pretty good, and they were all tender + juicy.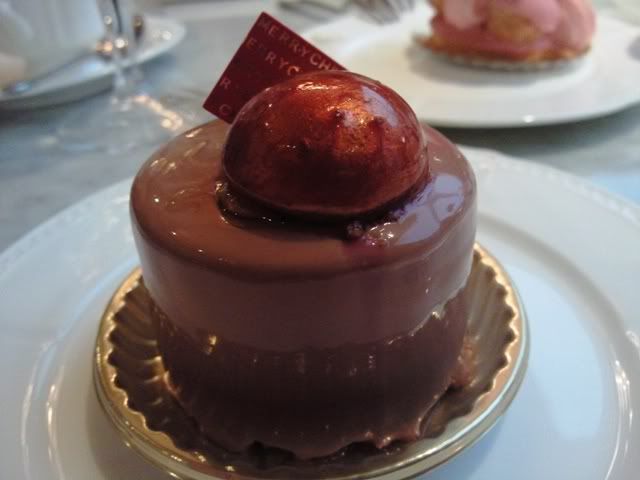 Finally, it's time for desserts, and this is what this restaurant is famous for. The first was their signature Antoinette (S$9).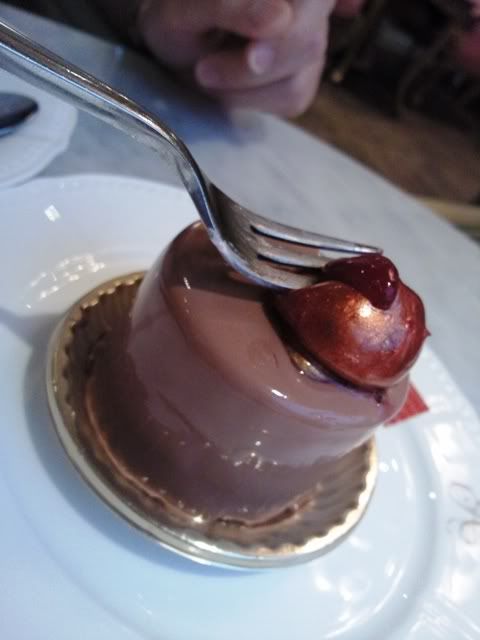 The ball on top contains a special raspberry sauce, and it went well with the earl grey cake. A point to note is that the cakes here are not overly sweet.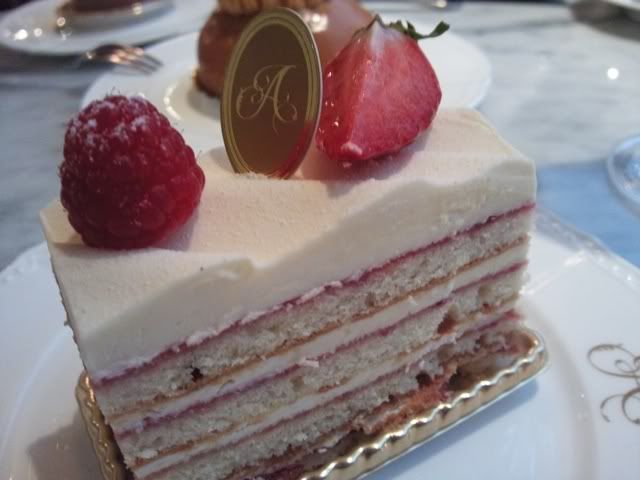 Violette (S$8.50) - A very floral cake with a violette cake base + cream and raspberry jam.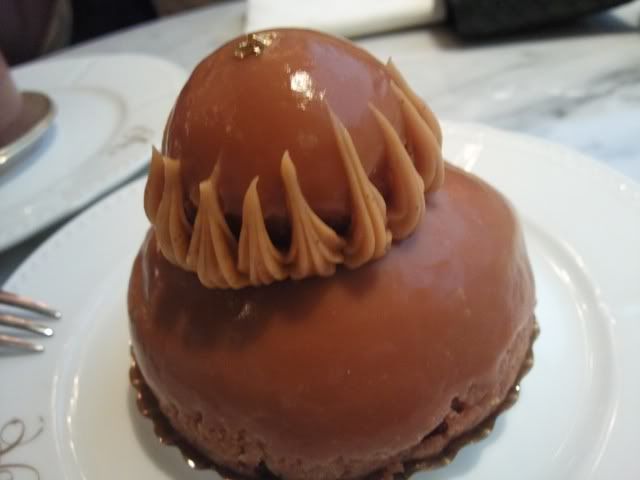 Religieuse of Caramel with fleur de sel (S$8) - I always like the combination of salt + caramel. However, the version here is a bit too dry.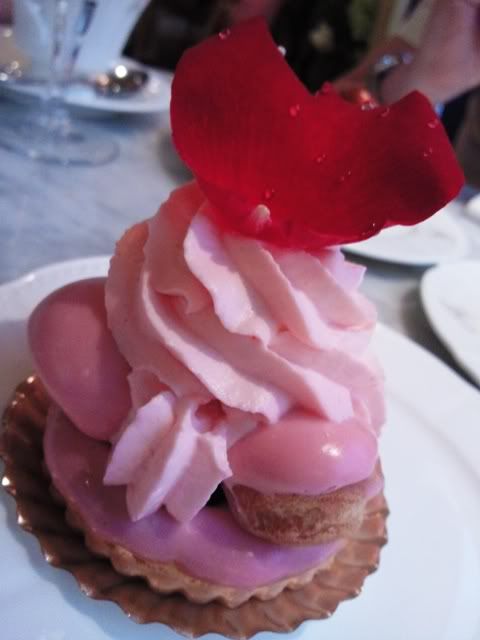 Saint Honore L'amour (S$8.50). Not sure if this qualifies as a cake, because it is made up of a few mini choux pastry. On top we have rose cream and an edible rose petal with little "water droplets". The pastry again was a bit dry, but fortunately the rose cream balanced the dryness.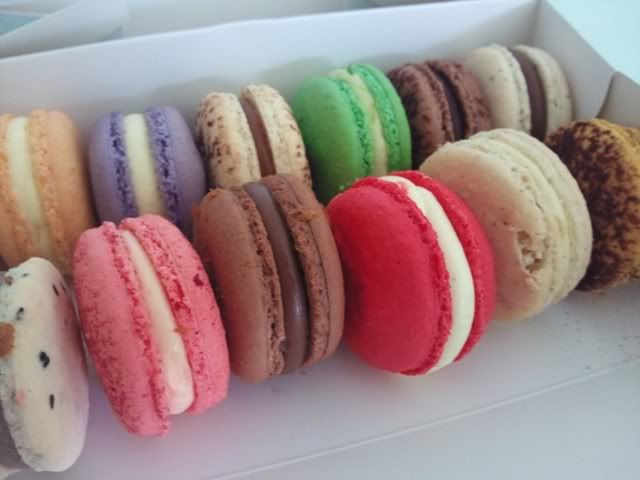 We "tarpao" Macaron (S$30 for 12 pieces) back home. If you are a macaron fan, I think you will like those sold here.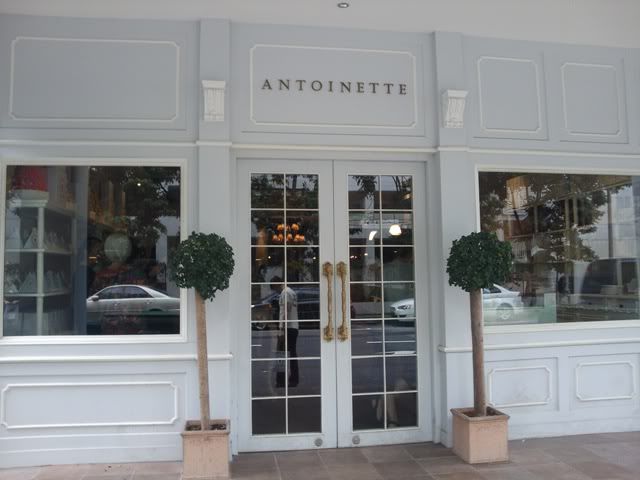 Final word on Antoinette is that they must improve their services. It's really such a pity that they invested so much on their food and decor, but not on their services.
Antoinette
30 Penhas Road