Eating at Imperial Treasure over at Marina Bay Sands proves to be quite an experience. And the number one experience is that without paying the S$100 entrance fee, you can have a bird's eye view of the entire casino area.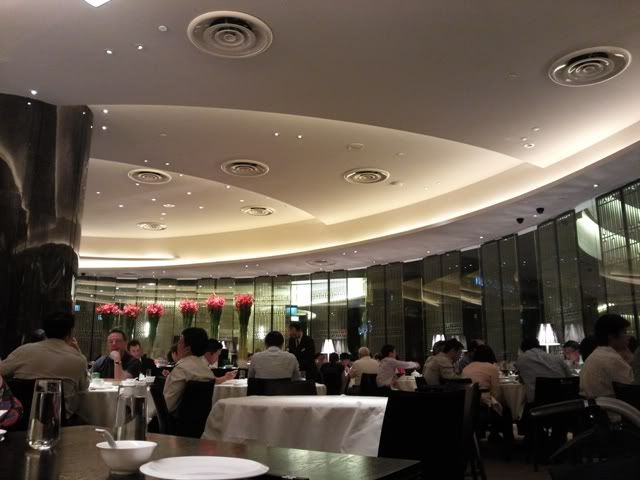 But of course, our main objective is to be here for dinner. Competition has never been as intense as before due to competition from new players such as the Paradise Group of restaurants. So everyone is trying to outshine and outdo one another in terms of decoration and food. Unfortunately, the decor here is nothing to shout about. It looks like a part of the Marina Bay Sands building. Perhaps Taste Paradise would have done a much better job.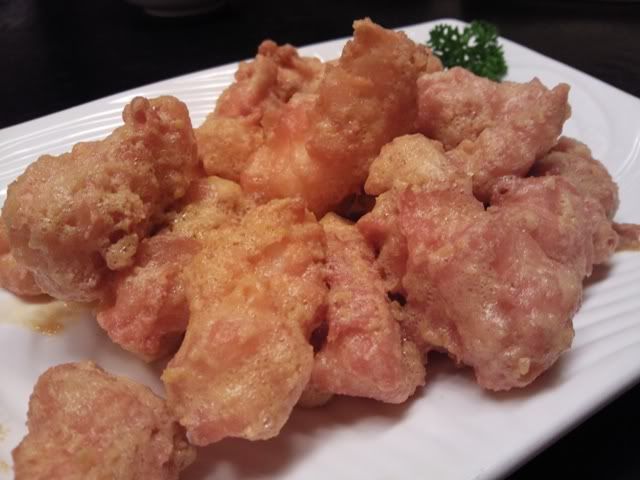 Our first dish was this Crispy Cuttlefish with Salted Egg. Anything with salted egg yolk is always a hit with my family. The cuttlefish were fresh and tender, and the salted egg yolk cream was thick but not too salty. Yum.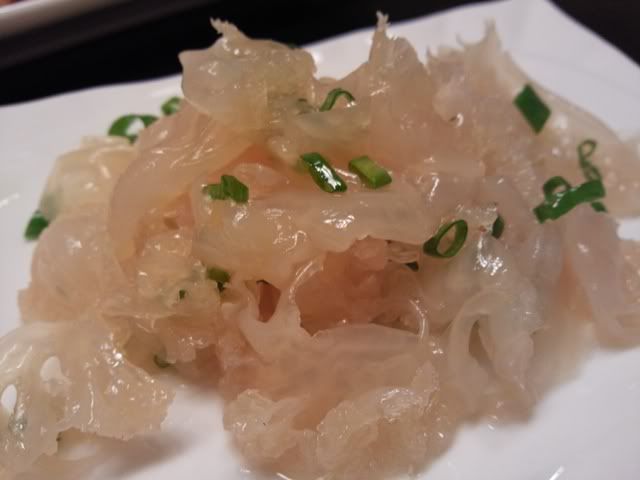 The chilled jellyfish, unfortunately, was not good at all. Avoid ordering this.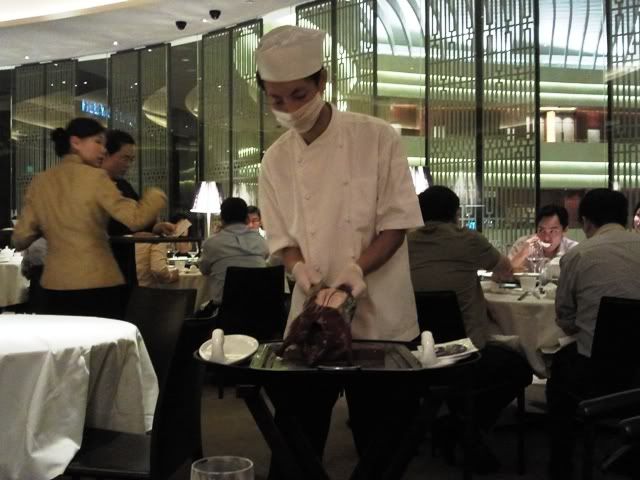 We had quite a good experience having Imperial Treasure's peking duck over at its Paragon outlet. Therefore, it is mandatory that we order the exact same duck here for the sake of comparison, and also to feast.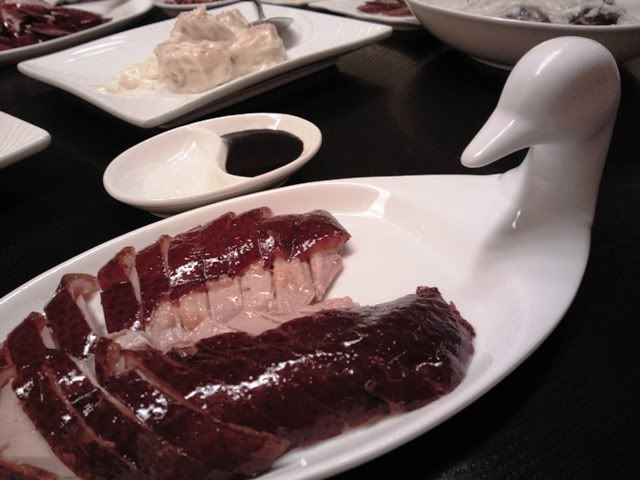 I am happy to report that standards did not slip. The Peking duck was still as good as the one in Paragon. They even brought over the cute duck plates to serve the duck slices.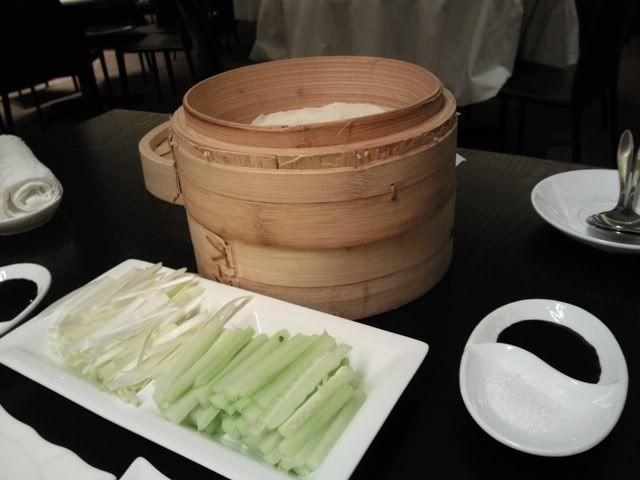 Enjoy your Peking duck with soft crepe skins, cucumbers and spring onions with a dash of sweet black sauce.
I like prawns, so I specifically ordered this Mayo crispy prawn. I guess the chef was too enthusiastic with the mayo. Prawns were large and crunchy.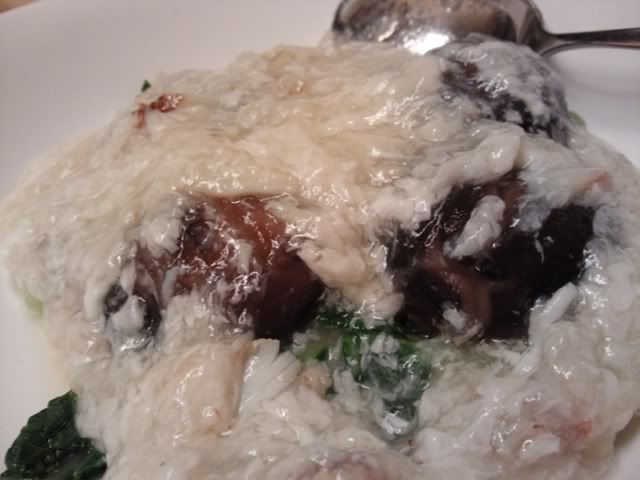 Something healthy amidst all the feasting - Egg white with crab meat vegetables. It's good. Light, and healthy.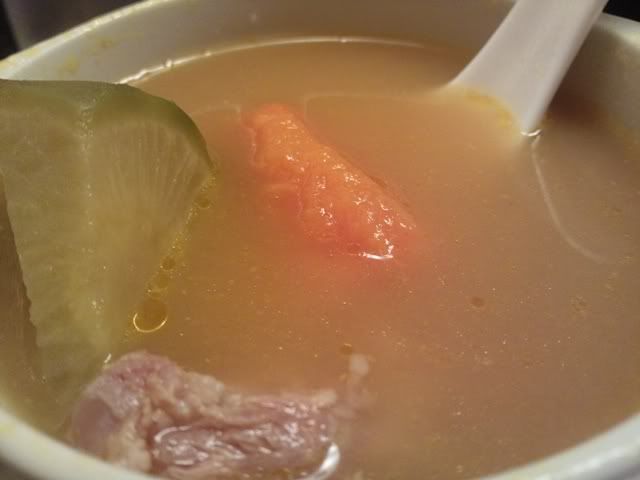 We ordered their double boiled soup first, but got it only at the end of our dinner. Still, all's forgiven because Imperial Treasure is famous for its double boiled soup, and our Green and Red Carrot Pork Ribs Soup was flavourful, not too oily, and chokeful of ingredients. Something we will gladly order again when we are here the next time.
And to end the dinner, Stir Fried Ee-Fu noodles. It was quite a good version, but no surprises here.
Imperial Treasure Fine Chinese Cuisine

10 Bayfront Avenue
#02-04 (L2-04)
Marina Bay Sands