While Singapore awaits British chef Jason Atherton's upcoming restaurants at the Gardens by the Bay, this Michellin starred chef has already opened tapas bar located right in the heart of Singapore's Chinatown area.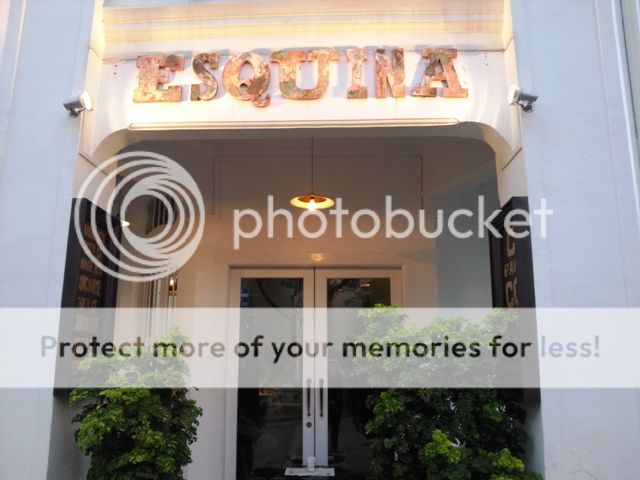 I always like how restaurants find new ways to occupy the rows of shophouses along the many streets in Outram Park. I guess its previous occupants would have never gussed that their home could one day become a popular and famous restaurant now in 2012.
Moscatel Emilin (S$15), a rather sweet Sherry that was recommended by the staff here. As they do not accept any reservations (please try to come here at 6pm), ended up eating outside along the warm pavement area.
We were famished, and thus began our feast. 1st - Slow cooked egg, bravas sauce, potato and crispy iberico (S$17). This is comfort food at its best.
The Grilled Asparagus (S$17) added healthy crunch to our dinner.
The Confit Pork Belly, chorizo, white beans and paprika skin (S$27) was a dish that was good, but not that good. I think some of the items here didn't go well with one another.
As spaces were now available, we moved in to the main restaurant. What a difference it made. The atmosphere inside was livelier, and here we could watch the chefs in action. And of course, the air-con was very much welcomed.
We could not make up our mind with the choices of seafood mains, so they recommended us the everything in one Seafood Platter (S$38) - Grilled Seabass with salt cod puree and black olives, salt and pepper squid, grilled scallops and prawns. This is good for sharing for 2 diners. No complaints,
We also enjoyed the Aged rib-eye. mushroom ketchup, truffle lentils (S$33). Fork tender beef slices.
Almost every table would order this Baked bone marrow with snails, parsley and horseradish pesto (S$25). I guess if there is a signature dish, this would be it. As the bone marrow is baked with lot's of salt, do be careful and try not to touch any of the salt.
A shot of the long bar table where diners sat.
Pre-dessert special from the team: Sangria Ice-cream (complimentary)
Decided to choose something different for desserts. Cheese Platter - Manchego and quince (S$14)
And also the Pistachio cake, sangria jam, vanilla ice-cream (S$13)
Mas Amor (S$18) and Amontillando (S$14) to go with our cheese platter. This 2nd sherry is not as good as the first one we had earlier.
Conclusion is that while almost every review raved about Esquina, we didn't think it was really mind-blowing good. It's not bad, but we very much prefer the atmosphere and food at Salt Tapas Bar (stay tune for our review there).


Esquina Tapas Bar
16 Jiak Chuan Road