Do you know there is a French restaurant located inside Indoor Stadium? I guess maybe some knew about it, but most would not have known that there are actually restaurants located at the "ground floor" of the Indoor Stadium.
It's easy to find this place. Just look for their huge logo underneath the stadium.
A very French-like setting in the restaurant.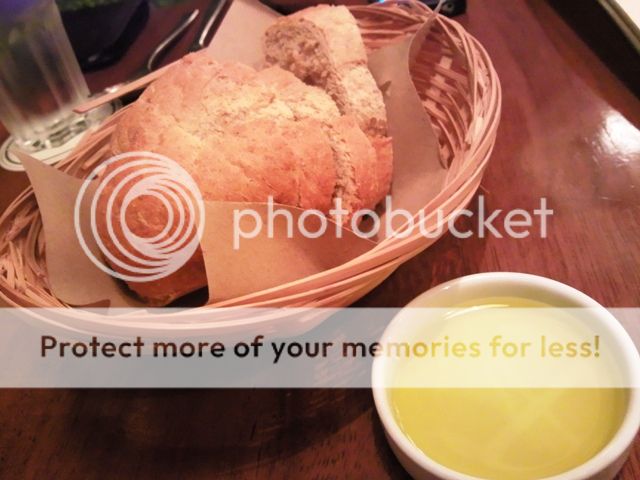 Upon ordering, we were served half a loaf of crusty but warmed bread with olive oil. Where's the French butter?
It's quite easy to order from their menu. We selected 2 sets of Entree + Main Course + Dessert (S$60 per person). Just choose from the different categories, and top up if necessary.
Our first appetizer was the Chargrilled Hokkaido scallops served in a salt-baked onion, with a corn velouté and toasted pinenuts (Add +S$8). The scallops were huge and sweet. At the bottom of all these was a unpeeled onion that was baked in salt.
Another appetizer we had was from their daily special: Cep Mushroom Soup with Foie Gras cigar. Cep mushrooms are also commonly referred to as Porcini mushrooms.
For the mains, we had the Chargrilled Grain-fed Australian Black Angus Striploin with pink peppercorn beef jus served with pommes frites and mesclun salad (Add +S$15). Beef was done slightly more cooked than medium, even though we asked for medium. Tender. But nothing fantastic.
We made the biggest mistake we ever made by ordering a medium Lamb rack roast (Add +S$12) crusted with thyme, served with potatoes gratinated with pecorino romano. which is sheep's cheese. Why is it our biggest mistake? Because we forgot that some lamb when cooked to medium, will have this very strong gamey taste. We are fine with hints of gamey taste, but this is definitely overpowering. The very attentive staff upon noticing our expression, quickly came around and sent the lamb back for further roasting. Thumbs up for the service, but thumbs down for the lamb here.
After the mains, we had a tangy Lemon tart with raspberry coulis, pineapple tuille and vanilla bean ice cream
Plus their recommended Frozen parfait of hazelnut praline and honey with a feuilles de brick pastry "cigarello" of Gianduja and candied orange peel.
Conclusion is that the service here is excellent and friendly. Unfortunately the food here rather average. And please avoid the lamb if you cannot stand strong gamey taste.
Le Bistrot
2 Stadium Walk,
#01-03
Singapore Indoor Stadium