After the closure of Santi at MBS early this year, the search has been on for a good Spanish fine dining restaurant in Singapore. So it was with great anticipation that Catalunya, a fine dining restaurant located right in the centre of the Marina bay area with a team of ex-El Bulli talents, have opened in Singapore.
This restaurant is destined to be one of the hottest place in Singapore. The view here is fantastic, and highly recommended if you want to view the beautiful fireworks during NDP.
Fullerton has built this dome shape restaurant right in the water, and it looks like it is a floating restaurant. AS this restaurant is called Catalunya, expect lot's of Catalan cuisines here.
When we were seated, we could smell the aroma coming out from the kitchen. A good start to our dinner.
Ordered a bottle of Aqua Panna still water (S$9 per bottle). They also serve complimentary iced water too.
First up was this Flamenco Martini (S$19 for 40ml) - Belvedere vodka base, passion fruit puree, ginger, home-made cinnamon syrup, lime juice and dash of egg white. There is suppose to be a "flame" on the cocktail when the serve lights it up, but all we could see is a faint blue flame.
Ordered something different: a Spanish cold soup: Ajo Blanco with King Crab Salad (S$45) - Traditional Spanish Cold Soup. The seafood chunks were sweet and fresh.
Also had this very unique Roasted meat "Canelon" with "Idiazabal" cheese and basil oil (S$36).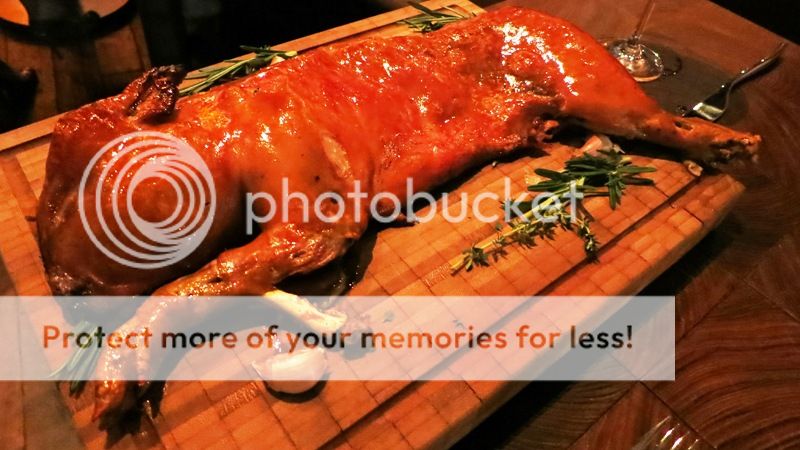 The star of this restaurant is half a Traditional Suckling Pig "Segovian Style" (S$150). When it was brought to our table, there were lot's of Oooos and Ahhhs.
And like what they do in Spain, the serve here used a ceramic white plate to "chop" up the roast pig. Menu said that this is meant for 3 to 4 people, but I think 2 hungry diners can finish this all by themselves.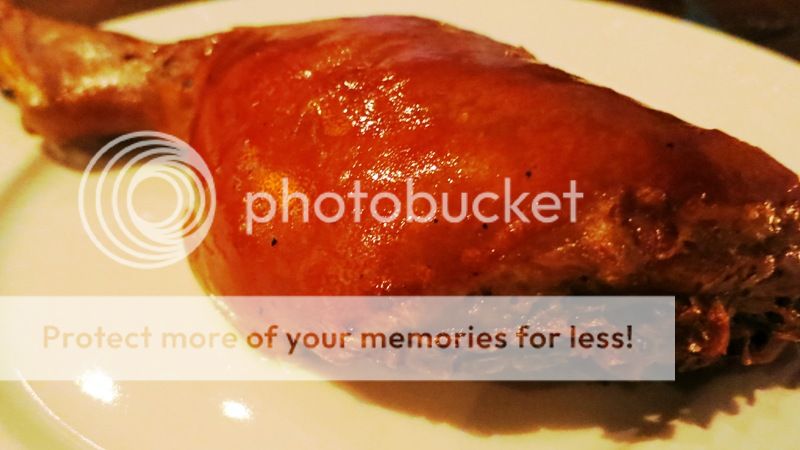 The meat was very tender and juicy, and the skin was crispy, almost like that of a Peking Duck. I guess the main difference between the Cantonese style and the Spanish style is that the Cantonese ones have a crustier and thicker skin. I read some reviews saying that the pork here is a big gamey, but I didn't encounter that with our roast pig. This is a MUST ORDER!
Balanced the taste of our roast pig with the juicy and sweet Wood Roasted Pineapple (S$9). Hints of cinnamon and rosemary on our caramelized pineapple.
After the pork , we had the Stairway to Heaven (S$19 for 40ml) - Bacardi Legacy 2012 Spanish Cocktail of the Year. This unique cocktail is made up of Celery, pineapple puree, coriander leaves, lime juice, vanilla syrup in Bacardi Rum, topped with dash of egg white.
We were too full by now, so we shared a dessert. Chocolate in different textures with passion fruit (S$12). I didn't find anything special about this dessert.
Adjourned to the standing bar and we were given iced water with lemon wedges.
The beautiful orange "lantern" in the centre of the bar area. Good service and good food. And a view to die for.
Catalunya
82 Collyer Quay,
The Fullerton Pavillion