Once again, back at Tong Le Private Dining for a leisure Saturday brunch. But this time, it was special because Duval Leroy Champagne is holding their special month long event here to go with Chinese cuisines.
Had a bottle of the beautiful Duval Leroy champagne, featuring a painting by LeRoy Neiman (S$80 per bottle) and Femme (S$130 per bottle). The Neiman contained 85% Chardonnay, with 15% Pinot Noir, and they are grown in the top-ranking Premier and Grand Cru vineyards. The Femme was also a chardonnay and pinot noir blend.
Ordered the Special S$120 Duval Leroy Champagne Brunch. First was this crunchy black fungus and lily bulb.
As I ordered some sashimi from Shinji, they also presented me with the Japanese radish with crab meat and edamame.
This is followed by Sashimi from Shinji (S$60) - Yellow tail, tuna, botan ebi. As always, the freshest in Singapore.
I love pipping hot soup. Next from Tong Le is the Double boiled superior shark's fin in shark's cartilage broth & bamboo pith. Like the crunchiness of the shark's fins together with the flavourful broth.
Enjoying the champagne in the midst of a light drizzle outside.
Sautéed Kagoshima wagyu beef with premium black bean sauce. Noticed how half a yellow pepper is used to serve the diced wagyu beef?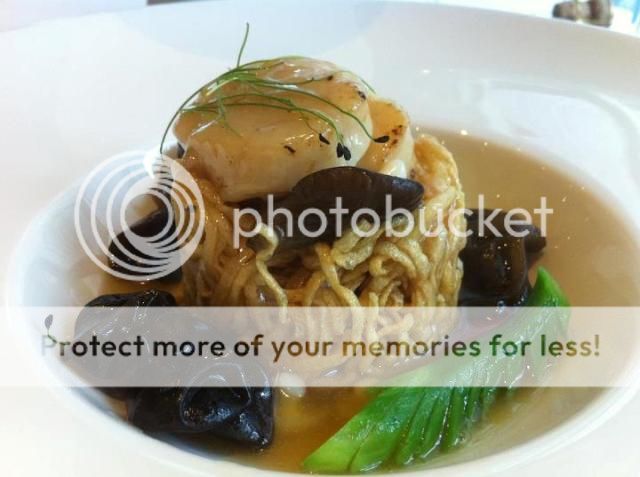 Crispy rice vermicelli with Hokkaido scallop. The crispy vermicelli "melted" when the sauce is mixed with it.
This looks like an "Ang Mor" dessert, but it came with a Chinese twist! Warm chocolate lava cake with "MaoTai" ice cream on spinach sponge cake. For those who don't know what is "MaoTai", check this out:
http://www.cnngo.com/shanghai/drink/maotai-sells-rmb-522-million-432520
And you thought the lunch ended. Well, not quite for me. Courtesy of Chef Martin from Tong Le: (clockwise from top) Crunchy jelly fish head. Cherry tomato marinated in honey, vinegar and mint for 2 days and Salsify crisp. They went well with the champagne.
Another bottle of Zinfandel from Buehler Vineyard. (S$120 per bottle)
Almost getting topsy turvy
Well, the last small appetizer to go with the Zinfandel red wine from Napa Valley in California is the Deep fried pork. An excellent lunch from Tong Le Private Dining.
Tong Le Private Dining
OUE Tower,
Level 4 and 5
60 Collyer Quay
TEL: 6634 3233