Those who work near Tanjong Pagar would have heard of the famous Madam Tan Nasi Lemak stall in Maxwell. Well, the stall is no longer there, but instead Madam Tan now joined forced with the people behind Wok & Barrel, and is now located in Duxton Hill, just a stone's throw away from Maxwell.
Since the nasi lemak has upgraded from a food center to an air con cafe, the prices also "upgraded" together. But I find it worth paying a bit more for the cool comfort.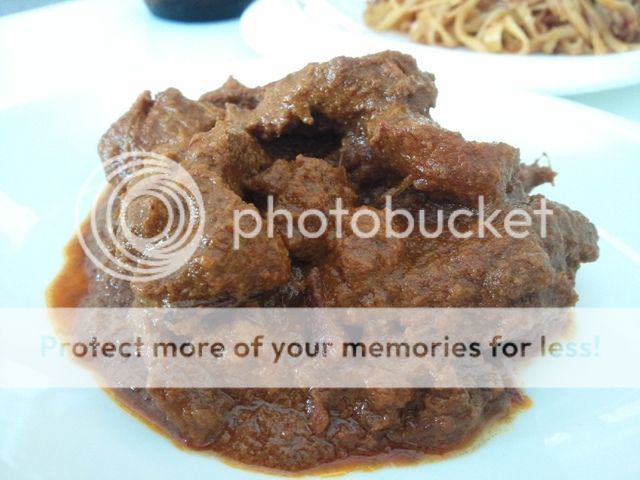 The really tender and flavourful Beef Rendang (S$9.90). Not too spicy, but still retains the full punch of rendang.
Ordered the Pear Cider (S$15.90) to wash down all the spicy food.
Although the Nasi Lemak Rice (S$1.90) is the item that pulled customers here, but I actually find it rather average.
The Crispy Pork (S$7.90) - Thinly sliced pork belly marinated and deep fried.
We need more beer. Hence, we were recommended this MOA Breakfast Lager (S$17.90) - A blend of premium wheat malt, floral Nelson hops and cherries. Refreshing and fruity. From New Zealand, and designed to go with European breakfast. However, often enjoyed during the warm mid-afternoons in NZ.
Wok & Barrel's Bak Chor Mee Pasta (S$19.90) - Signature dish with 5 spiced pork confit mixed with silken handmade tagliatelle tossed in spicy sauce. It's really spicy, and your mouth will be on fire after a few mouthfuls.
Softshell Chilli Crab (S$17.90) - We didn't like this one. The batter was soft and I think after a while, the whole thing turned really oily.
Pulau Hitam cake with gula melaka butterscotch and coconut ice-cream (S$9.90). Not bad, but the original one at Marmalade is still the best.
Kueh Balu Tiramisu (S$7.90) - Quite okay. Something special as the base is made of Kueh Balu.
Wok and Barrel
13 Duxton Hill