I think after 2 brunches at Waterfall Café, it's fair to say that they are one of the best place for weekend brunch. After the previous Sunday brunch buffet, we are back here on a Saturday afternoon for their ala carte brunch.
Waterfall Café has a very inviting entrance, where fresh produces breads are laid out on the counters.
Although it is called Waterfall Café, but the waterfall is actually not very visible from the restaurant. It is located just outside of it.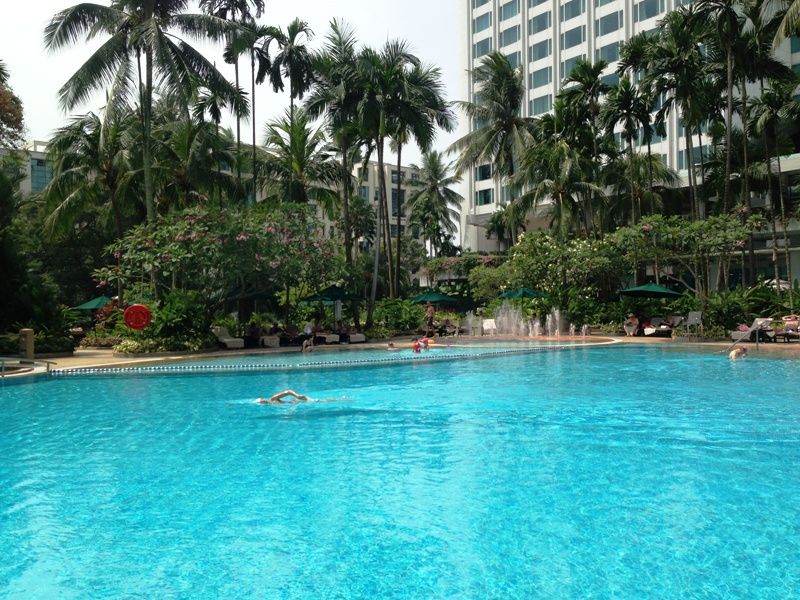 But of course, diners here are treated to a different view, the swimming pool.
Freshly baked bread are served, and the bread comes in 4 different varieties.
A shot of the group dining room.
A bottle of tap water is placed on each table.
For starters, we had the Pan seared foie gras, apricot and almond chutney, cucumber and arugula, vanilla sherry dressing (S$26). Foie Gras was creamy and not too oily.
Jerusalem artichoke velouté, poached cranberries, toasted hazelnut, black trumpet mushroom (S$14). The soup was served warm and had a very unique and delicious taste.
This is one of my favourite salad - Organic quinoa salad, baby spinach, red cabbage and raisin with roasted lamb rump (S$25). I like the contrasting texture of the crunchy quinoa with the juicy cabbage and spinach salad. The dressing was good too.
Roasted barramundi, pink peppercorn and Indian coriander gastrique, steam bok choy, pequillo peppers and grape (S$30) - Fish was very fresh.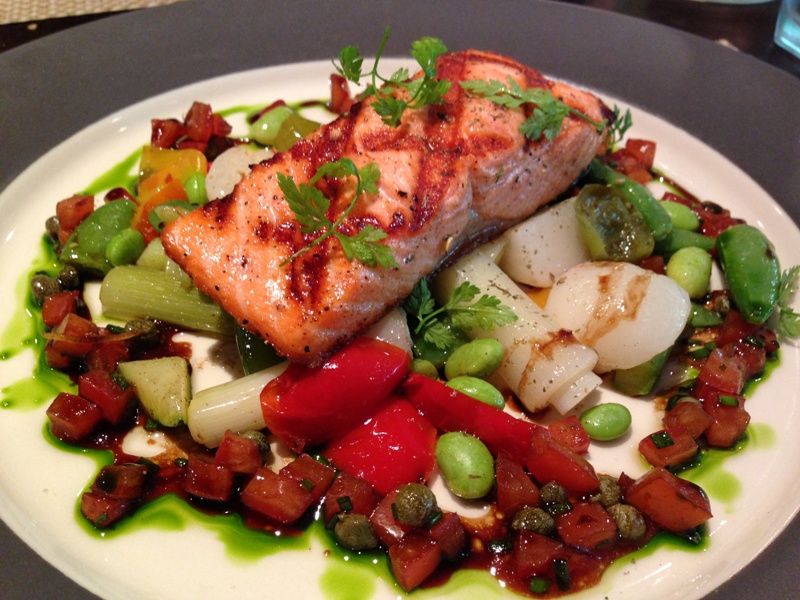 Grilled trout, steamed spring vegetable fricassée, lemon relish (S$25) - This grilled trout is a feast to the eyes and the mouth. Very colourful and full of contrasting flavours.
We felt a little let down by this dessert. Wasn't as good as their mains and appetizers. Kiwi and strawberry feuillantine, pistachio chiboust cream and passion fruit coulis (S$10)
But we very much enjoyed the Blueberry cobbler with grains of paradise and warm almond crumble with vanilla ice cream (S$14). Especially when mixing together the warm crumble together with the cold vanilla ice cream.
Waterfall Cafe
22 Orange Grove Road
Garden Wing,
Level One
Shangri-La Hotel