Min Jiang was already a well known restaurant in Goodwood Park Hotel. And a few years back, it decided to open another restaurant at One-North near Clementi area.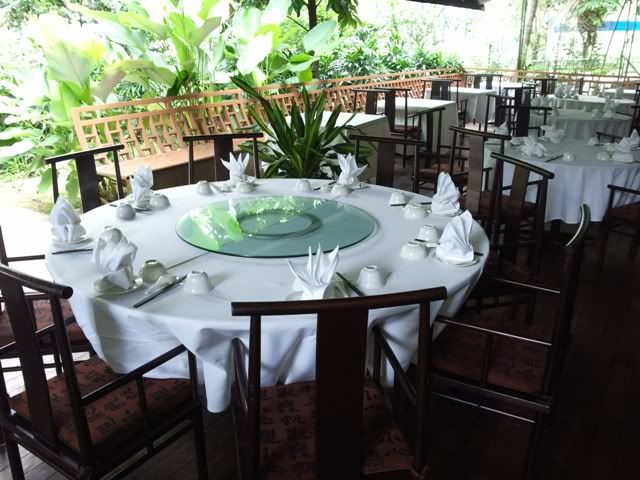 There is both ala carte and indoor air-con seating. The outside seating looks lovely, but we surrendered to the humid weather and sat indoor under the cool comfort of the air con.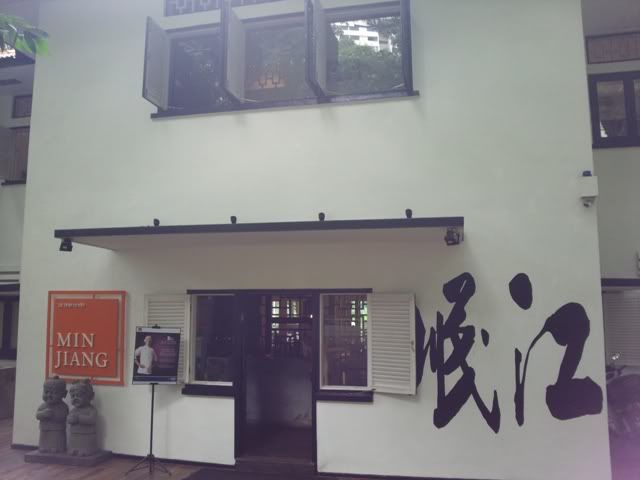 The restaurant is actually housed inside a bungalow, and parking is not available at the restaurant. Diners have to either park at the public carpark at the foot of the hill, or get valet parking.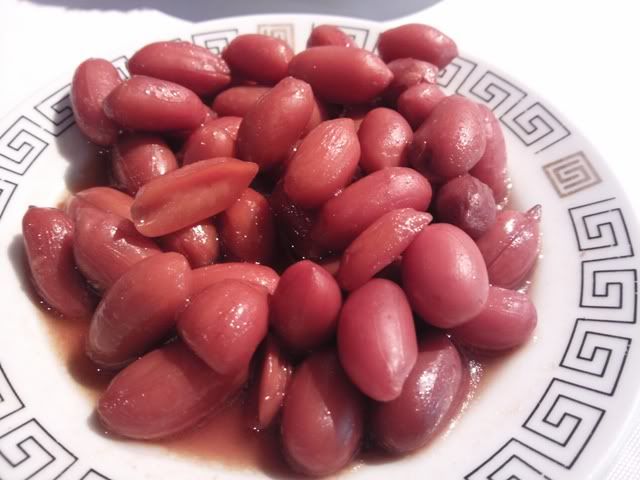 Braised Peanuts (S$3) . I always wonder if the rbaised peanuts served at restaurants come from the can, or are they made in house? Anyway, all the braised peanuts taste the same, regardless of in-house or from can.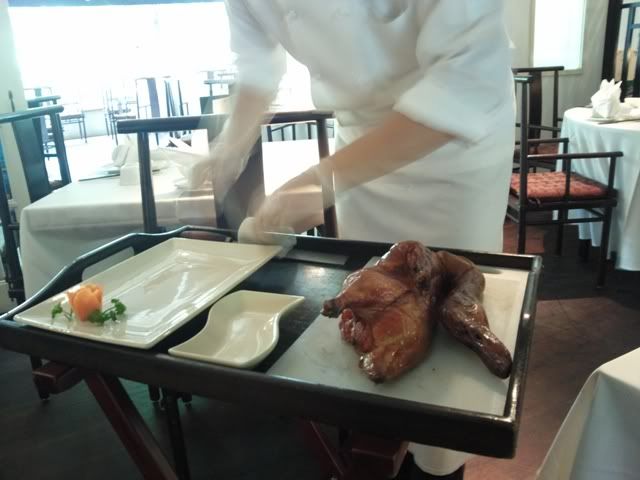 Peking Duck (S$40) - A specialty of Min Jiang. The chef pushes a tray and board out to personally slice the duck infront of all diners.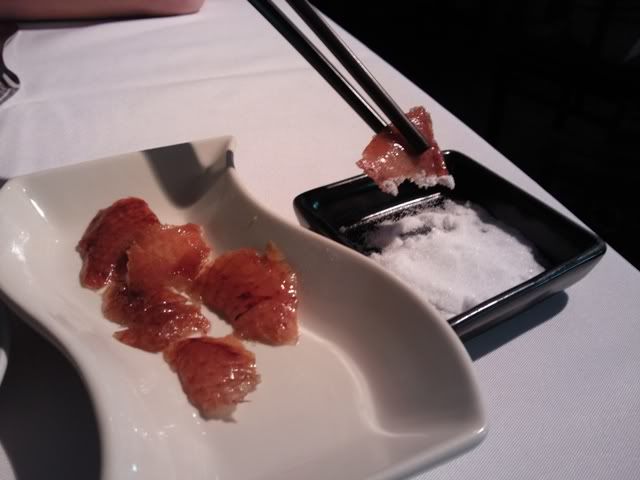 The skin was crispy and if you dip some in sugar, the fragrance of the skin slowly comes out.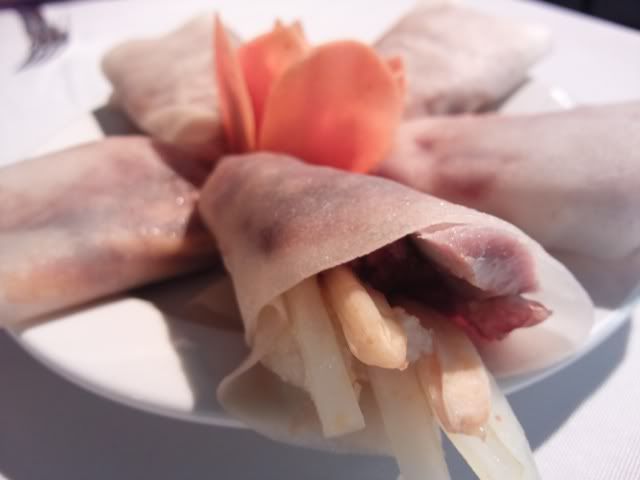 We were lazy and the serving staff wrapped a few for us. The skin was a bit too thick, but the skin and meat were good.
There were so much duck meat that we could not finish all.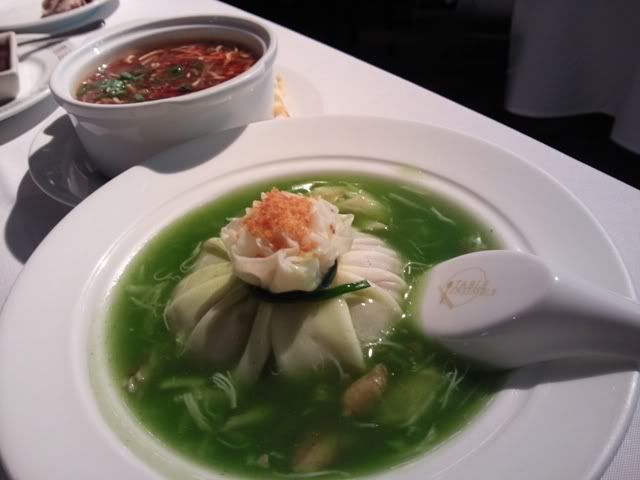 Also ordered the Sharks Fins Pomegran Soup (S$48) and Hot & Sour Soup (S$8) as we wanted something warm for the stomach. The Sharks Fins soup was presented in a creative way - wrapped inside this pouch. When you break the pouch which looks like a giant Pomegranate, the shark's fins will burst out. The green soup base was made with some spinach juice, hence the colour.
The Hot & Sour Soup was equally enjoyable.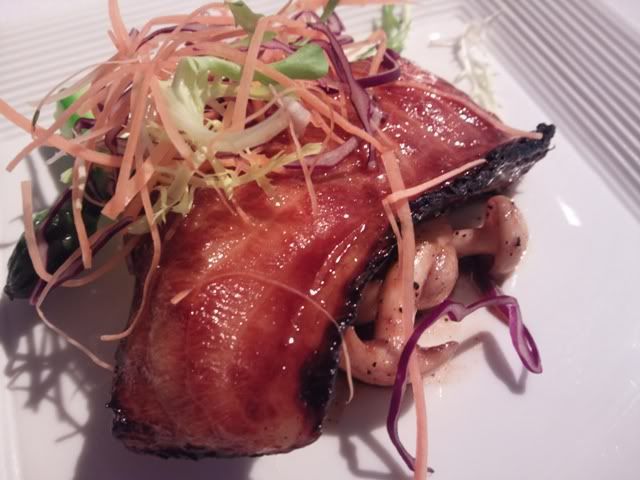 Baked Sea Perch (S$14 per person) - Sea Perch was amazingly fresh and was baked in soya sauce. Such cooking method does not destroy the shape of the fish, yet infuse flavours into the delicate fish meat.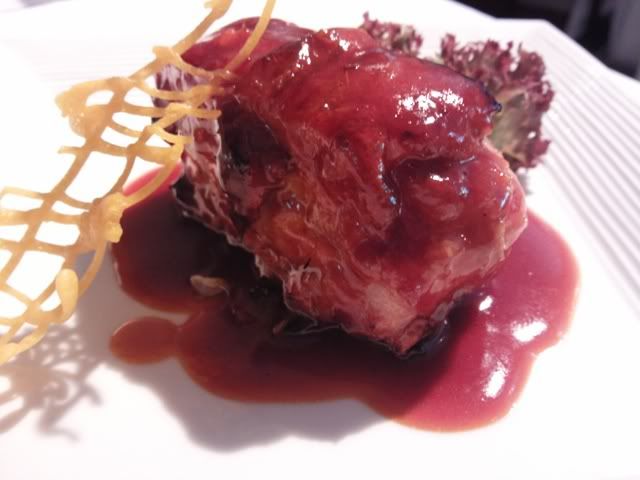 Lemongrass Short Rib (S$10 per person) - A normal pork rib dish infused with some Thai elements (lemongrass). Tender meat.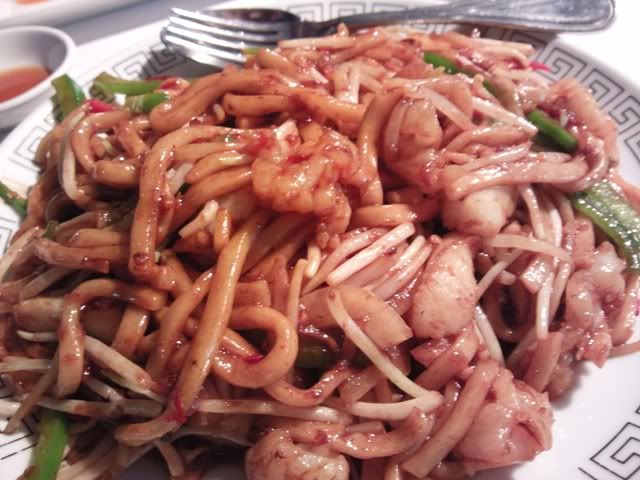 Fried Udon Noodles with XO Sauce (S$18 for small serving) . A huge serving of the fried udon. I think Min Jiang did a good version of this noodle dish.
Ice-Cream Mango Sago (S$8) - A usual dessert favourites.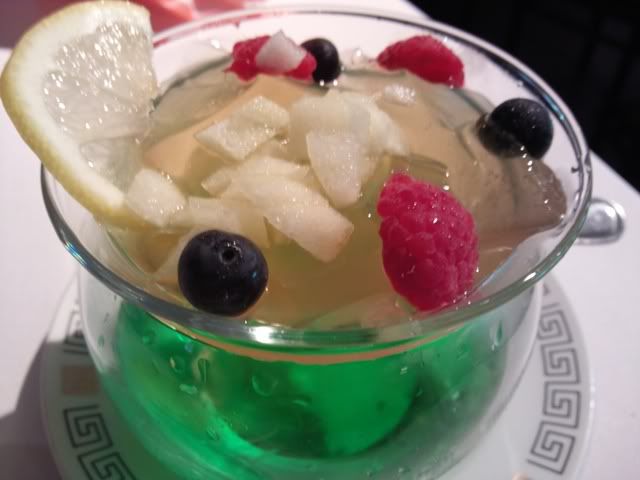 Chrysanthemum Jelly (S$6) - Too bad the chrysanthemum taste was not as intense as we hoped for in the jelly.
We were disappointed with one of the service staff as she failed to inform us that there was a better credit card deal with more discounts and instead told us to go for the less discount offer. Service staff should always honestly advise diners of the best deals, so that a repeat visit will be guaranteed.
Too bad for them.
Min Jiang @ One-North
5 Rochester Park
Rochester Park