We have been spending so much time in Marina Bay Sands, that we nearly forgot one of our favourite restaurant in the southern island of Singapore - Osia at Resorts World Sentosa.
So here we are, back at this wonderful and trustworthy restaurant with excellent service and yummy food.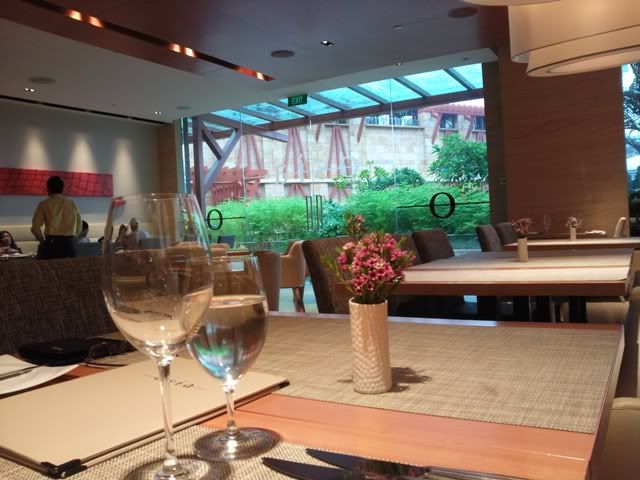 We were here slightly over the lunch hour at close to 2pm. Fortunately, they are opened throughout the afternoon. The restaurant seems quiet after the lunch time period, and we almost got the whole restaurant to ourselves except for another table.
We decided to skip the bar counter this time (bum hurts!) and sink ourselves into a more plushy table seat near the bar. From here, we are still able to peep at what the chefs are preparing.
This has become a ritual for all our visits to Osia: A mandatory order of their Stonehearth oven baked bread. This time, we had the Red Centre Spiced Flat Bread + Black Olive Rosemary Flat Bread (S$9) baked in Stonehearth oven with Macadamia Cheese spread. They changed their "toothpaste" this time to a savoury and nutty Macadamia Cheese. The bread was excellent and fresh out from their oven.
Another must order here is the Ceviche Platter (S$32), which is made up of 3 lovely seafood: Blue fin Tuna with spiced avocado guacamole, soft red pepper and onion mustard seed dressing, Diver Scallop with preserved lemon and vine tomato vinaigrette, and Hiramasa Kingfish with cucumber dill jello, escabeche emulsion.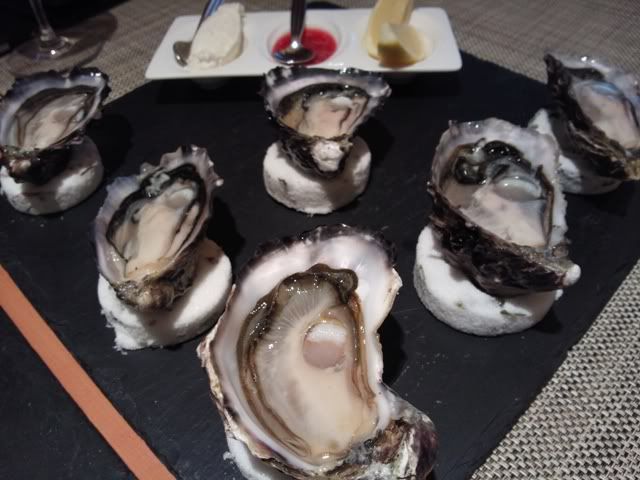 Freshly shucked premium seasonal oysters (1/2 a dozen), served with shallot raspberry vinaigrette, creamed horseradish, and lemon.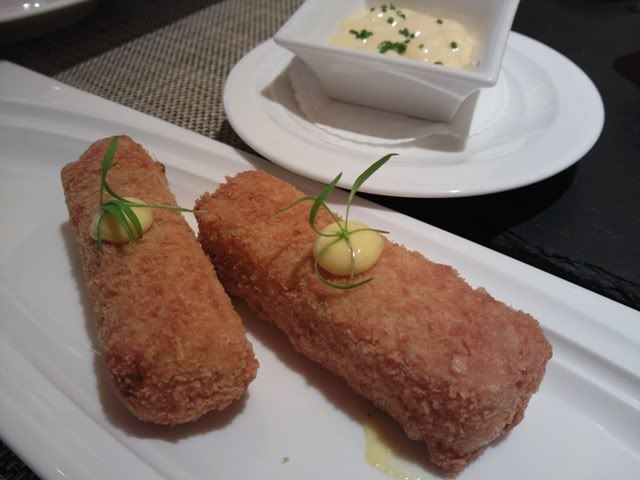 Crumbed mud crab risotto bar (S$12) with saffron emulsion. I like how the crust is crisp yet the fillings were creamy and had bites of risotto inside.
Australian Kinawooka Black Mussels (S$28) cooked with Chardonnay and vine tomato. Although the mussels were good, I find this pretty ordinary only.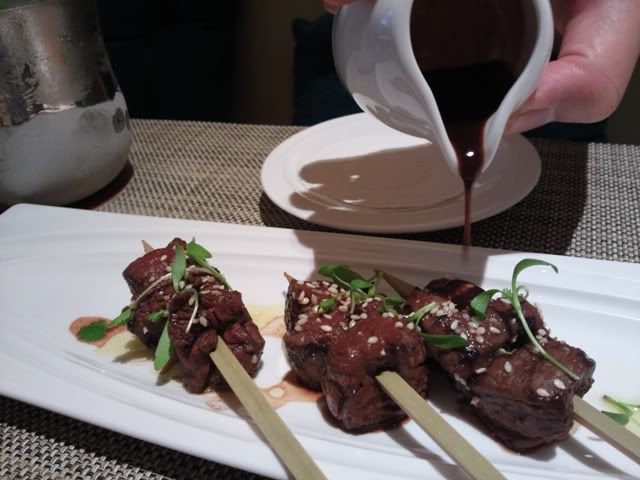 Black Angus Beef Tenderloin Skewers (S$15) with sesame and Akadashi Miso. The beef is juicy and flavourful. The special Akadahi Miso sauce was unique.
There was a Maker's Mark 1 for 1 special promotion. Even though they only have 3 drinks from the 1 for 1, we decided to order all 3 different ones. The first was this icy cold Maker's Mark Mint Julep (S$18) - made with House Mint Julep and Mint Leaves.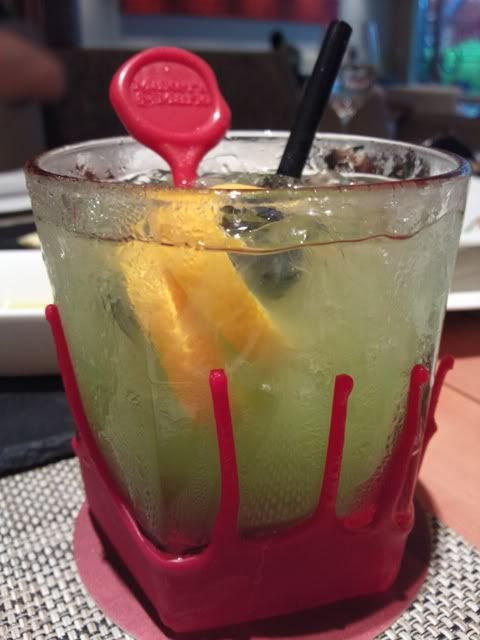 Next was the RWS Bluegrass (S$18) - Maker's Mark, Blue Curacao and Orange Juice.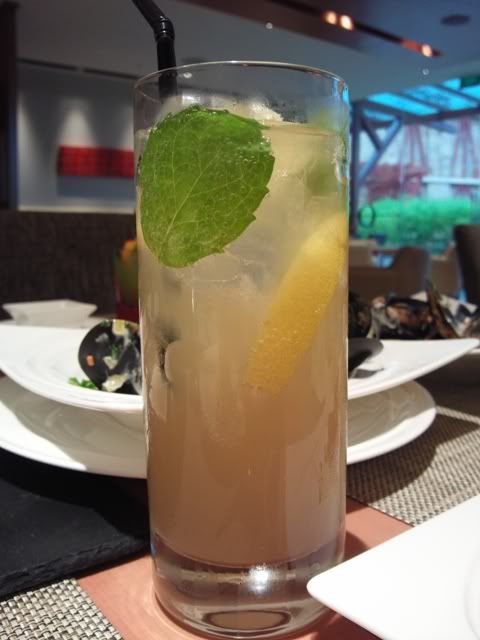 And finally, RWS Samuel's (S$18) - Maker's Mark, Creme de Casis, and Osia House Ginger Beer.
To wash down all the alcohol, a soup was in order: Burnt Potato Broth (Black Angus Beef, Mushroom Tartare, Chive) . This is part of the set lunch we ordered.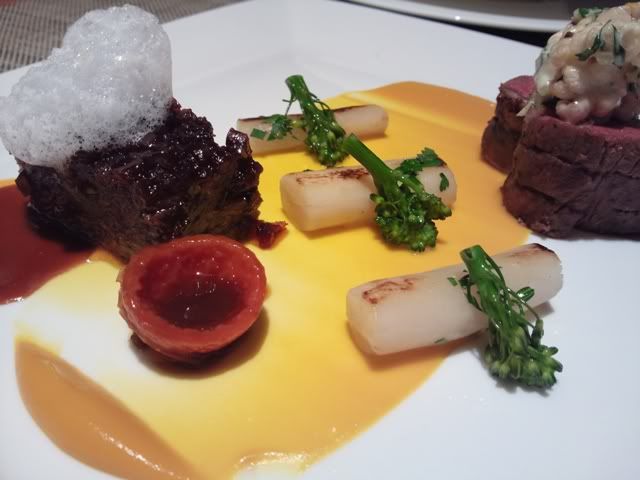 Our main (special upgrade from the Set Lunch), was the Duo of Tasmanian Milk Fed Lamb (S$55) - Roasted Short Loin and Briased Neck, Onion Quandong Marmalade, Puffed Barley, Creamed Orange Carrot and Majoram Sauce. The first interesting thing about this course are the puffed barley which tasted like pop corns. As usual, the lamb meat is juicy, tender and delicious.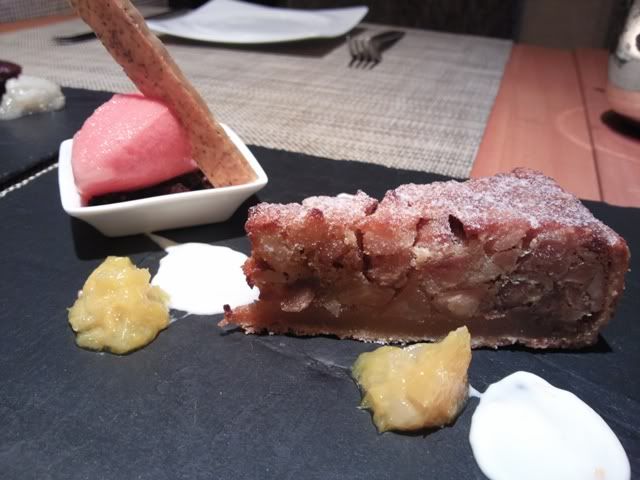 We had 2 wonderful desserts. First was the Macadamia Nut Tart (S$19) - Orange Ginger Compote, Wattle Seed Filo, Blood Orange Sorbet. The tart was crunchy and a heaven for macadamia nut lovers. The blood orange sorbet was no doubt very sour, but it went surprisingly well with the tart.
The other was the Cheese Platter (S$35) - Gippsland Blue with muscatels and truffled honeycombs, King Island Surprise Bay Chedder with red wine pear, quince jelly, and Heritage Red Square Wash Rind with warmed, quandong paste. All the cheese was paired nicely with the honeycombs, quince jelly and quandong paste.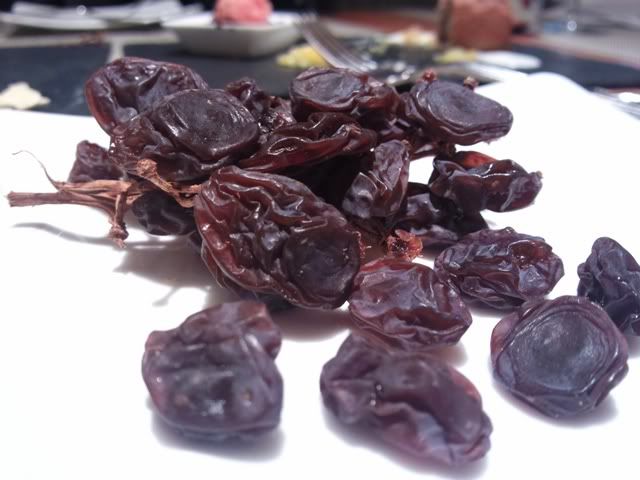 But the best were these Sun dried Muscatel raisins. they were still attached to their stems, and these muscatel raisins were sweet and had a unique flavour. Anyone know where can I buy Muscatel raisins in Singapore? haha
We had a very enjoyable lunch, and would definitely be back again at Osia.
Osia
8 Sentosa Gateway
Festive Walk
Resorts World Sentosa