After months of anticipation, Chef Justin Quek's latest baby has opened, right at the rooftop of the now world famous Marina Bay Sands. It is situated at the roof of the Marina Bay Sands Hotel Tower 1, and you have to take the Piazza lift up from the hotel lobby to Level 57.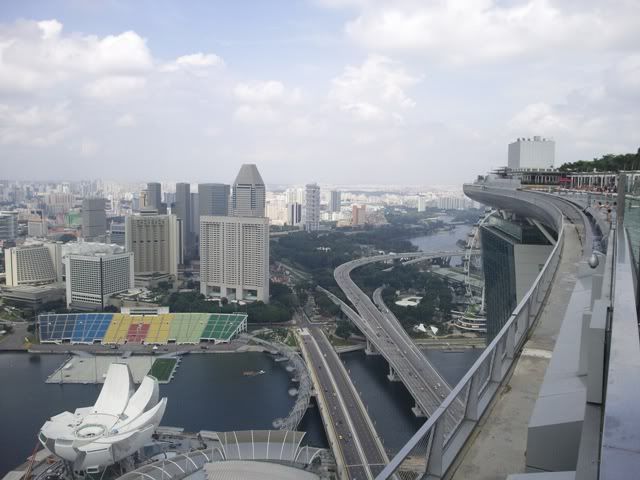 The selling point of Sky on 57, is obviously the view. 360 degrees of the view from the Marina Bay Sands rooftop garden.
After leaving Les Amis in Singapore, Chef Justin Quek has opened successful restaurants in Taipei, Shanghai and Hong Kong before returning to Singapore in late 2010 at the invitation of Marina Bay Sands to open the flagship restaurant at the rooftop.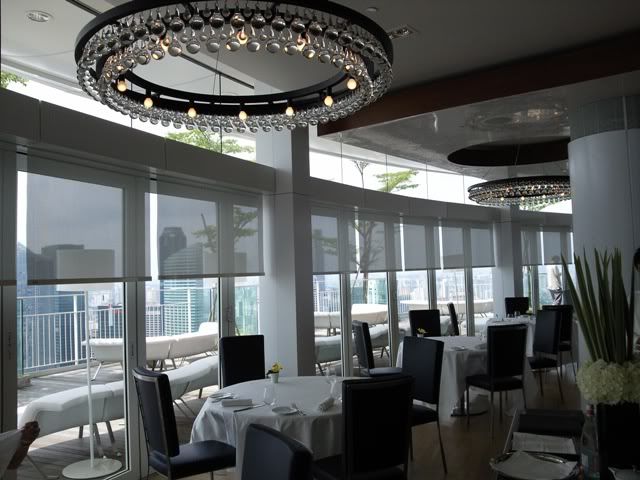 Sky on 57 is actually situated next to the swimming pool, but there is no way to access the pool as it is all cornered up. Basically, the rooftop is divided into 3 parts - At the eastern point is the Observation Deck (admission at S$20) together with Ku De Ta, centre is the swimming pool (only for hotel guests), and at the western point is Sky on 57.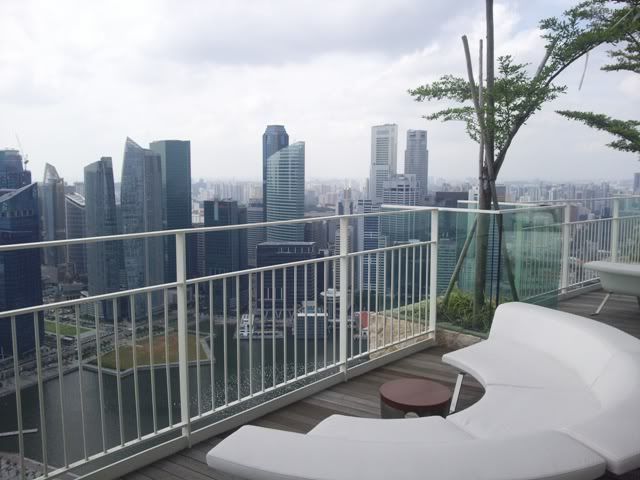 We find the entire restaurant too glaring and warm during the afternoon due to the sun plus the fact that the whole restaurant is almost white. This cause some discomfort to the eyes.
We started our meal with bread rolls. Service was a little lopsided as one diner had bread while the other diner didn't get any, until we alerted the staff.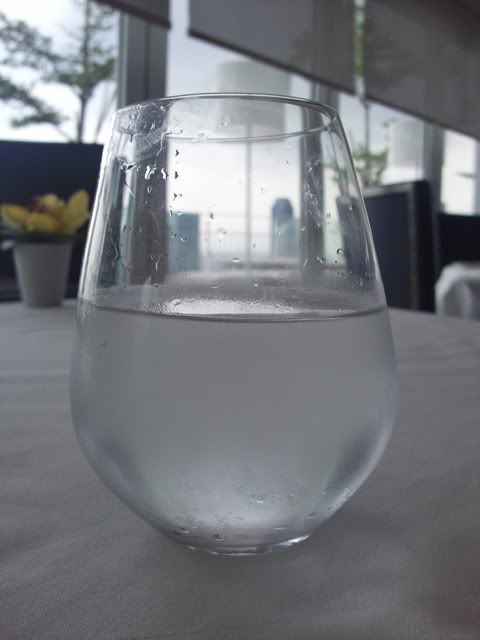 It's ironic that this blog is called "Sparkling or Still", but we always prefer to have tap water. So today, we ordered the Acqua Panna (S$7.00 for 750ml), simply because no tap water is available here.
After browsing the menu, we ordered the 4 course Business Luncheon (S$60++). For your information, they also have a 3 course version at S$48++ and also an Excutive Lunch at only S$28.80++
Justin Quek has told the local dailies that he wanted to introduce local fares here in his restaurants, and so the menu had a mix of European and Asian cuisines. For our starter, we ordered the highly recommended Foie Gras Xiao Long Bao (Add S$8 to Business Luncheon Set), which we were told was a specialty of the chef. Not sure if our expectation was too high, but I think the Foie Gras Xiao Long Bao can only be graded as pretty average.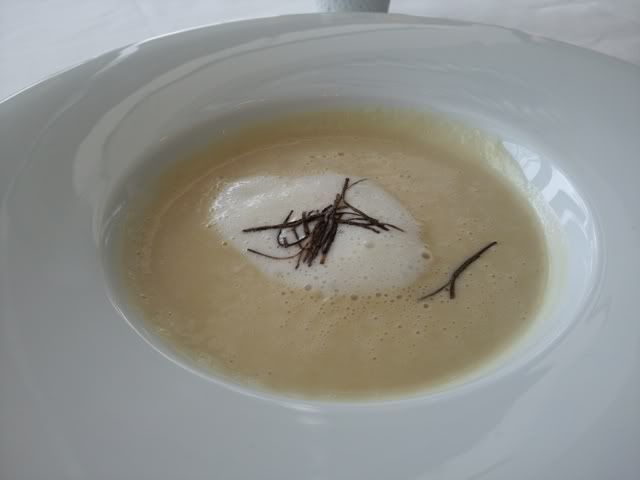 Jerusalem artichoke veloute, black truffle milk, which was a part of our 4 courses set. The soup was yummy, but Guy Savoy's version was still unbeatable
The main course of our choice was the Pan grilled Wagyu minute steak, sauteed mushrooms, young oriental greens, thyme jus. I quite like this as the beef was tender and juicy.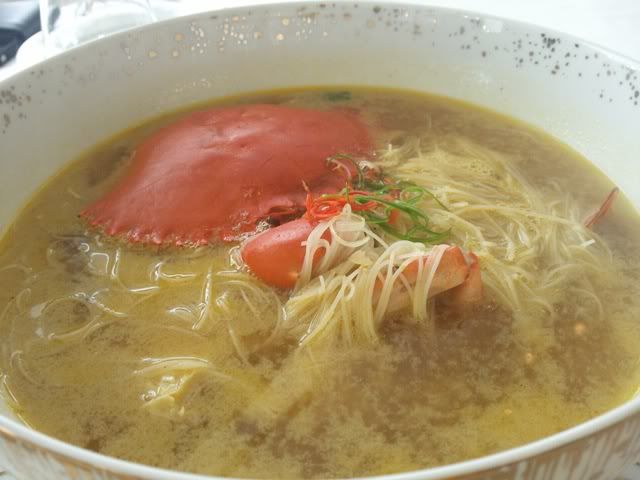 Initially, we didn't intend to order this. But as we
read that The Sunday Times highly recommended
their version of the "Live" mud crab with Vermicelli in ginger broth (S$63), we decided to give it a try.
The verdict is that it's good. Soup was sweet. But I think there is something missing from their version of crab bee hoon. Perhaps it's that the soup was not as flavourful as we hoped for. And get ready to dirty your hands as they serve the entire crab here. Diners will have to peel the crabs themselves. But fortunately, the crab was chopped and slightly smashed to crack the shells.
A pre-dessert - Vodka Lime Sorbet, to cleanse our palette after the meal.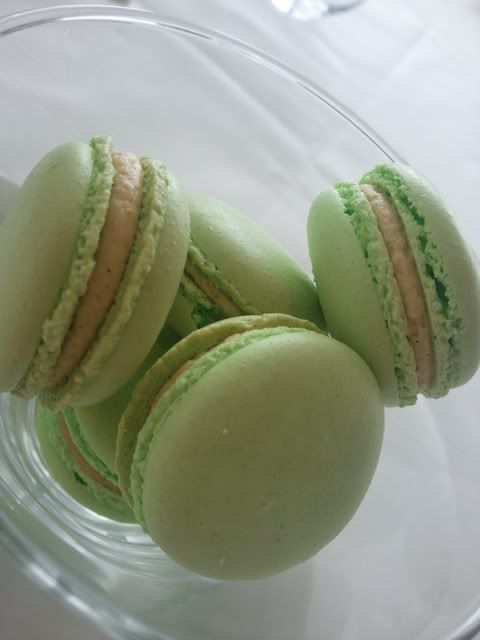 The much raved about Pandan and Gula Java Macaron, was simply a masterpiece. Unlike the more common gula melaka, the gula java (mixed into a creamy paste) has a softer and smoother taste. This unique dessert is an excuse good enough to return to Sky on 57.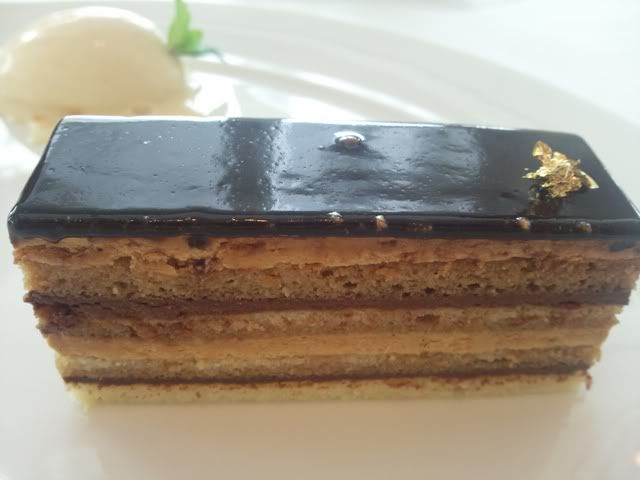 We also had some cakes to try after our lunch. There was a chocolate hazelnut cake,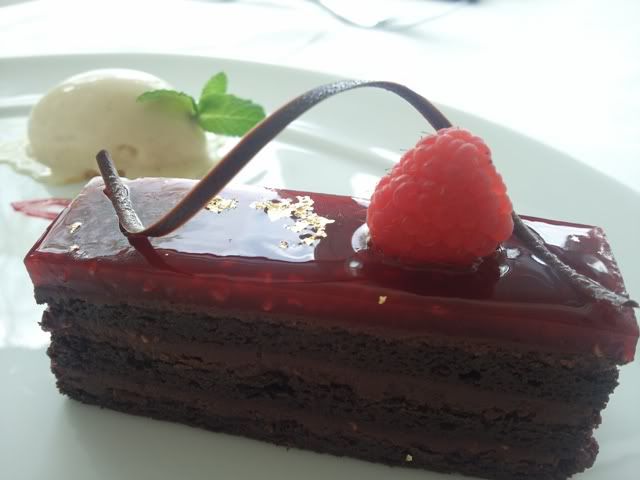 And a Raspberry and chocolate cake. We are pleased with their desserts and pastries.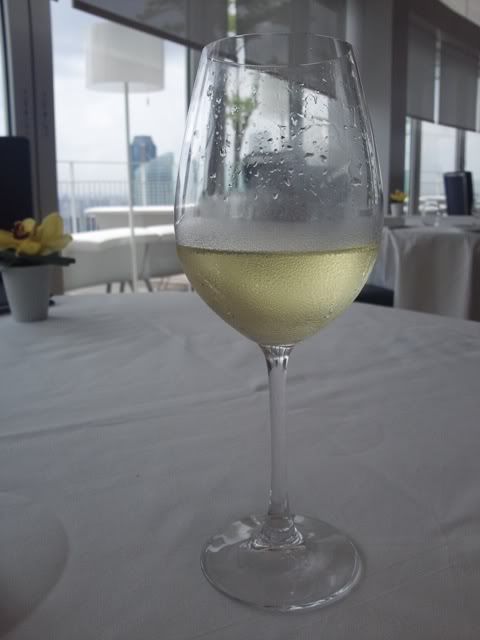 We had the Ries Kabinett 2009 (S$22 per glass) to end our meal, which was a wine specially selected by Justin Quek to include in his wine list. It was a sweet and easy to drink wine.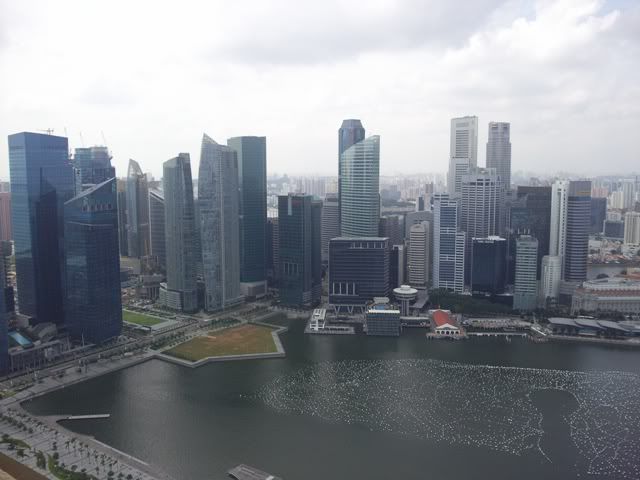 At the beginning, we encountered bad service from one of the staff, and we subsequently voiced out. It was resolved quickly, but this affected our dining experience. Only when our bill came then we found out that the restaurant has waived off our desserts. For the record, we were also served by excellent service staff on that day.
Our conclusion is that much work is still needed to improve the level of service here. Although there were some misunderstandings at the beginning, but it was quickly resolved. Hopefully during our next visit here, we can enjoy good service right at the start of our meal.
Sky on 57
10 Bayfront Ave
Level 57
Sands SkyPark,
Tower 1
Marina Bay Sands Hotel