After our previous visit to
Pizzeria Mozza
, we decided that it will not be long before we make an appearance at its high end Italian restaurant - Osteria Mozza. And here we are on a weekend evening.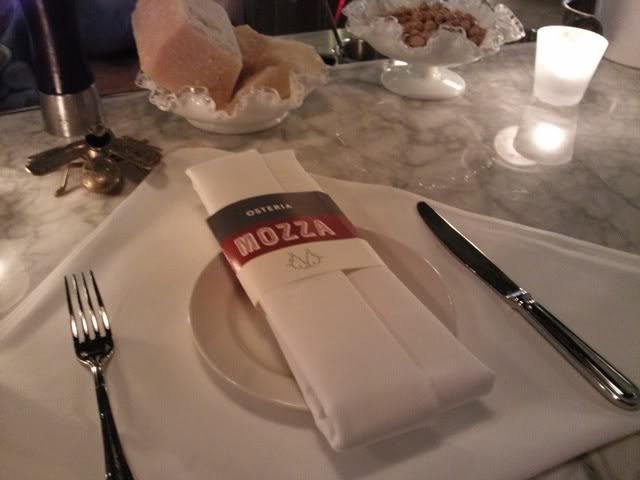 It was full house, and as we did not make any reservation, we were seated around the bar area for our food. The service staff took the effort to "decorate" our section of the bar counter into a full dining table for us.
The decor differs from the Pizzeria as this is a darker and dimmer section with a full alcohol bar and a cheese and parma ham counter. Those sitting next to the "window" should take note that curious passerbys will peep in through the open "window".
La Fee Absinthe (S$22) - Ordered one of these. Just by sniffing through the glass, we know that this is going to be super strong. For normal drinkers, half a glass and you are almost knock out. The La Fee brand of absinthe was served here at Osteria Mozza.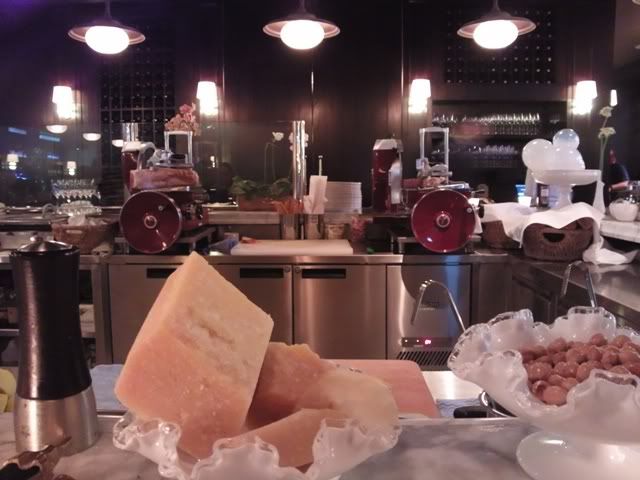 There are advantages (and disadvantages) of sitting at the bar counter. You can see the guys (and girls) preparing the salad, shaving hams and running around. The bad is that the seat at the counter had no cushion, and my bum hurts after 1.5 hours on the chair.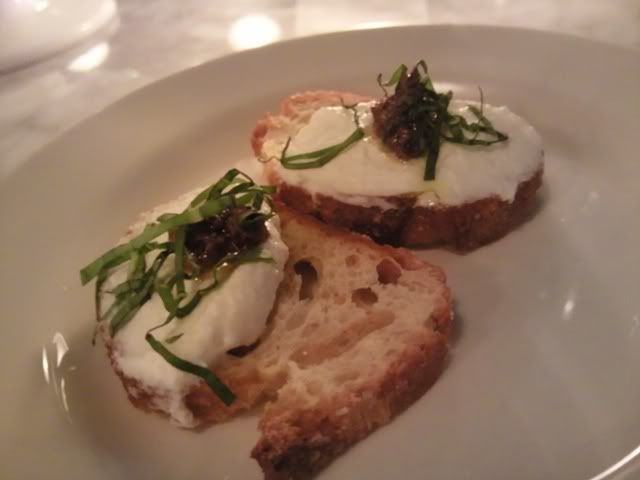 We were first presented with the chef's special creation of his amuse bouche of the day. It was 2 crisp bread with caviar.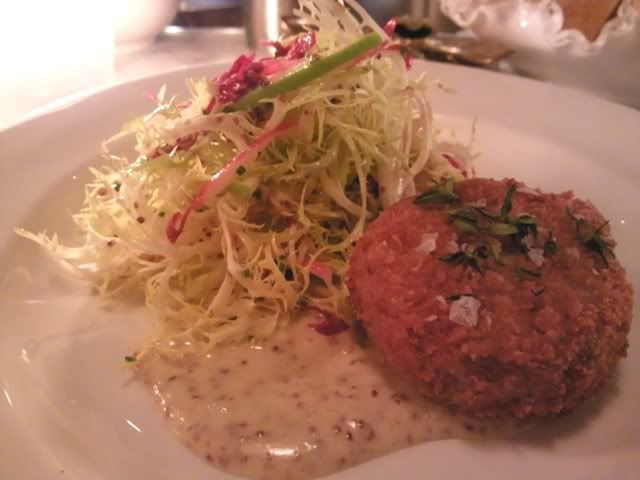 Crispy Pig Trotter (S$17) with frisee, apple and mustard. When we heard crispy pig trotter, we thought that this would be like a big plate of pig trotter which is fried till crispy, and dipped in mustard sauce. We were wrong. It was a big "pig trotter" patty which was breaded and fried till crispy. The pork inside was still moist due to the moisture and some cream. The apple salad helped to balance this dish.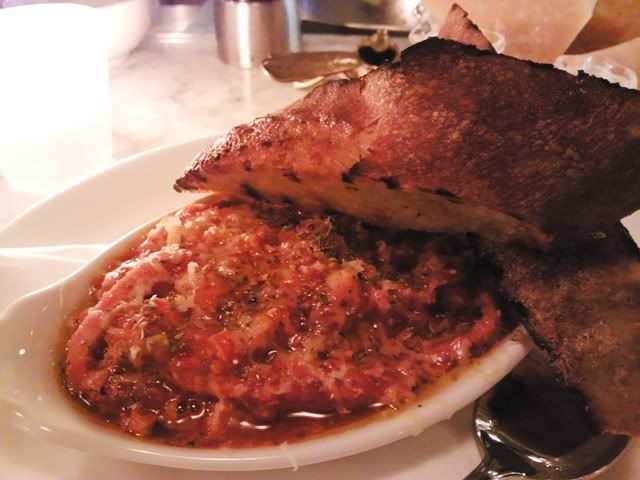 Tripe (S$17) with alla Parmigiana - The tripe (stomach) was stewed till tender yet chewey in this tomato broth and paste which was generously sprinkled with parmesan cheese. The crisp buttery bread pieces were begging us to mop up the tomato and tripe sauce. If you like to eat tripe, then this is a dish you must order.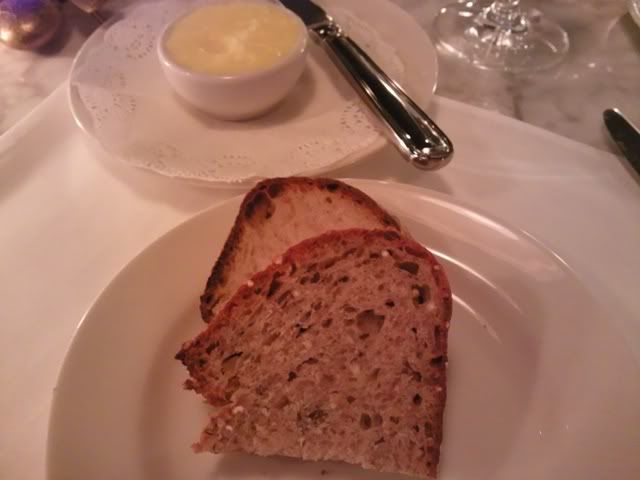 Before I forget, here they served white and wholemeal bread. Do ask for the butter (provided on request) which is not too salty but very creamy and fragrant.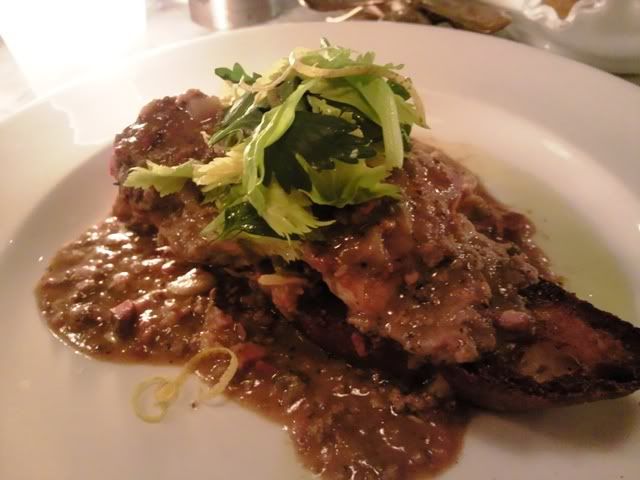 We had some problems deciding on mains. The service staff suggested us to order their specialties - Guinea Hen Crostone (S$35) with liver pancetta sauce. So what is a guinea hen (or also known as guinea fowl)?
Well, it looks a bit like the extinct Dodo bird.
Upon first bite, it taste very much like chicken. But it's not chicken. The texture is quite smooth, though it has some of the "dry" texture of a chicken breast. Fortunately, the liver pancetta sauce helped to add moisture and flavour to the meat.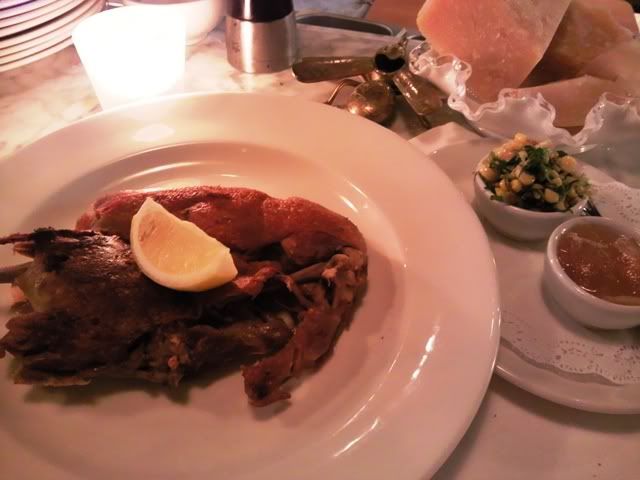 Personally, I prefer the Duck al Mattone (S$50) with pear mostarda & sweet corn. This was the chef's favourite way of cooking the duck, which is to bake and pan fry the duck till crisp on the outside yet juicy and moist in the inside. It was served with this preserved pear slices in liquer, and also some delicious sweet corn as sides.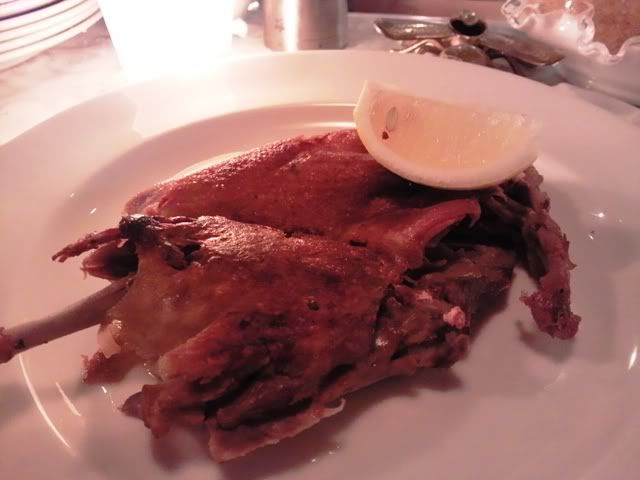 Osteria Mozza was very generous with the duck. Almost half a meaty duck. I am not sure it it is done duck confit style, which is to cook it in its own fats, but the duck is definitely very moist and flavourful.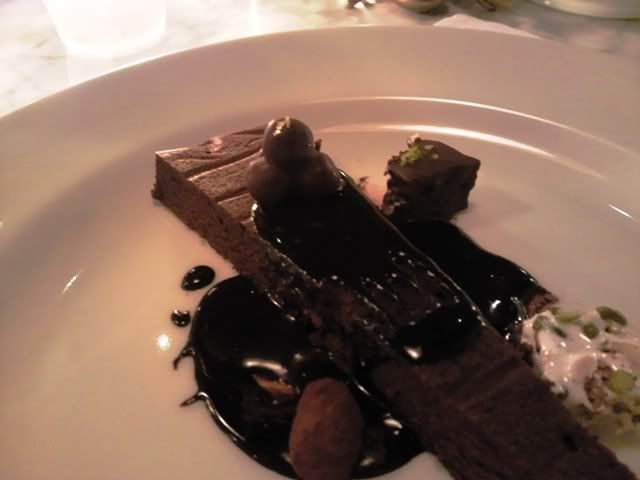 Dessert time! Their house specialty Cioccolato (S$17) - bittersweet chocolate cake & Perugian chocolates. I am not a chocolate expert, but the quality of their chocs are really good. Not too sweet but it is also not too bitter and dry. Almost no flour was used to make this chocolatey cake.
But by far, the best dessert for the night must be the Bombolini (S$17) with huckleberry marmellata & vanilla gelato. The Bombolini is actually a fried doughnut. Here, it is sprinkled with cinnamon sugar powder. A scoop of Vanilla gelato, a bite of the crisp bombolini plus some huckleberry sauce. Yummy.
Although both the Osteria Mozza and the Pizzeria Mozza are side by side and under the same chef, but it's really difficult to say which is better. For pizzas, I will definitely go to Pizzeria, but for rustic Italian food, it will have to be Osteria.
Osteria Mozza
10 Bayfront Ave
#B1-42 to 46
The Shoppes Marina Bay Sands