After our impressive visit to Osia a few months back, Osia has made quite a name for itself in Sentosa for offering high quality Aussie style cuisines and steaks at quite an acceptable fine-dining price range.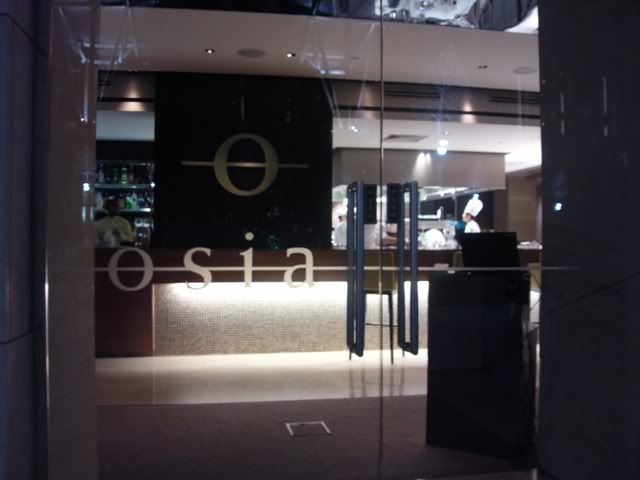 We are back for more, and our expectations were raised even higher this time round.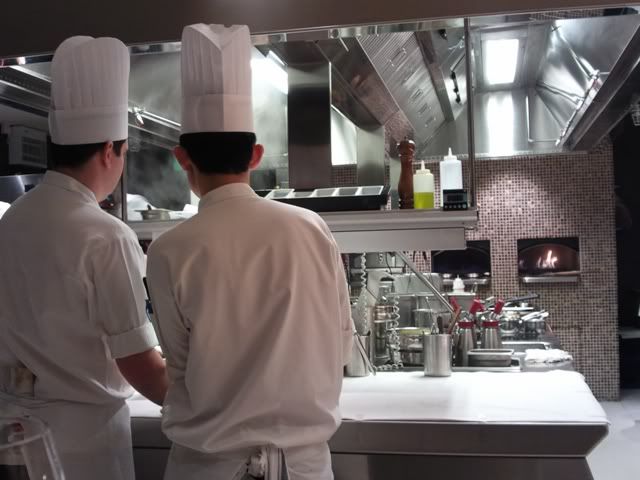 We requested to be seated at the bar counter, which allowed us to see the chefs at work. The kitchen here was very clean, and this time round we could see the huge stonehearth oven burning right infront of our eyes.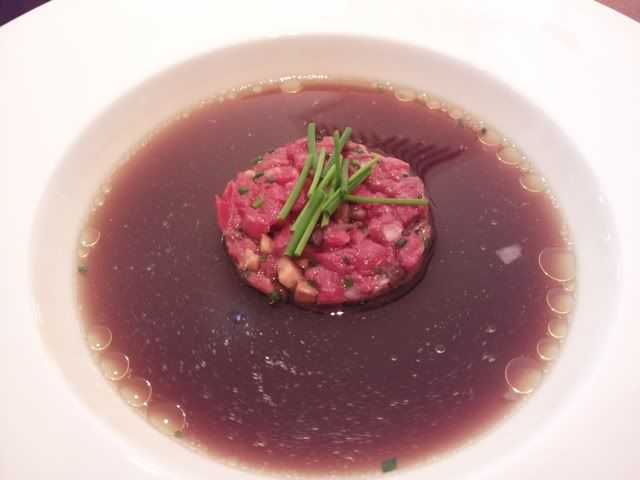 Our dinner began with the Burnt Potato Broth (S$19) - Black Angus Beef and Mushroom Tartare, Chive. We saw the chef pouring over boiling hot sauce over the tartare, giving the beef a quick "shower".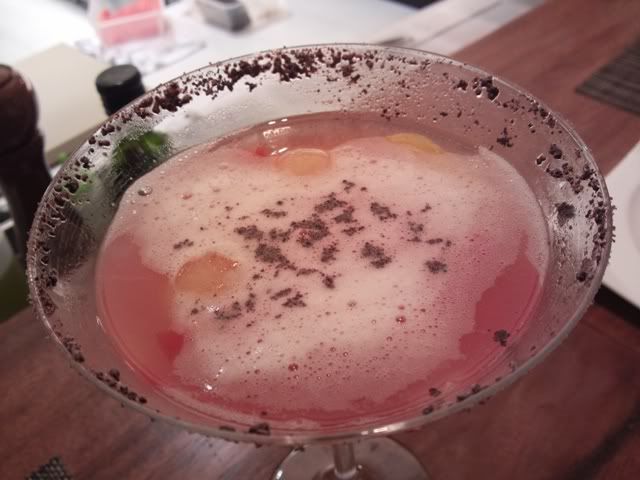 This is no alcohol, but the Vine Plum Tomato Cocktail (S$16) - Compressed pickled watermelon, Soy milk curd, Kalamata Olive Soil, Calamansi Bubble. It's actually like a cold soup. Refreshingly light and tangy.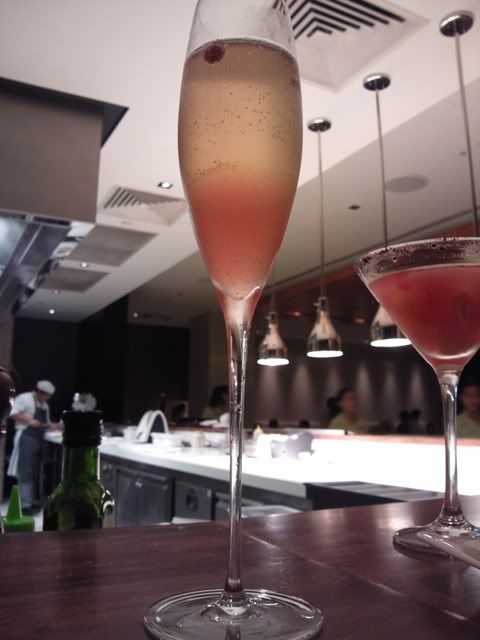 Osia Champagne based cocktail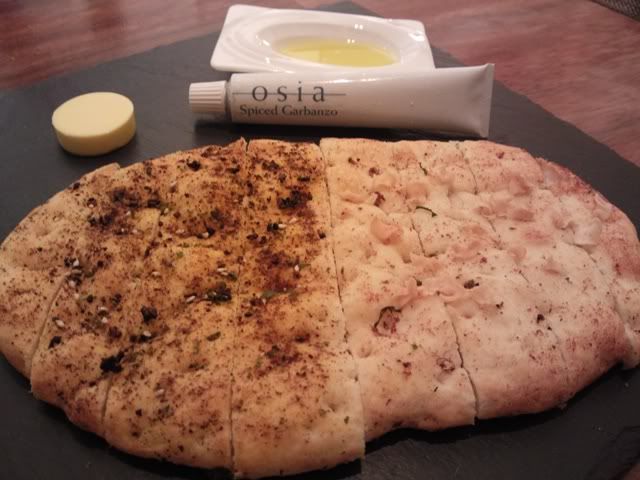 We like varieties, so requested the service staff to give us half-half of the bread. Half of Black Olive Rosemary Stonehearth Flat Bread and half of Roasted Garlic Butter Stonehearth Flat Bread (S$9) served with extra virgin olive oil, butter and Osia dip. There is something unique about the stonehearth oven, which makes the bread so fluffy yet retains the flavours.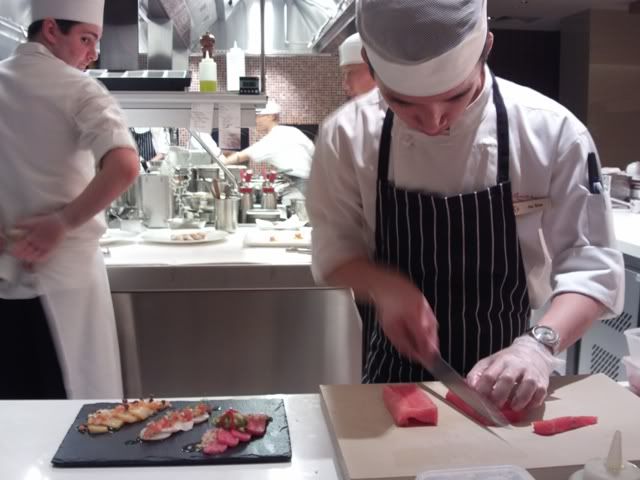 The chef sliced our next appetizer infront of us.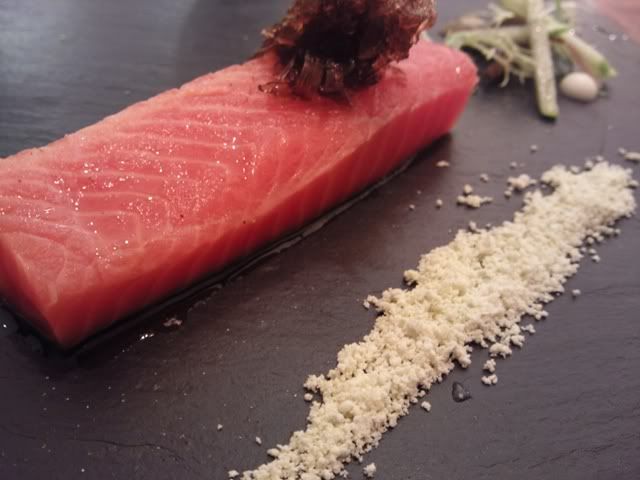 It's the extremely sweet Pertuna Ocean Trout (S$28) cured with sea salt and vinegar with green apple puree + vinegar gel. As it's not smoked, the very delicate sweet flavours of the ocean trout was brought out by the sea salt.
We only had 1 mains as we had too many appetizers. Our choice of main was the Long Island Duck Breast and Leg (S$40) - Roasted breast, Leg confit 'brix', Grilled Balsamic Radicchio, Polenta Brie Rissole, Mutharie Berry Jus. The Grilled Balsamic Radicchio stole the show from the duck. Sweet, sourish and crunchy. The popiah looking item was stuffed with juicy duck meat, just like a Peking Duck roll.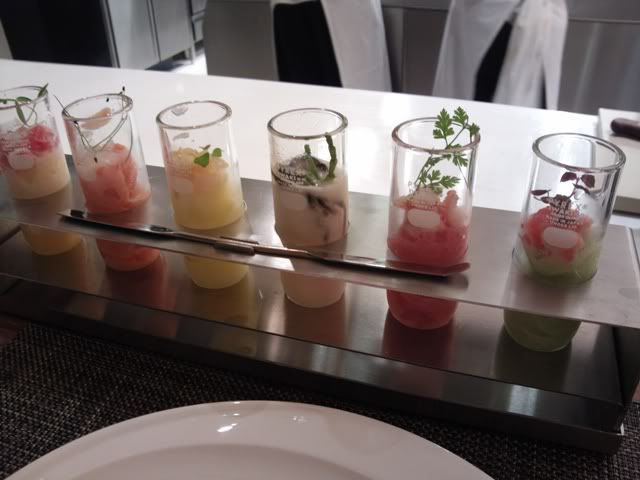 This is the 2nd time we are having this Seafood Ice Experience (S$28). In random orders, the test tubes contained:
Pineapple Lemongrass Ice + Blue Fin Tuna,
Quandong Orange Ice + Amaebi Shrimp,
Calamansi "Mojito" Ice + Sea Scallop,
Lychee Martini Ice + Oyster,
Watermelon Lillipilli Ice + Maine Lobster,
Apple Celery Ice + Tasmanian Salmon.
My favourite is the Lychee + Oyster, and Pineapple Lemongrass Ice + Blue Fin Tuna.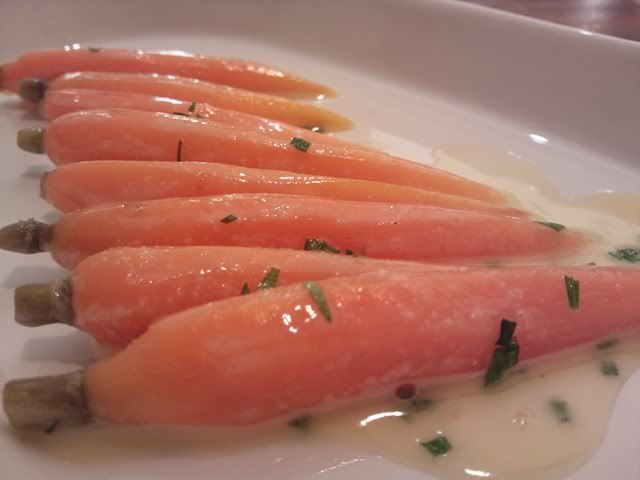 We were very surprised by our simple side dish of Baby Carrots (S$6) with Honeyed Tarragon Butter Glaze . The carrots were so tender, and so sweet. In fact, there was no need to add the honey glaze to it. We could just snack on these baby carrots for the whole night.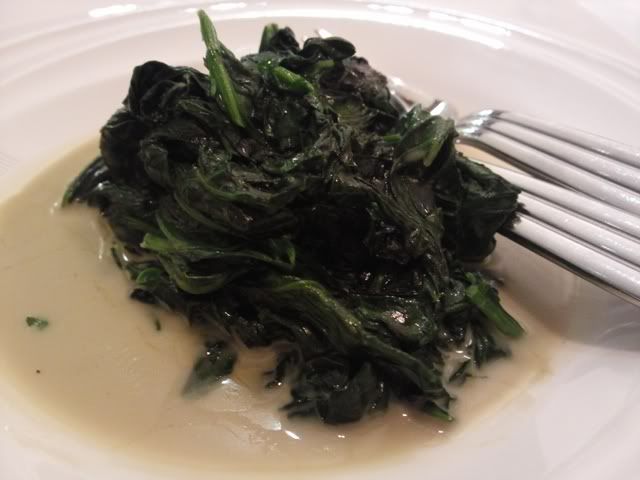 Baby Spinach (S$8) , Sauteed and Creamed. The spinahc added some bitterness to our meal. Not that I dislike it, in fact it was quite a change of flavours for us.
Once again, Osia showed that not only it has great food (and good service), but it was able to maintain its standards for nearly half a year since it opened. I guess they deserve a pat on their back.
Osia
8 Sentosa Gateway
Festive Walk
Resorts World Sentosa