When I first spotted Cz'zar in Great World City, I thought it was a new Russian restaurant as the name resembles that of the Head of the Imperial family in ancient Russia. But it was through flipping the menu that it is actually a "Stir Fried" Chinese Singaporean food restaurant.
Cz'zar (pronounced as Tze-Char 煮炒 ) is the first attempt by the Kuriya group of Japanese restaurants to serve local Singaporean Chinese dishes in a "Crystal Jade" setting. The first and only Cz'zar restaurant is located at Great World City, where a few of the Kuriya group of Japanese restaurants are located too.
Service is prompt and friendly. However, dishes tend to be slow during peak hours. So if you are catching a movie at Golden Village in GWC, remember to ask the waitress which are the dishes which can be served as fast as possible.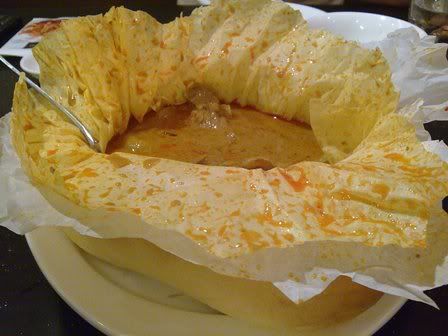 Their new offering includes the Curry Chicken bread Golden Pillow. First invented by the 933 Roas Duck stalls, a few restaurants have now come up with their own versions of this dish. The version by Cz'zar is quite good. Bread is soft, curry is not too spicy and I like that the use only chicken thigh and drumstick instead of dry breast meat. However, we did reflect to the waitress that the bread and curry is lukewarm. It would be better if the curry is served to us pipping hot. However, the curry gravy is good.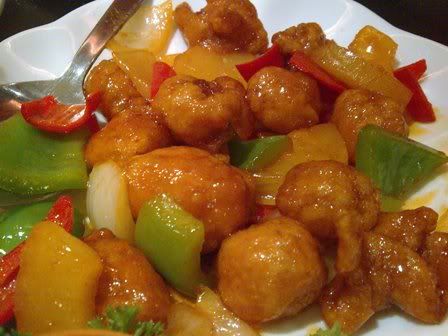 Cz'zar does a mean version of the Sweet and Sour Pork. The pork cubes are juicy and flavourful. They use cuts of pork which are not too fattening. The sauce is also not overwhelmingly sweet or sour.
Cod Fish with Teriyaki Sauce. No complaints about the cod fish as it is my favourite fish and it is fried till crispy. Only imperfection is that the teriyaki sauce is a little too sweet for my linking.
CZ'ZAR RESTAURANT SINGAPORE INSPIRED CUISINE
Great World City #01-371 Kim Seng Promenade
Singapore 237994
Tel: 6836 2520
Daily: 11.00am - 10.00pm
Website:
http://www.res.com.sg/restaurants_view.php?v=9