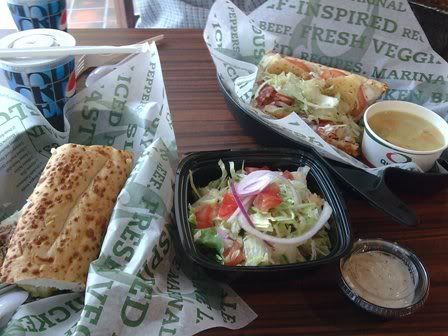 Had Saturday lunch at Quiznos @ Far East Square. Quiznos is basically Subway's competitor, with 5,000 stores worldwide and the 2nd sandwich chain store in the US. Price is similar to that of Subway and you get to choose the type of bread, fillings, vegetables and sauce toppings. Most will also go with a full meal with either a soup or salad.
We tried the beef sandwich and chicken mesquite sandwich. The soup is terrible so don't bother ordering their soup. Salad was average. What surprised me was there they have a condiment counter with lot's of condiment to go with your sandwich and salads. But actually it is not necessary as the sandwich itself is already very flavourful.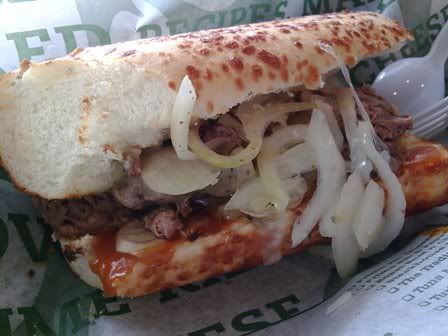 Close-up of the roast beef sandwich. I prefer the beef to the chicken one. But I think Subway is much healthier as Subway is more generous with their vegetables.
Overall. worth a try.
Quiznos
47 Pekin Street, 01-01, Far East Square
7.30am to 8pm, weekdays,
7.30am to 4pm, Saturdays,
closed on Sundays
Website:
http://www.quiznos.com/