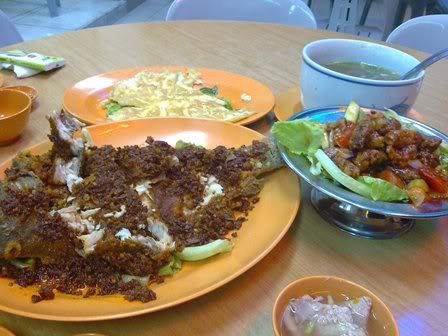 Many Singaporeans equate sambal fried fish with Lai Huat. Lai Huat has been around many years (40 years in fact) and there are now a few different Lai Huat restaurants all over Singapore, most notably at Tyrwhitt Road, Rangoon Road and Guillemard Road.
I went to the one at Rangoon Road which was the branch of the original Lai Huat at Tyrwhitt Road. When I reached there, was quite shocked to see that in the whole restaurant, only 1 family was having dinner at 8pm. We were the 2nd. I thought business was bad, but it was only later at 9pm when more diners started to stream in. Parking was free as you can park right outside the coffeeshop and eat next to your car.
We ordered the Sambal fried fish. I tried their Promfret a few months back, and find that it didn't have much fish meat. So this time round I ordered the other fish. I cannot remember the species of the other fish, but there was only 1 other fish offered beside the Promfret. As you can see from the picture, the fish is covered with crispy sambal and it went very well with white rice. However you may get quite sick of all the sambal after a few mouthfuls. So go easy.
Also had Fuyong Omelette which was quite big for a small order, a pot of Duck meat and Salted Vegetables soup and a Sweet & Sour Pork. Quite enjoy all the dishes. The soup was especially big and they only had 1 serving size.
Can't remember the exact price, but it is pretty economical and good for the recession period.
Old Lai Huat Restaurant

223 Rangoon Road, #01-01/02 Rangoon View
Opens Daily 5pm to 11:30pm except Tuesday