It's been a few months since The Fullerton Bay Hotel opened its doors to guests. Located at the premiere waterfront of the Singapore CBD, the hotel boasts one of the best view in Singapore.
We had lunch on a weekday here at the hotel's flagship restaurant - Clifford Restaurant. The restaurant has a magnificent view of the new Marina Bay Financial Centre and Customs House through it's really tall glass windows.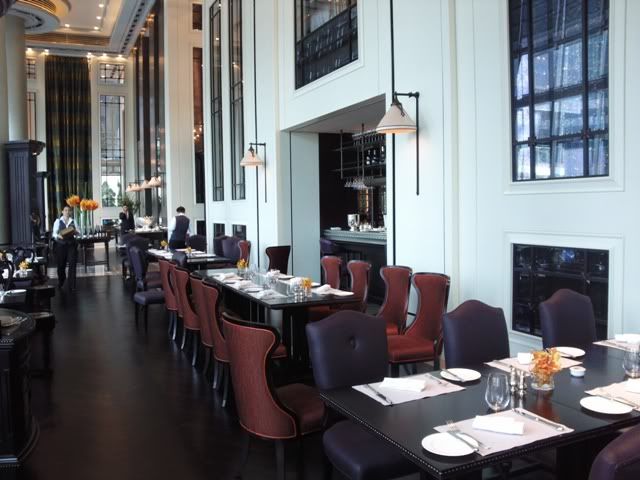 Clifford spared no effort (and money) to design and decorate the interior to that of a restaurant in Paris. I like the chairs - very comfortable. The design actually reminds me of St Regis Hotel too.
On weekdays, Clifford offers a special 3 course set lunch (S$45). We ordered 2 sets of the set lunch.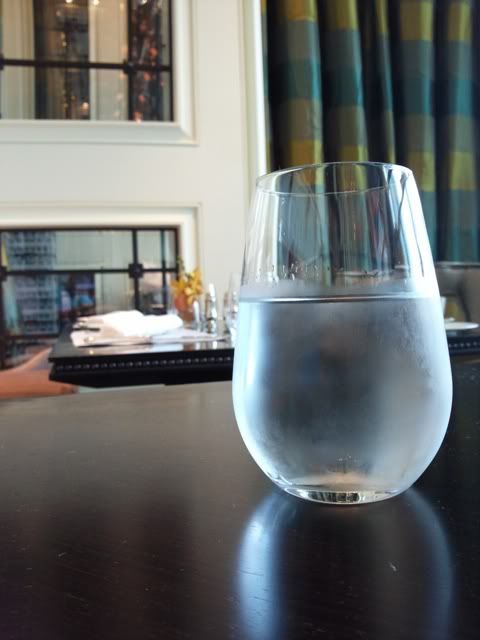 Here, they offer free flow iced water for all diners.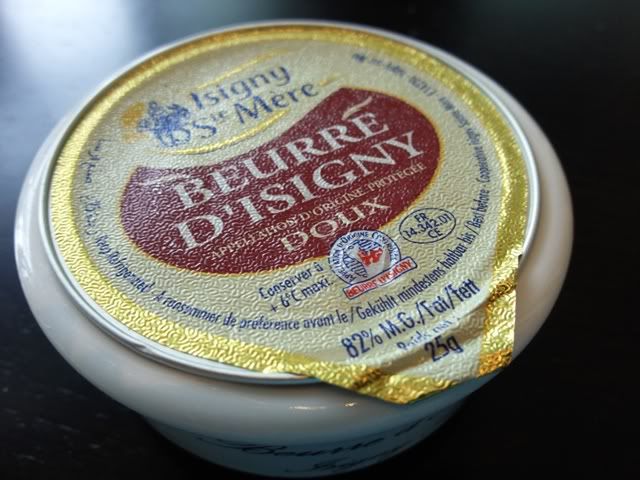 Butter experts will know this well-loved brand - Isigny Sainte Mère made in Normandy. Words that come to mind when enjoying Isigny butter are - creamy, pure and buttery. Clifford presents their French butter in a beautiful ceramic holder.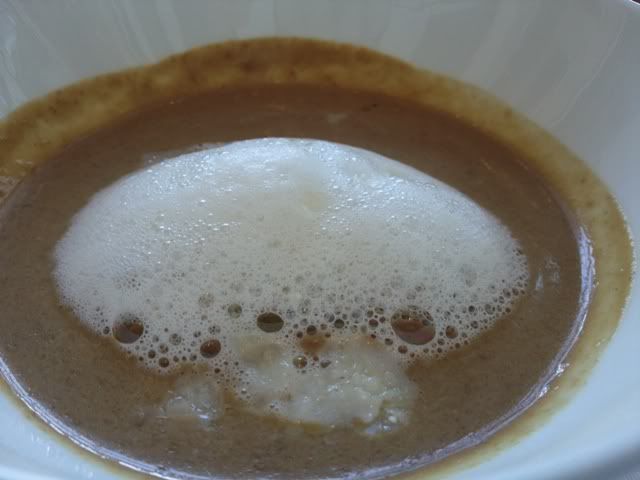 Our set lunch was off to a shaky start - Porcini Mushroom Cappuccino. I find this too thick for my liking. And it was not exceptionally good. Just something average.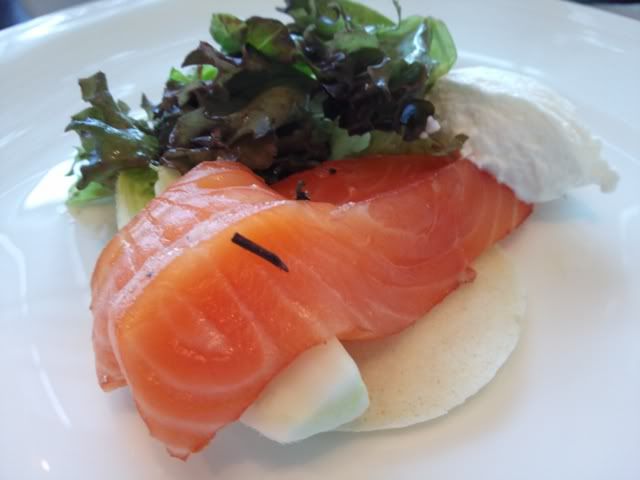 The Cured Salmon Gravlax, lemon blenix, herbs cream was another choice of appetizer from the set lunch. The cured salmon was nice, but I didn't enjoy the rest of the items in this dish.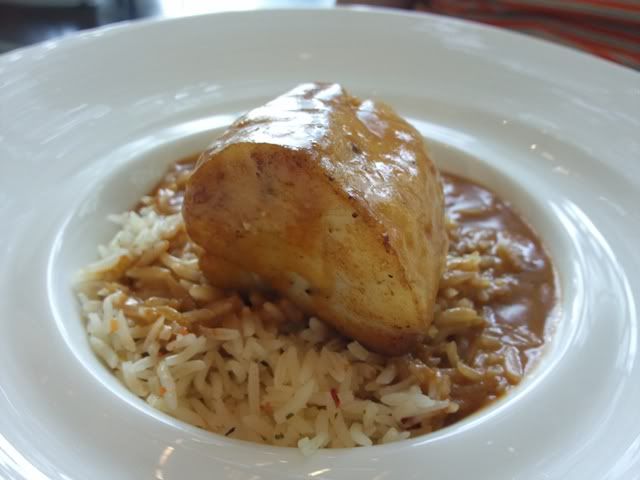 After the appetizers come the mains - Monkfish a l' Armoricaine, Pilaf rice. I love the Pilaf rice as it was cooked till perfection with the savoury sauce. The Monkfish was fresh and sweet.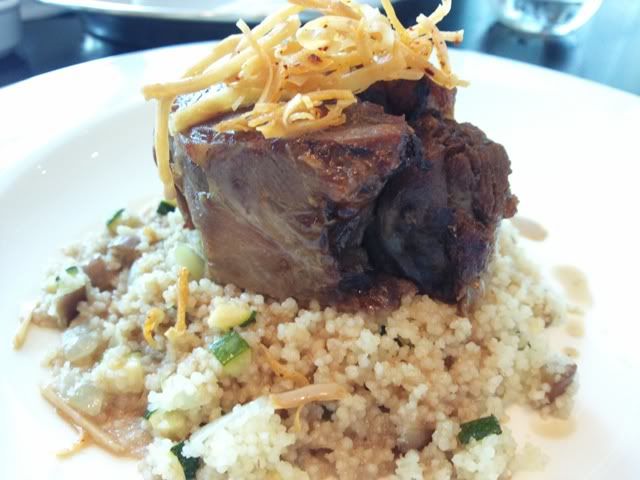 Although the lamb from the 7 hours lamb shoulder with vegetable facon tajine has been cooked for 7 hours, I still find it not flavourful enough. Fortuantely, the meat was tender.
Our dessert from the set lunch was the Spice chocolate soup, cookies. Sorry to say this, but the chocolate soup at Osia with black pepper ice-cream is a notch better.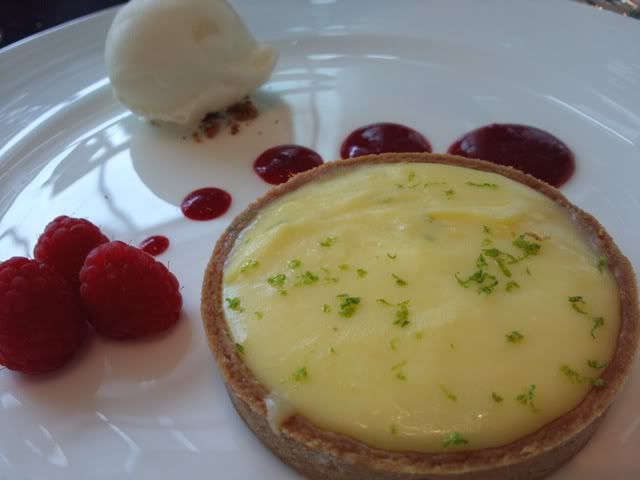 But what I like is their Lemon tart, Raspberry gel, Creme Fraiche Ice Cream. The lemon cream is not too sour and not too sweet. It hits the right balance. This is something I will order again.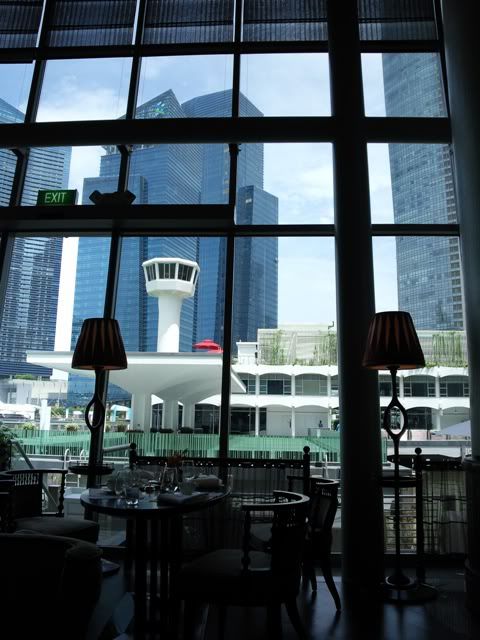 Another look at the view from where we were seated.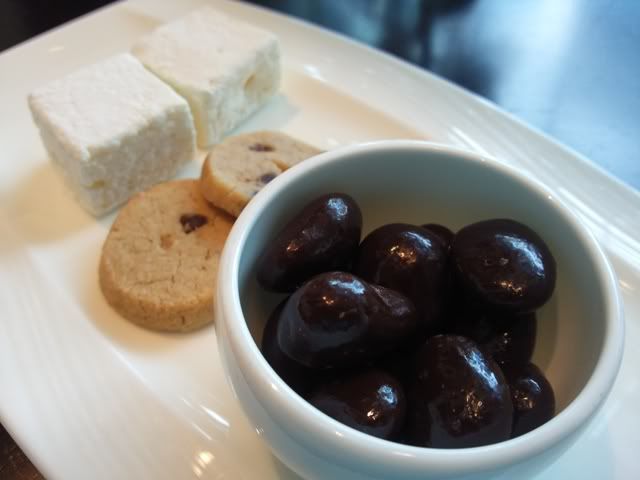 Towards the end, the service staff brought out Marshmallow, cookies and chocolates for us to enjoy. The Marshmallow were great. Soft, fluffy and creamy. I didn't like the chocolates, whicch tasted like something not from a high end restaurant.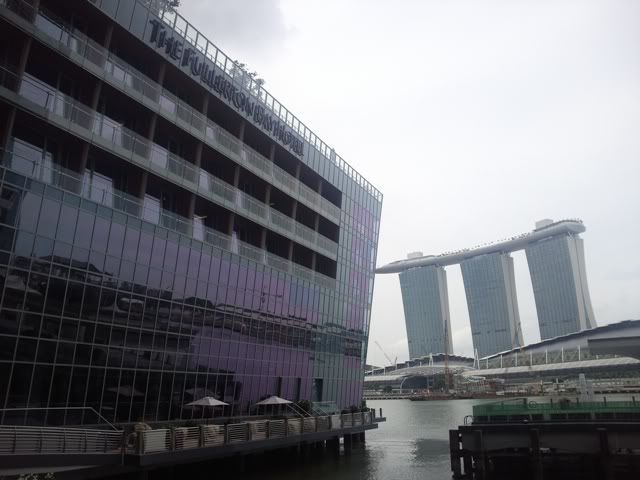 Usually a restaurant with a great view does not serve equally great food. Unfortunately, this equation fits Clifford Restaurant. Hopefully the next time we are here for lunch, their standards would have improved.
Clifford Restaurant
The Fullerton Bay Hotel
80 Collyer Quay