Chef Irma Dutsch, the first ever female chef from Switzerland to be awarded a prestigious Michelin star, is now in town at Equinox and whipping up unique Swiss cuisines here in tropical Singapore. Beside the usual fondue, dairy products and cheese, Chef Irma Dutsch is determined to introduce different Swiss cuisines to the diners here in Singapore.
One gets easily distracted away from the food with such a commanding view from where we were seated. 10 years ago, nobody would recognise that this is indeed our Marina Bay which used to be really dark and boring at night. We ordered the 8 course Menu Degustation with Wine Pairing by Chef Irma Dutsch (S$295++)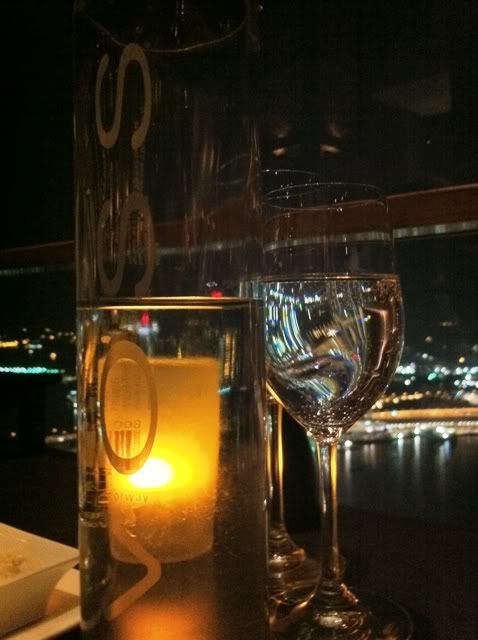 Started our dinner with Voss water.
Bread with butter, olive oil and a creamy bread dip.
Started dinner with a special amuse bouche made of various vegetables and fruits, and wrapped with thin tuna sashimi slice.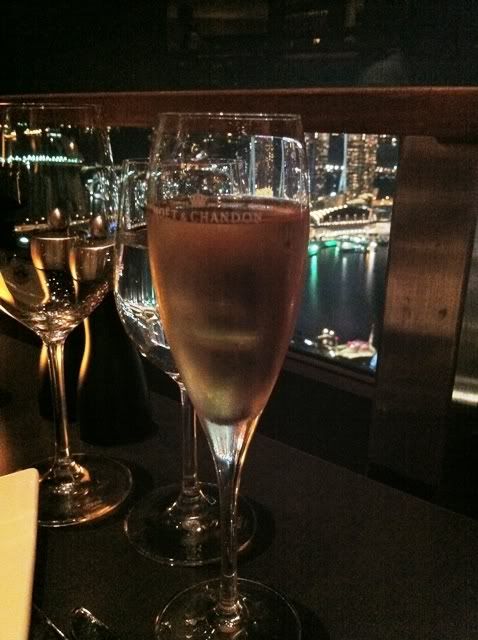 As this was a wine pairing dinner, there were various wine and champagne throughout our dinner.
This is the world reknowned Moet & Chandon Brut Rose champagne. I think they make one of the best champagne in the world.
Beerenauslese Geselmann Saemling from Austria. Beerenauslese sounds like the word beer, but it actually has nothing to do with it. In fact, it refers to dessert wine, or sweet wine.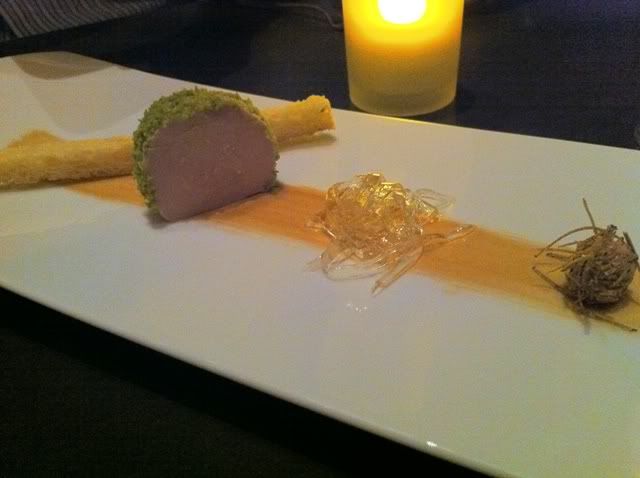 Continued our dinner with the Duck liver farandole with sweet wine jelly. The reason why the duck liver was called a farandole was that the shape resembles that of the semi-circle farandole which is sometimes used in European folks dance. The ingredients used are top notch.
Fendant soup and cheese delicacy was next served. The cheese delicacy was this crunchy and cheesey cheese bread stick.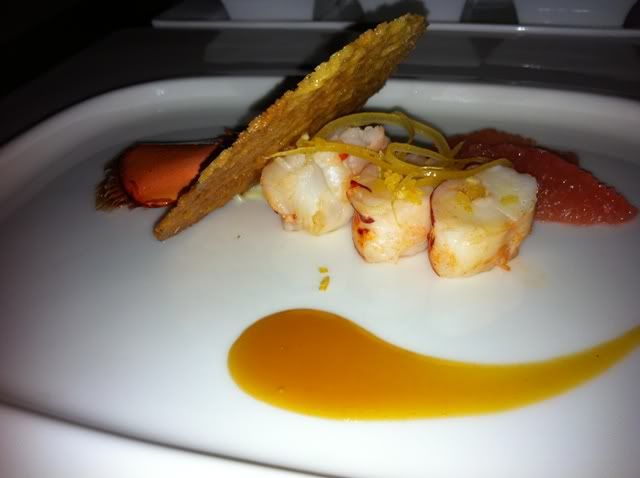 Our main was Lobster with citrus fruits. Full marks for the sweet and succulent deshelled lobster. Nothing could go wrong when you combine seafood with tangy citrus sauce.
A glass of dry white wine by Pouilly-Fume, La Demoiselle, Henri Bourgeois, France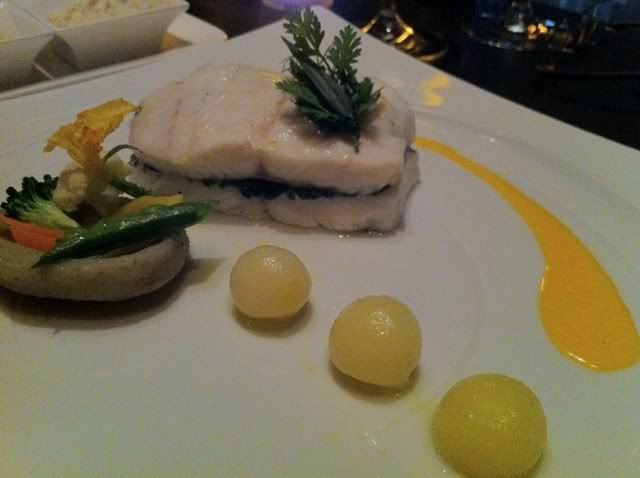 And the white wine went well with seafood mains, such as this Sander fish scented with herbs and mund saffron.
As in Switzerland and other European cities, it is the norm to have a selection of cheese to go with wines.
We were presented with a wide Selection of Swiss Cheese. Of course after such a full dinner, we had problems finishing everything.
The fragrant and nutty Taylor's Tawny Port to go with the cheese.
After the cheese, the chef served us our first dessert - Glass of chestnut vermicelli and cherries, with elderflower ice-cream. The elderflower ice-cream was light and had this fragrant elderflower taste and smell to it. Ladies will love it.
And the second dessert was this "tic-tac-toe" Orange skin confit and chocolate truffle with Kirsch Liquor.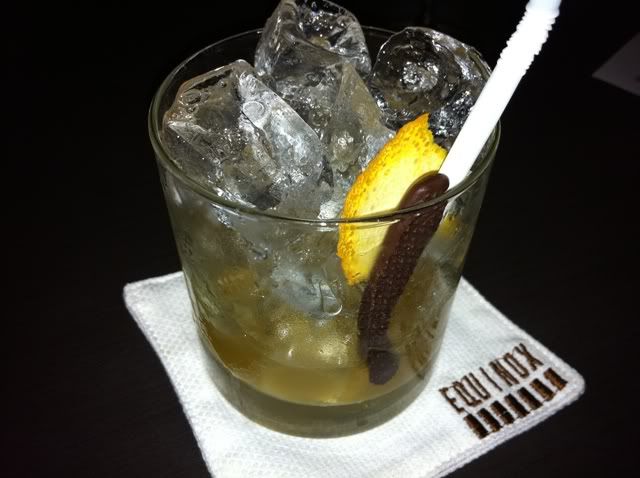 Our final alcoholic drink - Orange Treacle Cocktail. And with this, we ended Chef Irma Dutsch 8 courses dinner with wine pairing. Although Chef Irma Dutsch prepared her final dinner here last Saturday in Singapore, but I am sure she will be back again very soon due to the good response from local diners.
Equinox Restaurant

2 Stamford Road
70F
Swissotel The Stamford