Just like all Chinese F&B group such as Crystal Jade and Imperial Treasure, the Paradise Dynasty group is going through a multi-sector expansion plan, with the first of it's "La-Mian and Xiao Long Bao" restaurant opening its doors early this month at ION Orchard.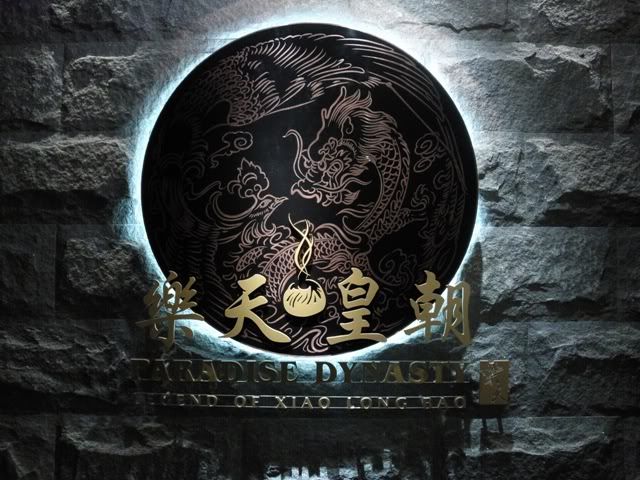 The name "Paradise Dynasty" may sound too grand for a Xiao Long Bao restaurant, but I assure you that this name was given for a reason.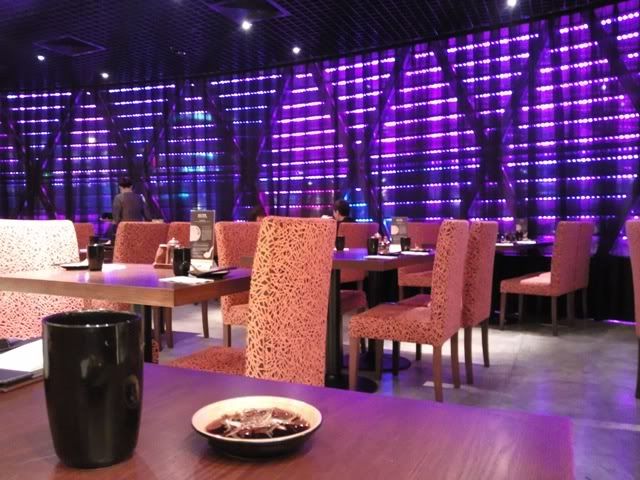 The layout was in a "L" shape, with a smaller private dining area near the entrance, and a usual grand banquet hall on the other side of the restaurant. From here, diners can see across to Tangs and also the main Orchard Road. The LED lights on the exterior of ION Orchard also sparkles into the restaurant, creating quite a visual feast for diners.
We had the ordinary Tea (S$1.20). Saw the tea masters pouring tea from special tea cups (similar to those from Szechuan Dou Hua) around the tables, but they didn't come here. Perhaps it was for another category of tea?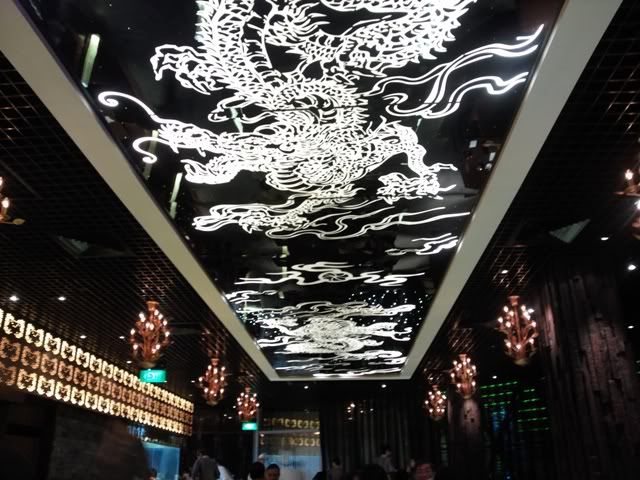 As mentioned, this place is not called Paradise Dynasty for nothing. Although the food here is cheaper and of a lower category compared to her sister restaurant Taste Paradise which is just a few steps away, but the management threw in a lot of money to decorate the interior. This is, the poshest La Mian and Xiao Long Bao restaurant I have ever been to in Singapore.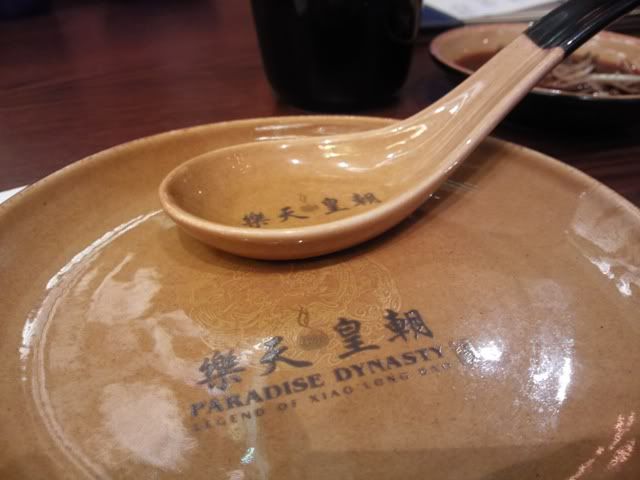 Cutlery here is similar to those from its Paradise Inn chain of restaurants.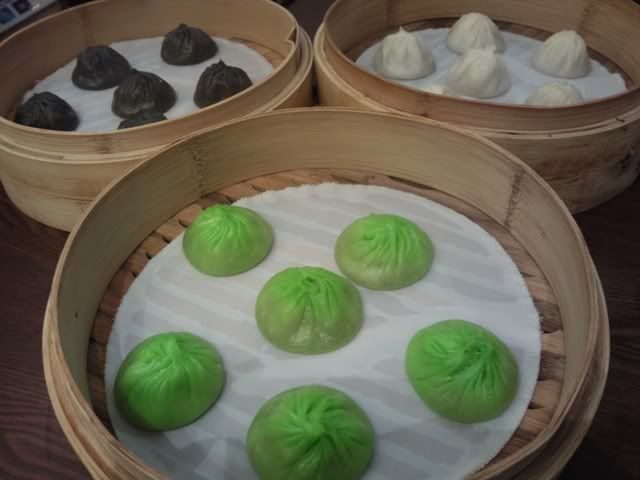 We had a trio of Xiao Long Bao: White - Original Steamed Soup Dumplings (S$6.80), Black - Black Truffle Steamed Soup Dumplings (S$23.80), Green - Ginseng Steamed Soup Dumplings (S$12.80).
The best was the White and Green ones. Skin was thin and full of pipping hot juice inside. The Ginseng was really a surprise hit. Didn't know that Ginseng soup tasted so nice inside Xiao Long Baos. The worst, would have been the Black Truffle. Although we can taste the truffle, but somehow, it just isn't right for Xiao Long Bao. Also, I read from the Business Times review that their Foie Gras Xiao Long Bao was also not as good as expected. My advise? Stick to Original and Ginseng.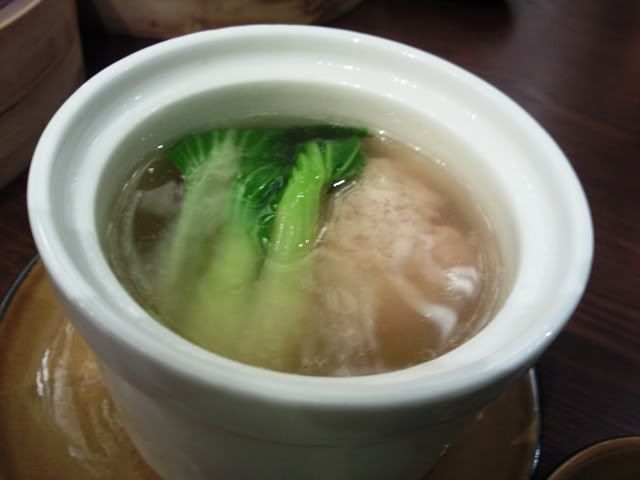 Had one order of Yangchow Lion Head with Vegetables Soup (S$7.50) - This is a typical Shanghai dish with the Lion Head (jumbo pork meat ball). Soup was quite tasty.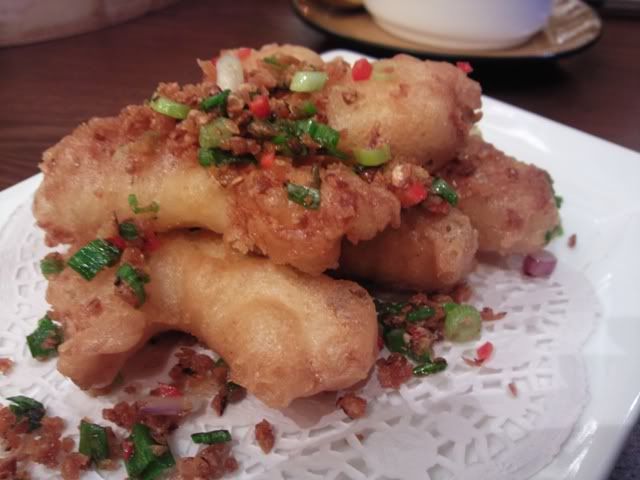 Deep fried fish fillets with crispy garlic (S$14.00) - Crispy, crunch and garlicky. Something crispy after all the soupy warm dishes.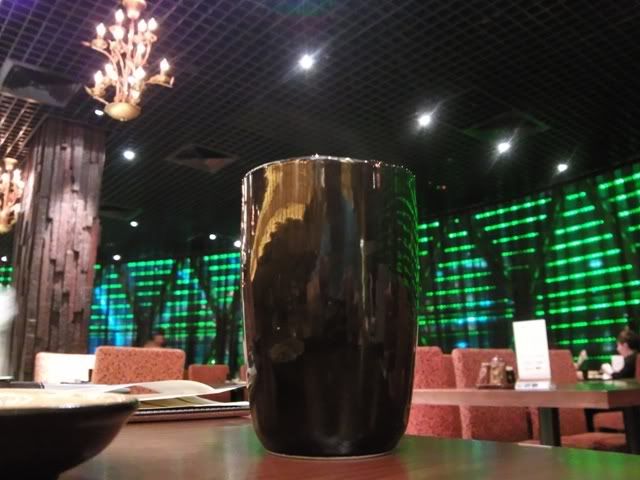 Would definitely return to try more of its other small Shanghai dishes, and of course their La Mian too.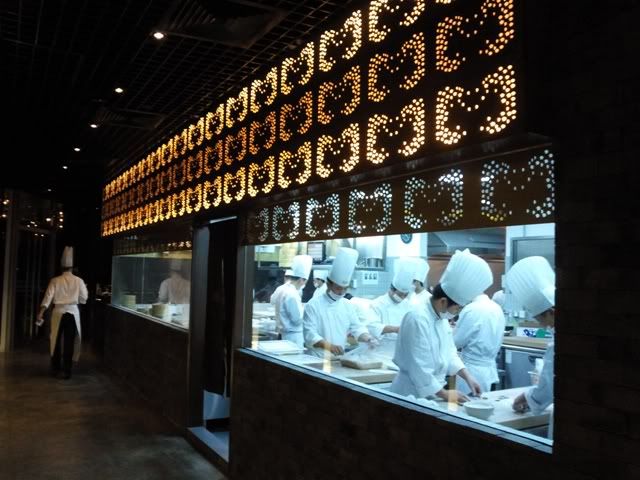 By the way, they have this giant widescreen window where diners can see the chefs preparing the food.
Saw the chef dicing ready-peeled ginger in the kitchen. I thought it was potatoes!
Paradise Dynasty
2 Orchard Turn
#04-12A
ION Orchard