I never heard about this Nagomi restaurant before. So when told that reservations is A MUST, I was suspicious because how can such an unknown Japanese restaurant in a quiet corner of Cuppage Plaza be so popular?
Cuppage Plaza , famous for many Japanese restaurants (and also seedy pubs and bars), have been in the news lately for the wrong reason. We went there early one weekday evening, and avoided most of the Japanese expats seeking "ECAs" at this place.
When I entered the restaurant, I was surprised to find out how small this place is. A few tables and a bar counter. Diners are to remove their shoes at the door. So if your feet smells like salted fish after a day's work, better go and freshen up your socks first before coming here.
One of the first dish was this beautiful Japanese tomato. How good can a raw tomato be? Well, it's amazingly sweet and juicy, yet without the "raw" tomato taste which some hate. To neutralise the tomato, some creamy mayo were provided to refreshen your palate. Dip some of the tomatoes into the sea salt to better taste the sweetness of the tomato. Excellent.
More appetizers were served. This time a small bowl of pasta with mayo and fish flakes, plus...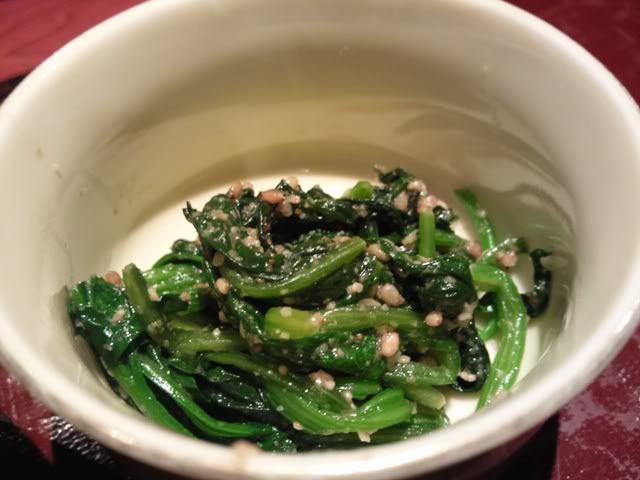 chilled Japanese vegetables. I thought they were skillfully prepared as such simple appetizer could have such amazing taste.
Oyster lovers will be in heaven. Their oysters are one of the freshest I had in Singapore. Really fresh, plump and there is totally no "fishy" taste and smell to it. I did not have to squeeze any lemon or sauce into the oyster. It's that fresh.
Sashimi were equally sweet and fresh with a great crunchy texture. Scallops, blue fin tuna, and others.
Crispy deep fried fish served with a small bowl of sea salt. Initially, I thought deep frying these fish is a way to mask their fishy taste and texture. But I was wrong. The fish itself was still sweet and jui, and the deep frying of the skin added an extra dimension of crunchiness. Imagine sinking your teeth into a layer of crunch, followed by the soft and sweet flesh of the fish.
I find this braised pork belly above average. Nothing too amazing, as compared to their other seafood dishes. It was tender and flavourful, but lacks something. I don't know what.
This looks more like a Chinese dish than a Japanese dish. Steam whole Mehikari fish. Again, fresh and sweet. I am already ready to crown Nagomi as the best place in Singapore to enjoy Japanese sea produces.
The Grilled beef slices were very good. And may I add that they used high quality beef. (Not sure if it is Wagyu grade beef, but it was really juicy and flavorful)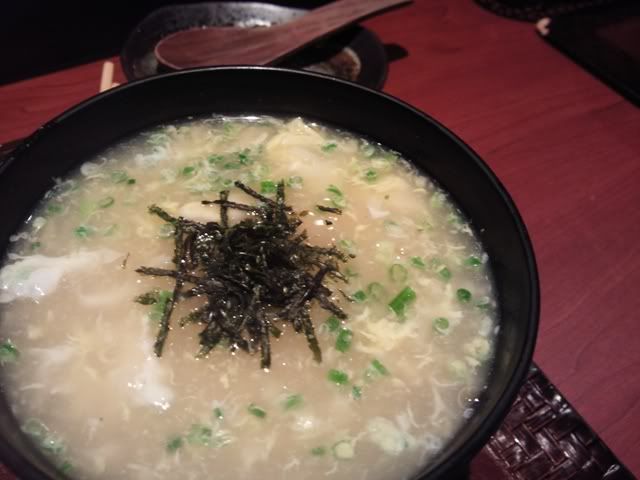 Ended our Japanese dinner with Porridge cooked in Chicken stock. If you think that Cantonese porridge are the best, wait till you try this Japanese chicken porridge. Each mouthful of this porridge is bursting with flavours of rich chicken broth and silky egg white.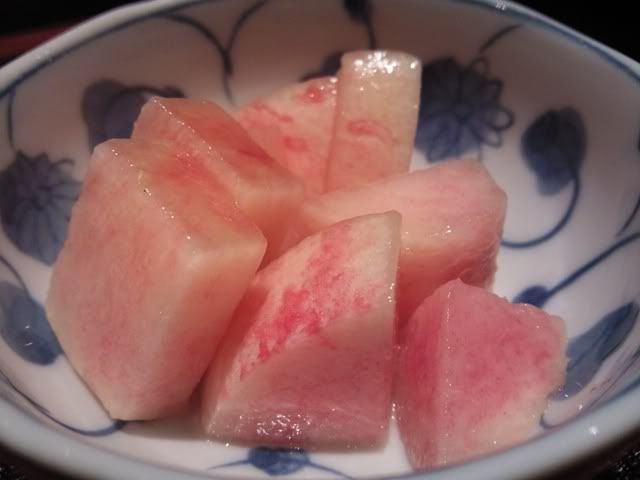 Dessert was a simple, juicy and sweet Japanese peach. The chef was good at picking the best produce at that particular season.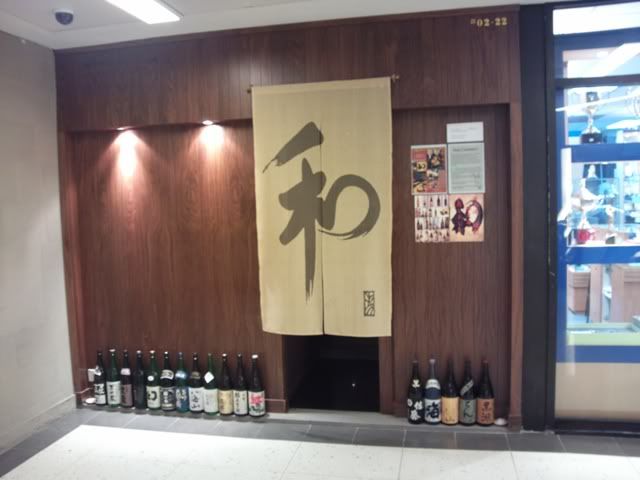 At S$130 per person, this is truly money well spent. There is no menu here, and the chef cooks whatever is in season at that period of time. And even diners sometimes get different items too. Some tables next to us had different dishes. But you can be assusred that whatever the chef serves is of very high quality and high standards.
Definitely one of the best Japanese restaurant in Singapore.
Nagomi
5 Koek Road
#02-22
Cuppage Plaza
TEL: 6732 4300