Just 5 years ago, Singapore was one of the last place any Michelin stars chef would pick to open their overseas outlet.
What a difference 5 years made, especially with the opening of our first 2 casinos and IRs, attracting big names in the culinary world.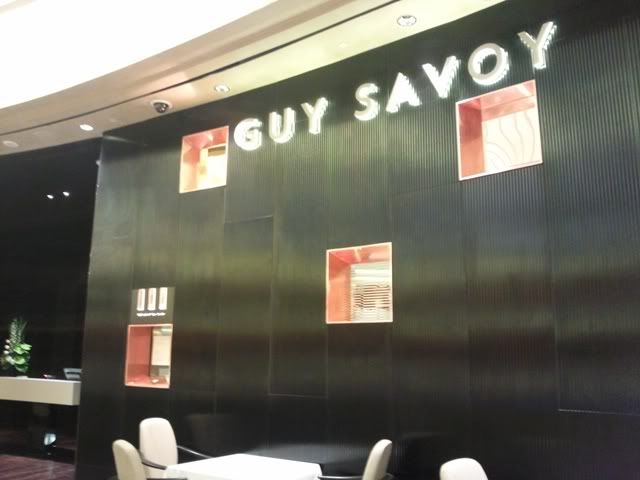 The world reknown Guy Savoy from Paris has finally landed here in our little island. His Paris main restaurant was given 3 Michelin stars back in 2002, and his Las Vegas 2 Michelin stars, with high expectations that it will be awareded the prestigious 3 Michelin stars very soon.
The Singapore restaurant Savoy is opened for about 2 months, with its grand opening this Wednesday. Sheldon Adelson, the founder of Las Vegas Sands and owner of Marina Bay Sands in Singapore, will be "officiating" the opening of Savoy in Singapore with a Gala Dinner here.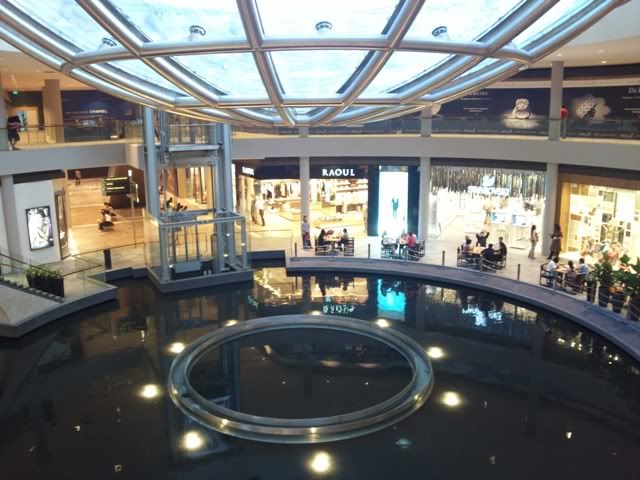 Finding the restaurant proves to be a challenge. Much of the shopping and entertainment complexes are still under construction even though the grand opening of Marina Bay Sands is tomorrow.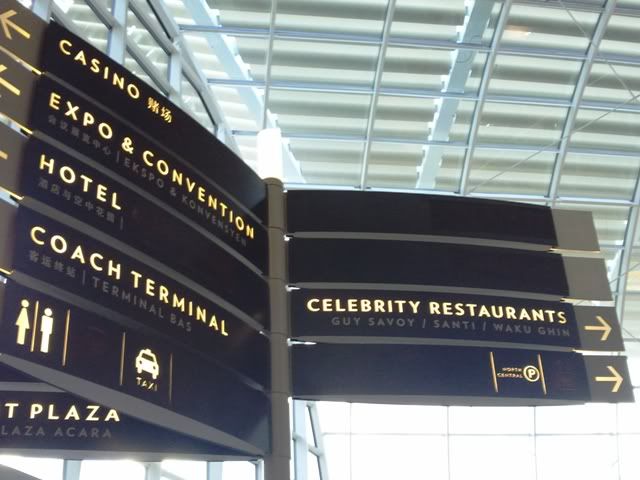 To locate the restaurant, first go to Level 1 and follow the signboard which says "Celebrity Restaurants". All diners who does not want to go through the casino must take a lift from Level 1 to Level 2 at the main shopping complex. It's the only way up for Singaporeans and PRs who want to avoid paying the S$100 gambling tax.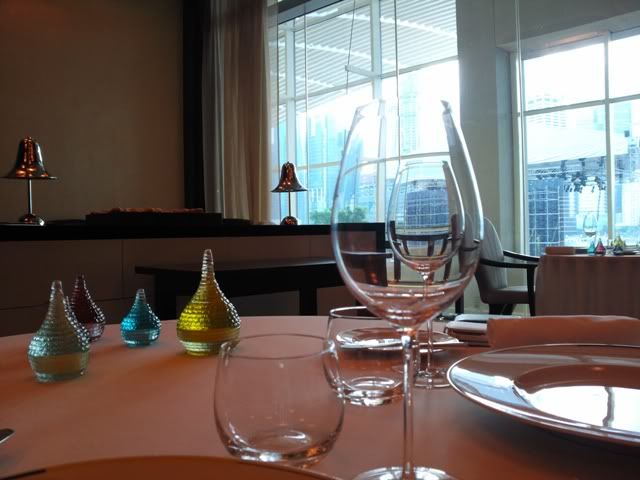 At 6:30pm, we were the first to arrive. Even though there is no dress code stated, it is advisable to be dressed in long pants and a collared shirt. Ladies should be dressed in evening gowns (or something to this effect).
It looked empty at 6:30pm, but RESERVATIONS is a MUST, because at 8:00pm the entire restaurant was full house. Try to ask for a table next to the window, so that you can enjoy the beautiful Singapore skyline while dining here.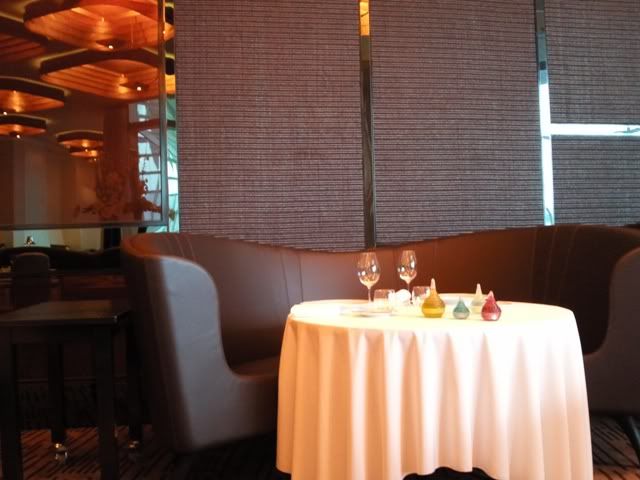 During our 2 hour dinner there, we saw families, couples and friends enjoying their dinner at Savoy. So this is not really restricted to couples only. They have private rooms big enough to accomodate 10 or more diners too.
Before I forget, photo taking of food is allowed. However, as you can see from the reflections from the walls, the lights here are those orange coloured lights. So those with DSLR please adjust your white balance. And for those like me who takes photo with normal cameras or my Samsung Pixon 12 handphone camera, good luck.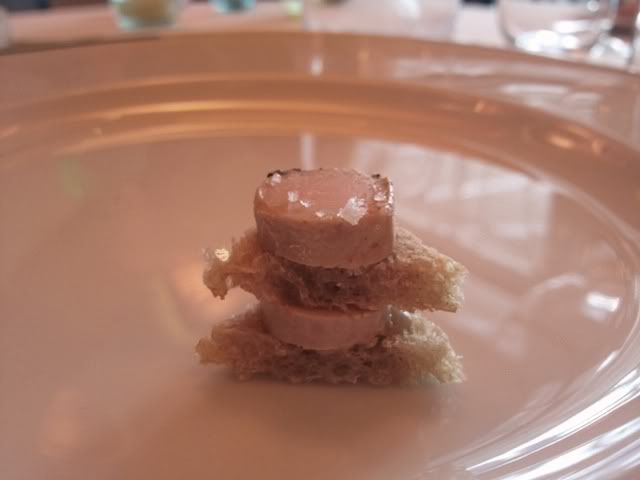 We were immediately served the amuse bouche upon seated. It was some Foie Gras with toast. Find this quite ok.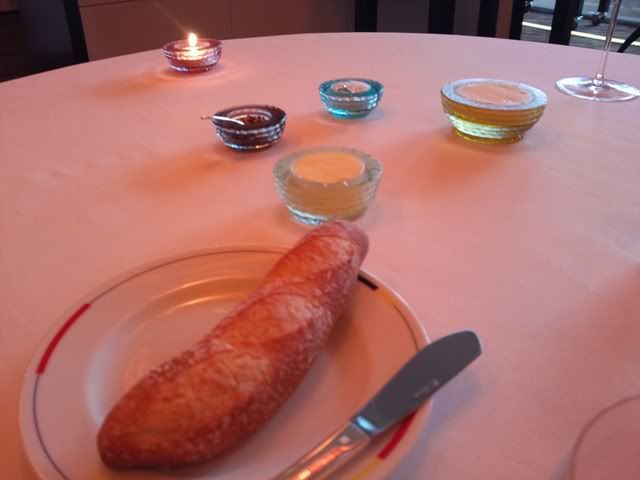 The serving staff "opened" the colourful water droplet glasses and it actually contained our salted and unsalted butter, plus freshly crushed peppers and sea salt!
I wonder if it's the norm to serve cold bread in Guy Savoy. Bread was really cold and hard. Anyway, if you are going for the Guy Savoy signature degustation menu, I really recommend you to skip all the bread. Because the portions and number of courses is really too much for a Singaporean diner. I am not kidding because I am a big eater, and even I also cannot finish everything here.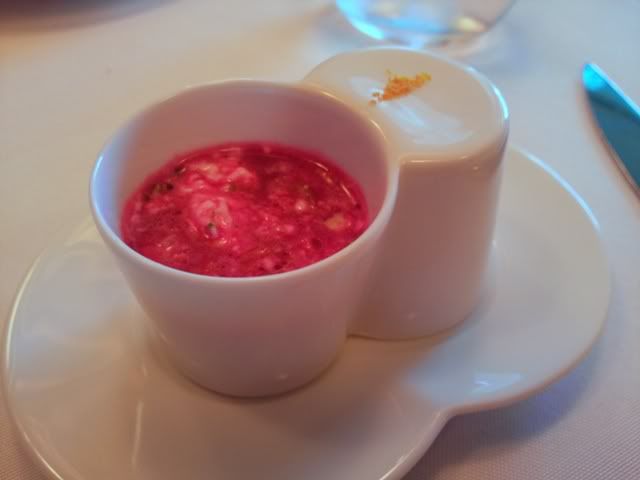 The 2nd Amuse Bouche was this 2 in 1 dish. This was some cold soup with little bits of vegetables. After finishing the cold soup, you lift the cup to reveal....
... another small radish amuse brochue.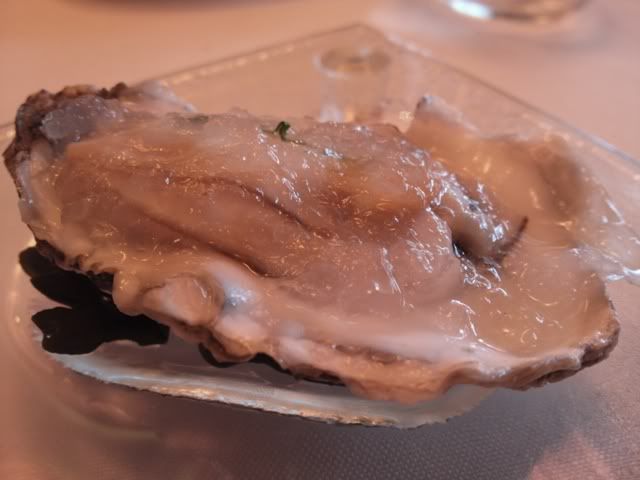 Let's start with the proper meal.
This is Guy Savoy's signature Oyster in Ice Gelee. The oyster is really fresh for that night without any fishy taste to it. The chef first make a aspic out of oyster juice. Then a layer of cream and oyster puree seperates the oyster from the shell. Refreshing is the word I would use to describe their signature.
Maine Lobster raw cooked in cold steam - The very sweet Maine lobster was made into a carpaccio decorated with very concentrated lobster stock over a bed of dry ice. From another blog, I saw that they had this similar dish in Paris, but there they used this special plate with holes so that the dry ice effect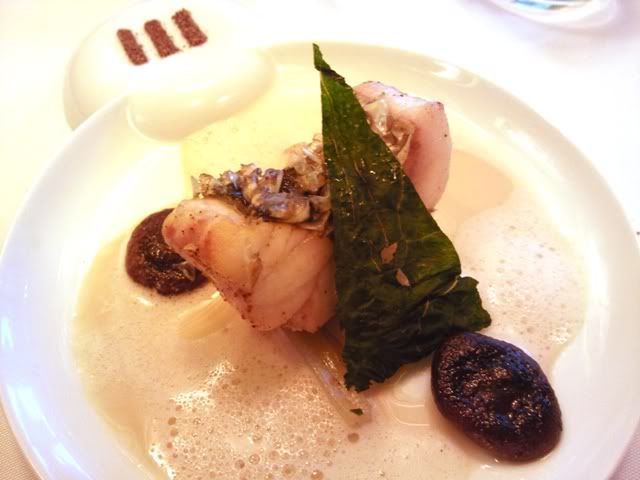 Crispy sea bass with delicate spices - The crispy skin is really not just the skin, but with the scales too. The scales are deep fried till crispy while the sea bass meat was sweet and tender.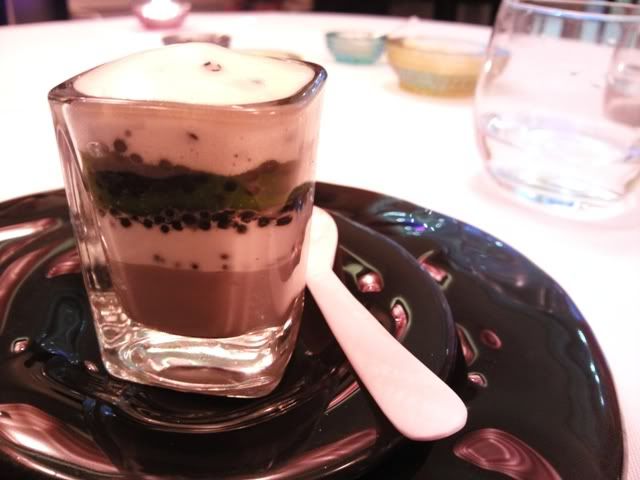 Colours of Caviar - A layer of caviar gelée at the bottom of the glass, caviar cream in the centre. and pure caviar on top. Even more caviar cream was added on the top of the pure caviar.
This was best described as very salty. In fact too salty for the Asian palate. I read countless international reviews praising this Colours of Caviar, but I wonder if this was an off-day for the chef here today?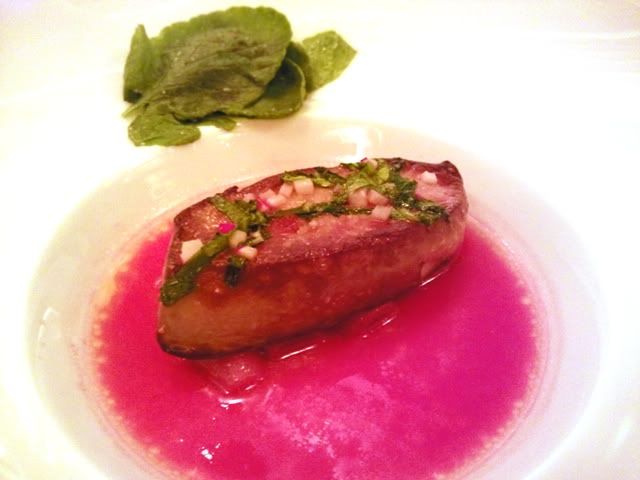 Foie Gras and Radish sauce - The Foie Gras was one of the best quality foie gras I had recently. It was creamy, intense and not too oily. This piece of large roasted foie gras was paired with radish sauce. And the radish leaves served by the side helps to reduce the oiliness in the mouth.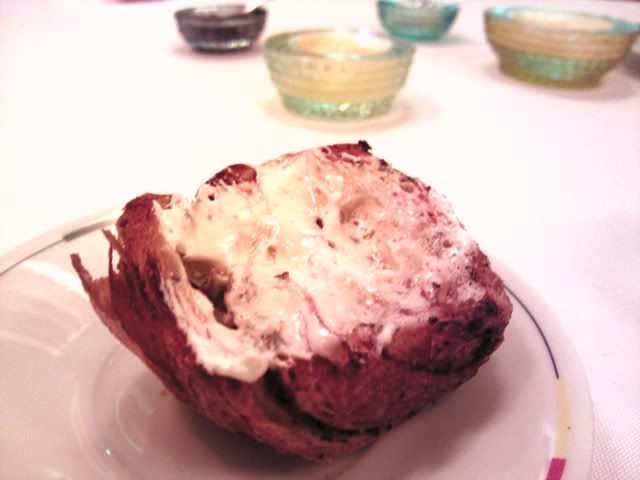 Next up is the signature Artichoke and Black Truffle Soup, served with the Toasted Mushroom Brioche and Black Truffle Butter.
Although the staff recommended us to dip the brioche into the truffle soup, but it actually tasted much better eating on its own.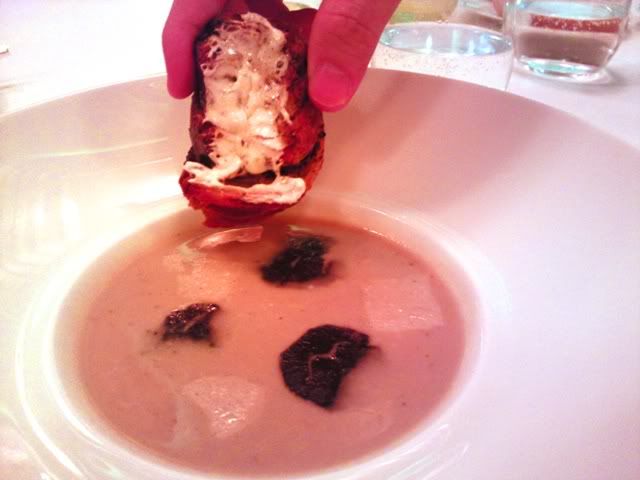 The Artichoke and Black Truffle Soup was best described as mediocre. The artichoke was cooked in truffle juice and
I wonder if Guy Savoy himself would approve of such a standard? I was not blown away by this signature soup, which many diners were raving from their visits to their restaurants in Paris and Las Vegas. The addition of sliced black truffles was really luxurious, but I think the most basic soup base did not compliment each other. Sigh....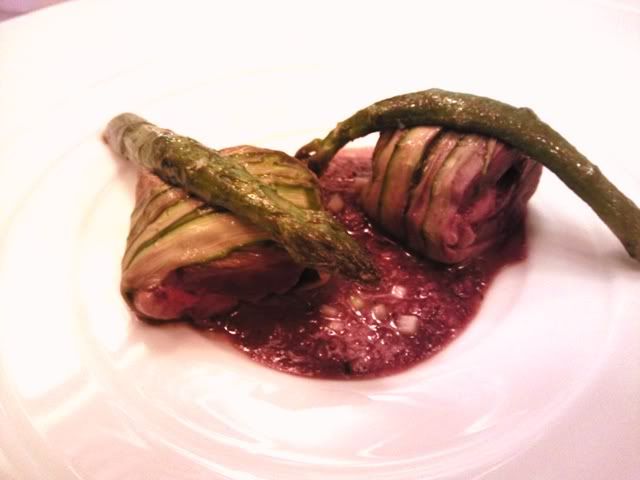 After the disappointing soup, we were surprised by their Pigeon Rolled in Raw Asparagus, Asparagus Royal, Pigeon Thigh Confit. There were little bits of Foie Gras in the very tender and flavourful pigeon rolls. I enjoyed every bit of this dish.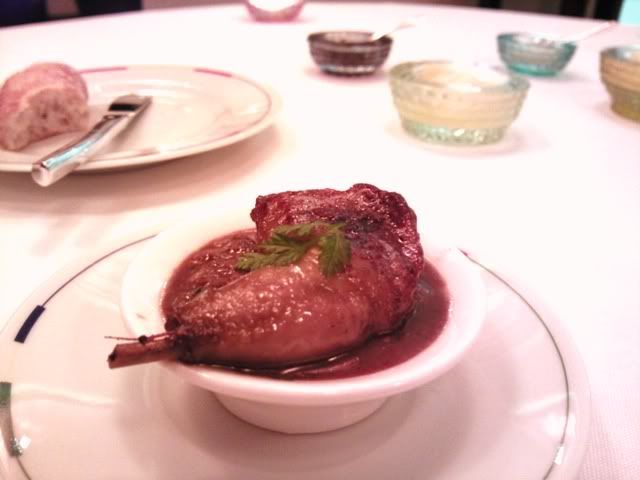 The accompanying Pigeon Thigh Confit was really tiny, almost as small as one fishball. I think the chef who made this Pigeon dish should be commended for saving this meal. This piegon dish was really the highlight of the entire Degustation Menu.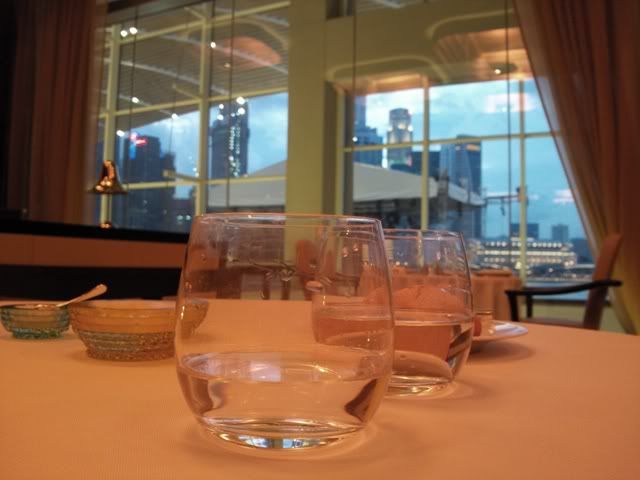 Our proper meal finally ended. Next is the fine cheese trolley and desserts.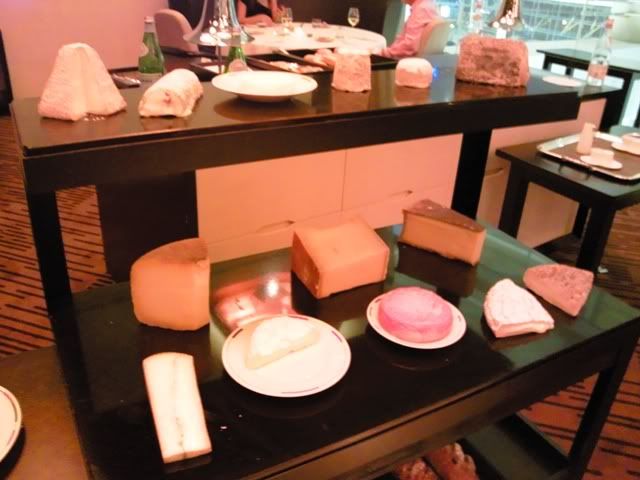 The French loves to end their meal with Cheese. Here at Savoy, the service staff pushed out a cheese trolley filled with the finest cheese available.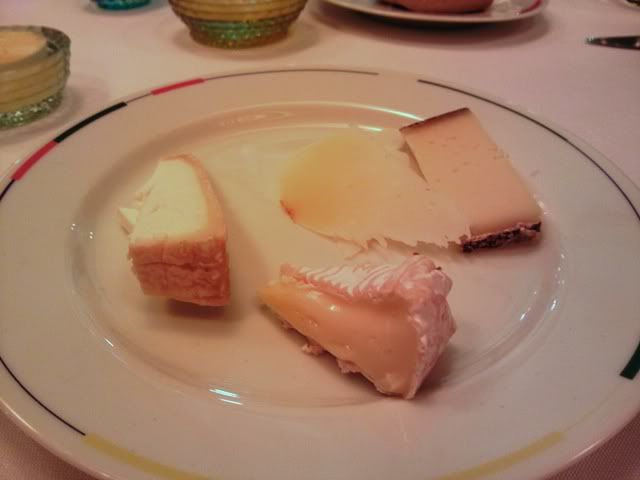 We were really too full after all the food. So we just picked some cheese, but could not finish. I remember one of the cheese I picked was really strong in the smell.
A pre-dessert dessert. I like the very cute raseberry with a lime sorbet crown. There was also a very soft and light mashmellow.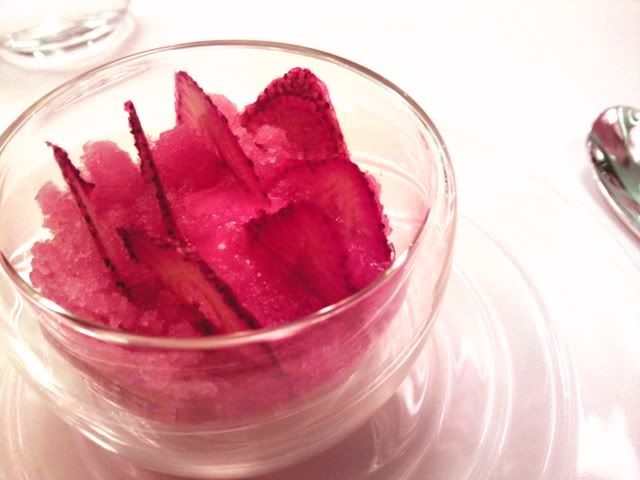 Their signature Strawberry Textures - Everything here is made with straweberries - the dried strawberry slices, the strawberry ice with strawberry juice. If you like strawberry, you will love this dessert.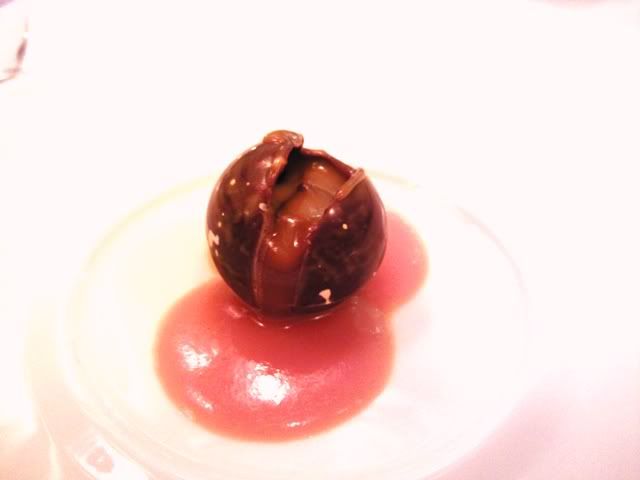 No meal at Guy Savoy is complete without their signature Chocolate Orb dessert. It's like Christmas Eve. A surprise awaits every season in their orb. It is served as a whole chocolate sphere, and the service staff will add a strip of warm sauce across the sphere.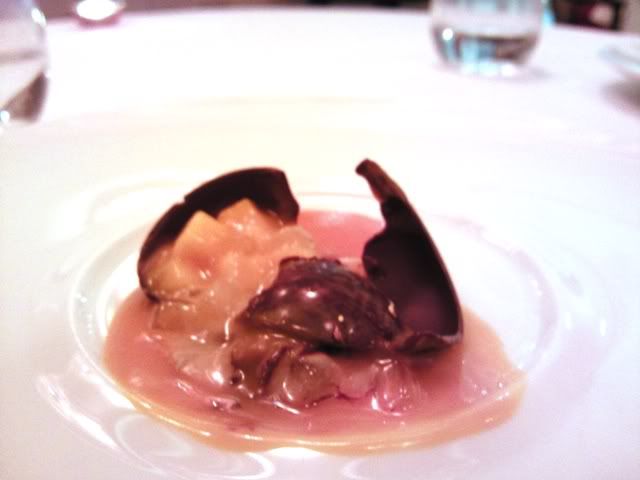 When the sphere cracks and melts, you get to find out what is the "present" inside. For this season, its passion fruit. The passion fruit went well with the chocolate orb.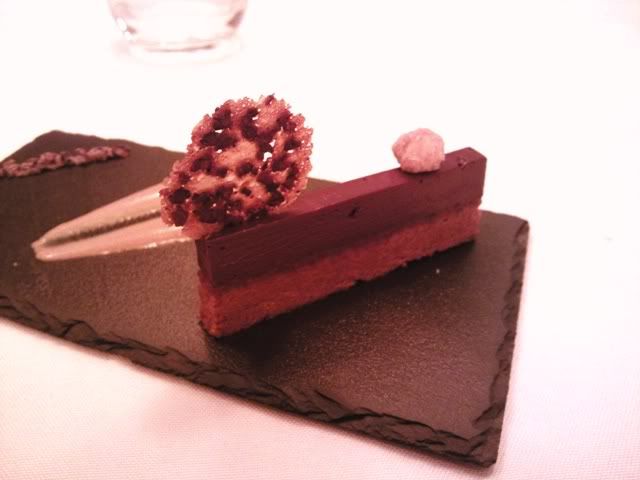 As it was my birthday that day, the staff presented me a thick slice of cake with a candle. But that is just for photography purpose. They served us this praline cake which was very good. Crispy and light.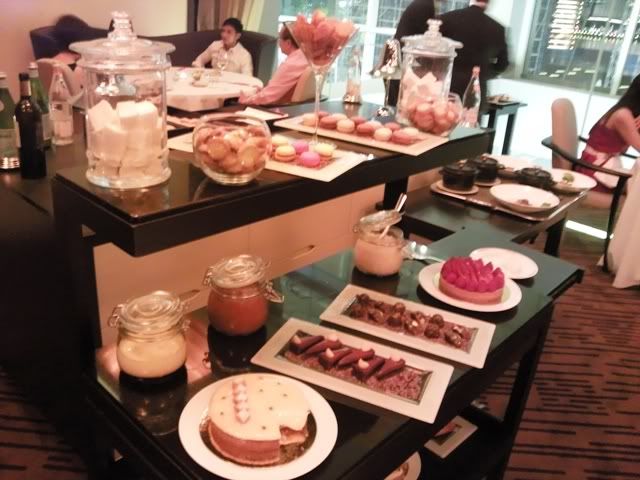 We though it was over, but the staff then pushed out the entire dessert trolley and asked us to pick as many dessert as we like. This is the longest and most number of dessert dishes I ever had in a meal. It's almost like a dessert buffet.
I had all the macarons, and they were great. Small and light yet full of flavours. The madelines were okay though.
I didn't like the puddings - Pink Praline pudding and Vanilla pudding. The cheesecake was okay.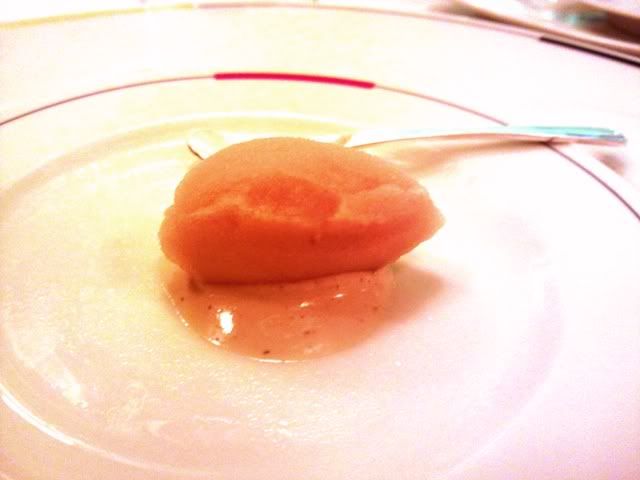 A sorbet ends our long long degustation menu to cleanse our palate.
To be fair, we were really too stuffed and full at this point that nothing we eat is memorable.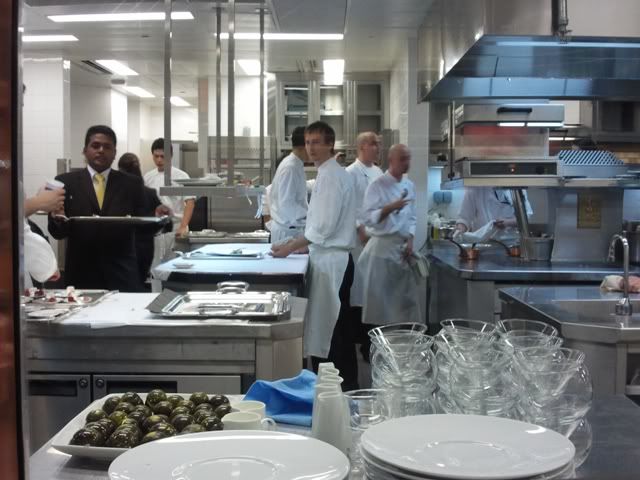 Before leaving, I took some photos from the see through windows outside the restaurant. Here you can see the chefs preparinig the Chocolate Orbs.
Another arranging the strawberries on the strawberry textures.
Rows of chocolate macarons waiting to be baked.
So what is the verdict?
The Degustation Menu from Savoy at Marina Bay Sands, in my very humble view, is totally not worth the S$370. I can easily point to even better French restaurants at a fraction of this S$370 price tag in Singapore.
I wonder if the main reason was that this is still a "new" restaurant and the chefs were not up to standards yet? Something like how Yan Ting at St Regis was criticized at the beginning for its bad food quality, but now leads many others as one of the top Cantonese restaurants in Singapore.
Whatever it is, at a price tag of S$370 (close to S$1,000 for 2 after taxes), diners should expect each and every course to really blow their minds away. Unfortunately, Guy Savoy didn't. And they really have to make lot's of improvements before diners feel that their S$370 is really worth the price tag.
Guy Savoy
10 Bayfront Avenue
#L2-01,
Casino Level 2
Marina Bay Sands