Famous Australian chef Scott Webster recently opened an Australian fine-dining restaurant Osia at Resorts World Sentosa.
Over here at Osia, you still get your steaks and oysters which forms a big part of Australian cuisines, but Osia gave these everyday dishes a creative twist and we were very amazed by the creativity, presentation and of course taste of the food here.

The problem about dining at Resorts World Sentosa is that only a few fine dining restaurants are opened there. The rest which are now opened are the restarants and buffet places in the hotels.
So yesterday while I was surfing the internet, found out that Osia was already opened since the beginning of this month. It is hidden along the steps of the Festive Walk, so you may need to search for a while before locating the restaurant.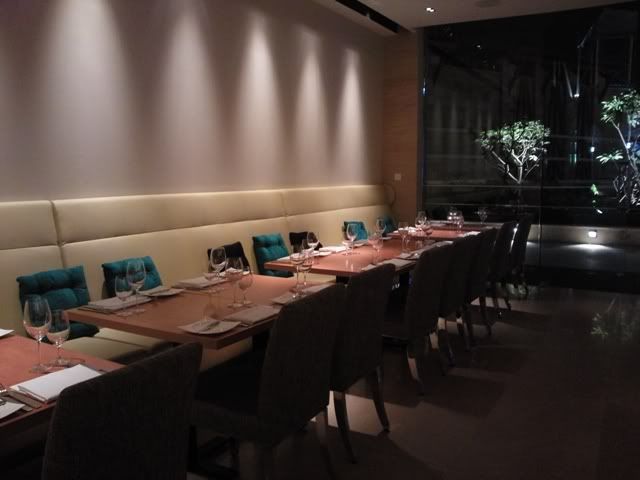 From the open kitchen, you can see the enormous Stonehearth oven. I am not sure what is a Stonehearth oven, but I suppose it is an oven constructed out of these special stones.
We liked the deco of the restaurant. The open concept kitchen gets a bit too noisy, but is still acceptable. Food bloggers should take note that some tables are quite dark for photography, so do pick a table with adequate lighting.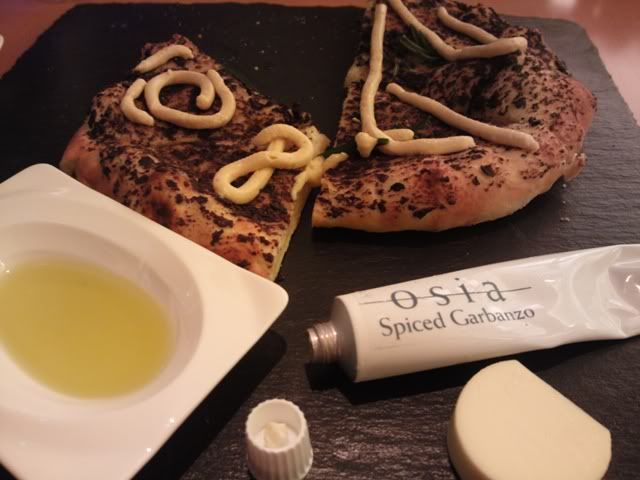 Osia does not serve compplimentary breads, so we ordered this Black Olive Rosemary Flat Bread (S$8) served with Extra Virgin Oil, Butter and Spiced Garbanzo dip. the serving staff explained to us that the toothpaste tube actually contains their house-made Spiced Garbanzo dip. Garbanzo is also referred to as chickpea. the spiced paste is actually not too spicy, but had a nice "bean" taste to it.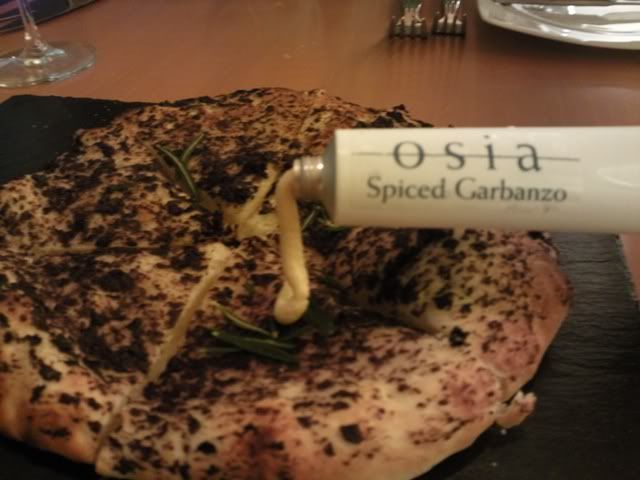 According to the menu, the flat bread was baked in their unique Stonehearth oven. the rosemary was really fragrant when bite into, and their extra virgin olive oil really adds depth to this dish.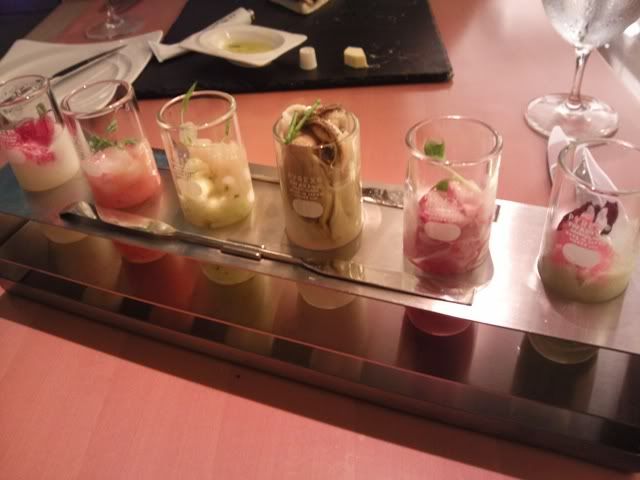 We also ordered the Seafood Ice Experience (S$22) , which was highly recommended by the manager. Boy was she right. It was creatively presented in test tubes. Each test tube contained a unique seafood with a special sauce.
And they are:
(From left to right) Pineapple Lemongrass Ice + Blue Fin Tuna,
Quandong Orange Ice + Amaebi Shrimp,
Calamansi "Mojito" Ice + Sea Scallop,
Lychee Martini Ice + Oyster,
Watermelon Lillipilli Ice + Maine Lobster,
Apple Celery Ice + Tasmanian Salmon.
I love all, but my favourite, is the Lychee Martini Ice + Oyster. It is juicy and the lychee martini went well with the oyster.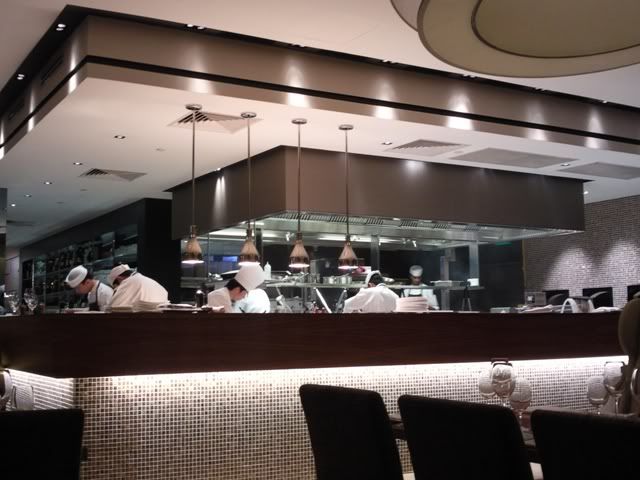 Another view of the chefs hard at work in the kitchen. The oven is on the right side.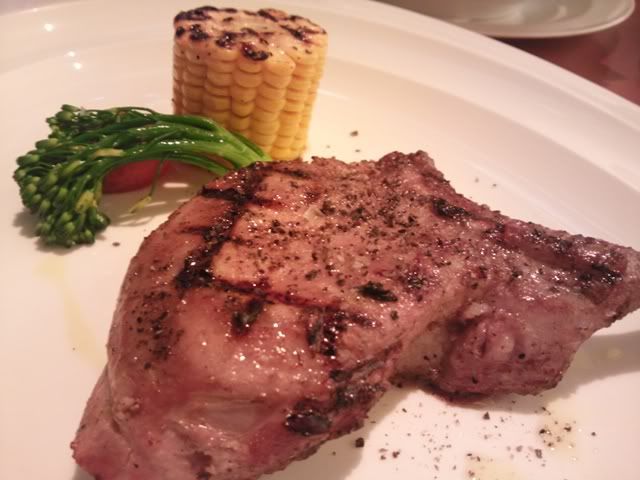 Our mains arrived! Berkshire Pork Chop 200gm (S$42), grilled in Stonehearth Oven and served with Roma Tomato Confit and Corn Cob. Berkshire actually means Korobuta. The pork was juicy and flavourful. Diners who are scared of uncooked pork or overwhelming "pork" taste will be happy to know that the Berkshire Pork Chop is well cooked and does not have any "porky" taste to it.
The corn was also grilled, together with the vegetables.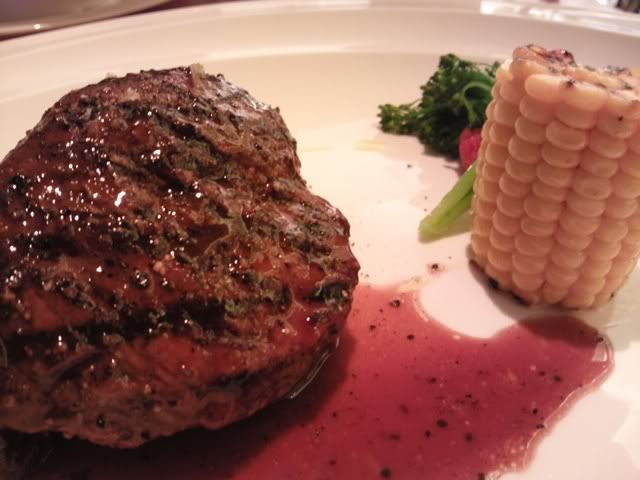 Mulwarra Lamb Rump 160gm (S$38), grilled in Stonehearth Oven and served with Roma Tomato Confit and Corn Cob. According to the Mulwarra website, their Lamb is premium quality Fresh Australian Range Fed Lamb and Milk Fed Lamb sourced from the prime lamb production areas of South Eastern Australia. The lamb rump was extremely tender and juicy. All lamb lovers (as in diners) should really order this Mulwarra Lamb.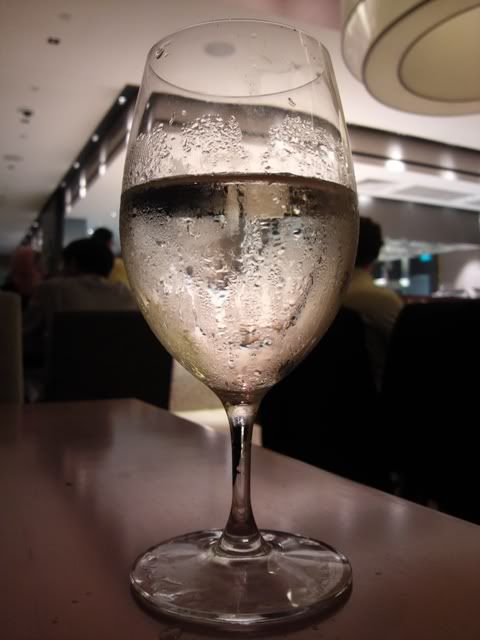 Osia provides free iced tap water. The service staffs were prompt to refill ice water.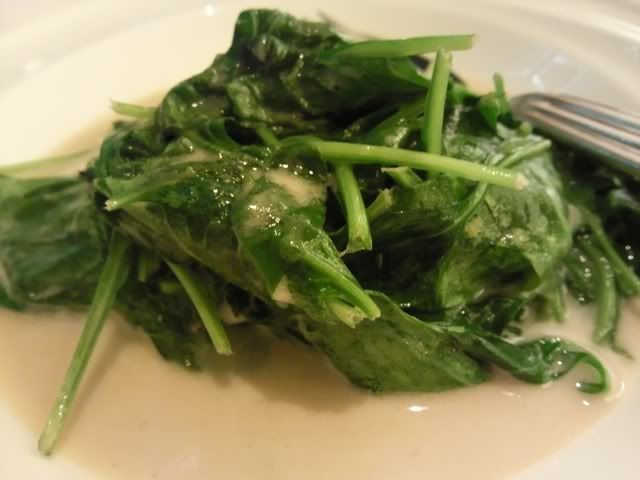 We also ordered 2 sides. One was the highly recommended Baby Spinach (S$8), Sauteed with creme. Although spinach had quite a bitter taste to it, but the bitterness was perfectly masked under the creamy butter creme. I practically finished the entire bowl of the spinach.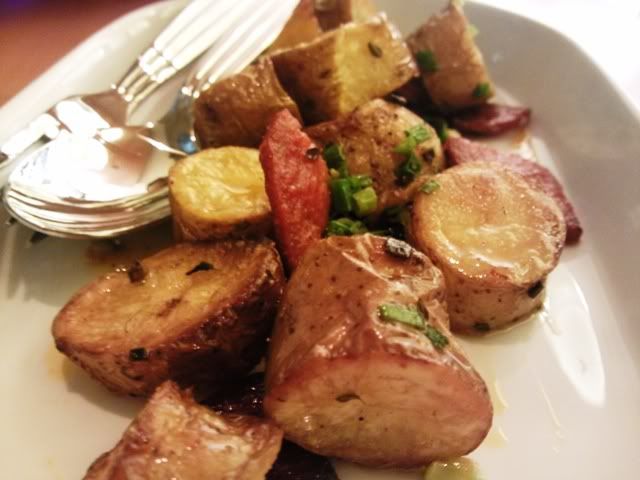 In contrast, I didn't like this New Potato (S$6), Roasted with Chorizo and Scallion. The potatoes were a bit too dry for me.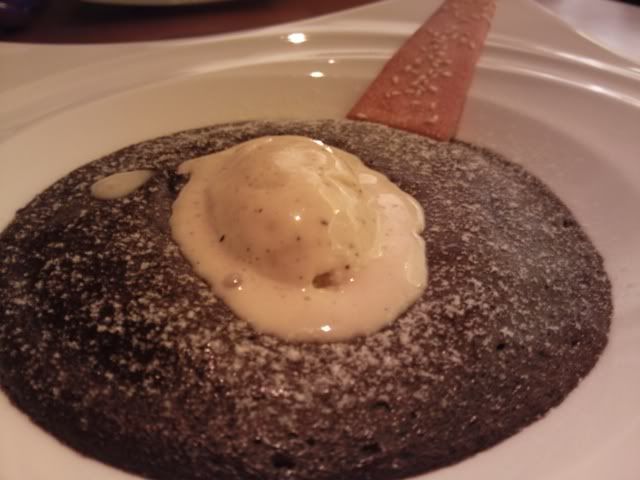 We shared a dessert as we were too full after the dinner. So we had their house special - Valrhona Hot Chocolate Soup (S$20) with Black Pepper Ice-Cream and Sesame Crisp. The chocolate soup (more like chocolate fudge) was made of excellent Valrhona Chocolate. It's really hot, so be careful not to burn your lips. What makes this special is their in-house black pepper ice-cream. Vanilla ice-cream never taste so good with bits of black pepper in it. If this is your 1st time here, do order this signature dessert.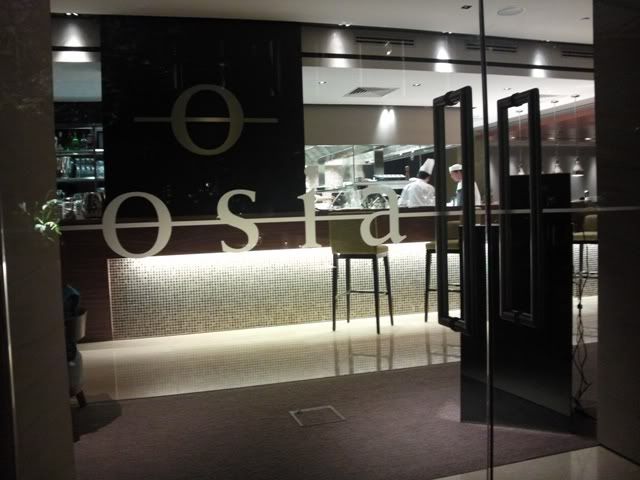 One of the best grilled restaurant I have tried in Singapore. Quality of meat is excellent, and the roast are both juicy and flavourful. Will definitely come back again for more Australian yummies.
Osia
8 Sentosa Gateway
Festive Walk
Resorts World Sentosa