Those who have been to Hong Kong might have heard of Tim's Kitchen, which has been awarded Michelin stars for both its restaurants in Hong Kong and Macau. This week, 2 Michelin stars Chef Lai Yau Tim from Tim's Kitchen in Hong Kong, Macau and Shanghai has been invited by Resorts World Sentosa to cook for diners here. We have never been to their restaurants in North Asia, so decided to drop in for a visit this week.
The chef is here from 30 September to 9 October 2011. As it is now autumn in Hong Kong, the menu is mostly dishes meant for this season.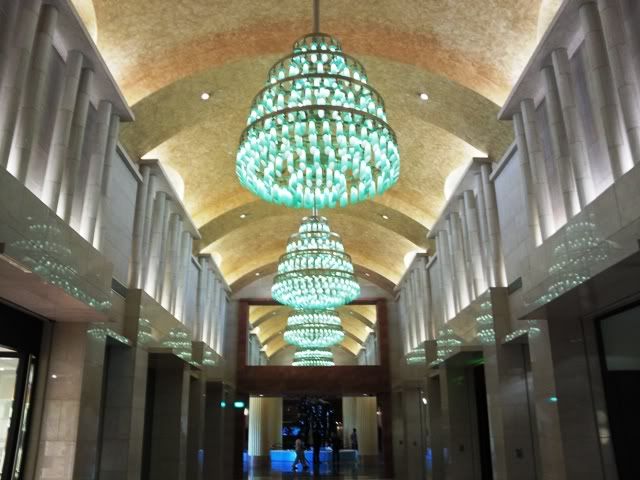 For those who has never been to Feng Shui Inn, you have to go to Crockfords Tower at RWS. Follow the signs and take the lift to the lower level (where the Casino VIP entrance is). The restaurant is not in the casino area, so diners need not pay the levy to eat there.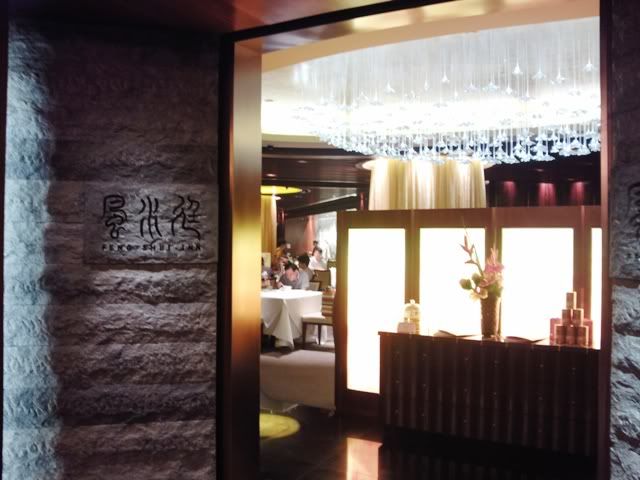 Feng Shui Inn has specially crafted a few special set meals and ala carte items by Chef Lai. We decided to order the 福兴财旺套餐 Thriving Prosperity Set - S$138 per person (minimum of 2 persons)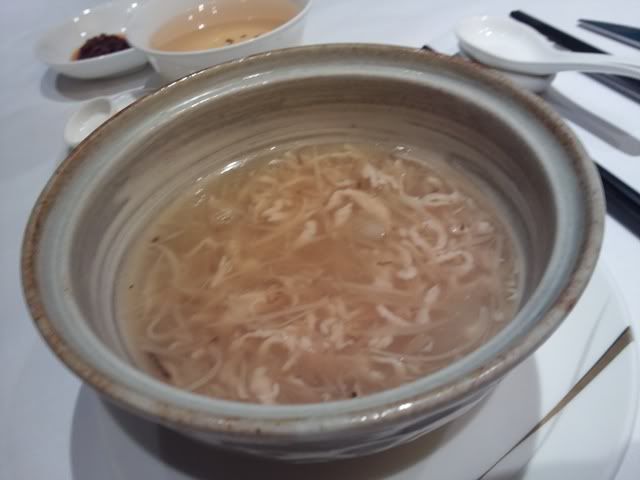 Our first dish was this 龙飞凤舞 Flight of the Dragon and Phoenix - Combination of Fish Maw braised to a delicate tenderness with Shredded Chicken in a thick superior sauce. We were disappointed because the soup was not served pipping hot. Moreover, the soup is a bit too salty for our taste bud. But there were lot's of ingredients inside.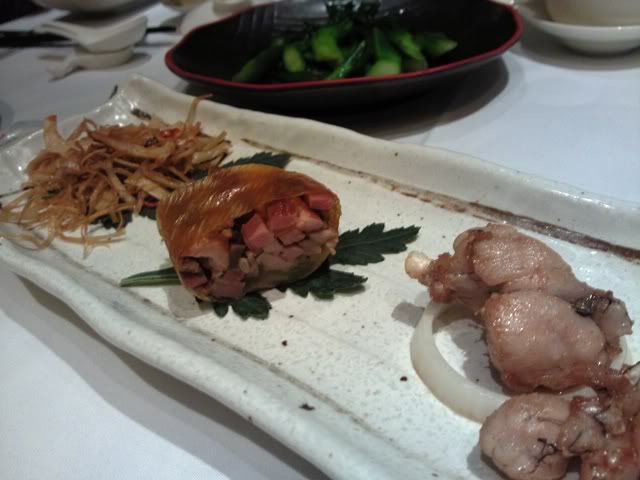 Fortunately, the next few dishes fared much much better. The 良辰美景 Melody of Appetizers - Deep-fried Crispy Shredded Oyster Mushrooms with Hong Kong Dried Shrimps, Chilled Goose Meat Rolls, Frog Legs with Chef's own special recipe, was one of the better and unique appetizers we have tasted in Singapore. Special mention for the Crispy Shredded mushrooms with HK dried shrimps. The dried shrimps were very fragrant. I also like the goose meat rolls which had a smokey taste to it.
田园春梦 Fields of Dream - Stir-fried hand-picked Fresh Garden Greens, is actually just a plate of plain vegetables. Nothing special to it.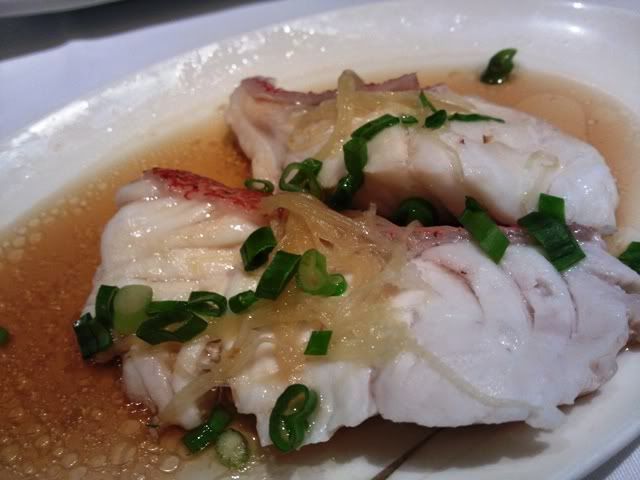 We were equally pleased with the 年年有余 Fortune Follows - Gently sliced steamed "East Star Grouper with Superior Soya Sauce and Spring Onions. Fish meat was firm but sweet, and very fresh. I think steam fish can never go wrong when cooked by an experienced HK chef.
Equally good was this 凤舞齐天 Dance of the Phoenix - Roasted Crispy "Golden" Chicken with Chef's own special seasoning. The skin is crisp and almost "oil-less", and the meat is tasty and tender.
One of the best dish for the day was the 美如冠玉 Jade Crown's Charm - Delightfully Steamed Whole Sri Lanka Crab Claw with Winter Melon. Everyone knows that crab meat is at its sweetest after Mid Autumn Festival, and the Sri Lanka crab claw, which has been deshelled, is very meaty and sweet. The piece of winter melon complimented the crab claw.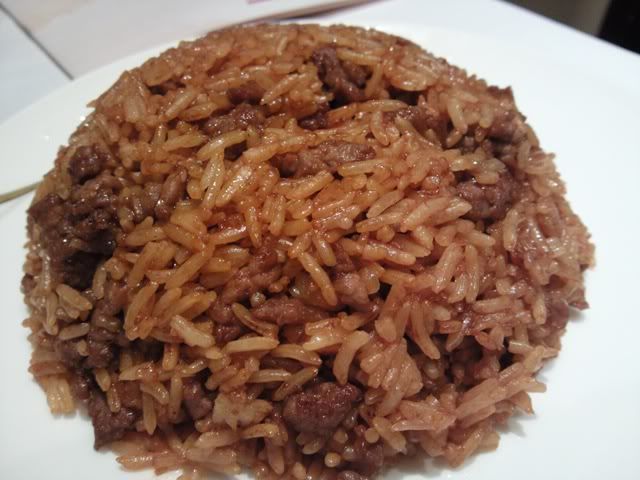 The 牛气冲天 Heavenly Charge - Wok-tossed Rice with Minced Beef, Onions & Shallots, is very different from Yang Chow Fried Rice. I would say that this is best described the taste as nearer to fried glutinous rice than fried rice.
When the 祥龙吐珠 Dragon's Pearl of Fortune was presented to us, we thought it was scallops. It was after tasting it that we found out that the "scallop" was actually stir fried Crystal King Prawn. The chef has painstakingly removed the red "skin" from the prawn. The prawn was very fresh and the whole dish was extremely tasty.
Now, the final dish we had was this much talked about 一枝独秀 Perfect Elegance - Braised Pomelo Skin with Prawn Roe. This was suppose to be Chef Lai's signature special. The Pomelo Skin, which is usually thrown away, is braised and cooked with Prawn Roe. I think this dish, may not be popular in Singapore. The first is that the prawn roe sauce had a very "Prawny" smell to it. The second is that the Pomelo Skin, which has been braised till tender, was still pretty tasteless. I am not sure why this is his signature dish, because I prefer Chef Lai's other dishes.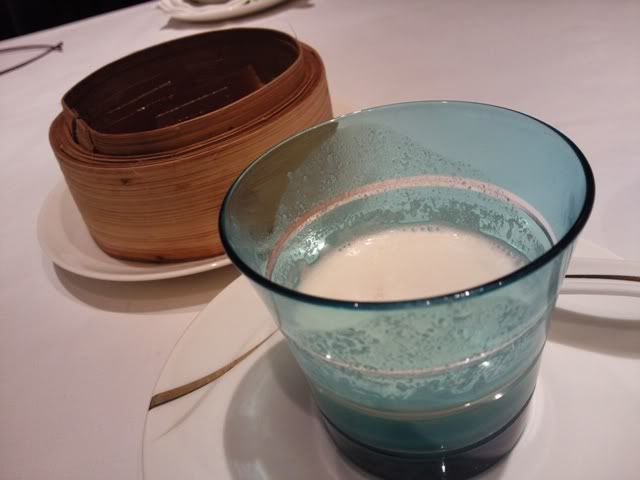 Ended our meal with the 金风玉露 Autumn Dew - Steamed Almond Cream with Egg White and Red Dates Cake. I find the Almond Cream quite ordinary, but the Red Dates Cake was delicious.
Overall verdict is that for Chef Lai's set menu, there are some hits and misses. But still, I will return here again because the service at Feng Shui Inn is one of the better ones we have enjoyed at a Chinese restaurant in Singapore. Full marks for their service.
Feng Shui Inn
8 Sentosa Gateway,
Basement 1-M
Crockfords Tower,
Resorts World Sentosa