Over the past few months, I have read a few reviews about Oversea Restaurants. Like most restaurants, reviews have been mixed. Some say that the food here is not as good as expected, while others say it is on par with its main HQ in Malaysia.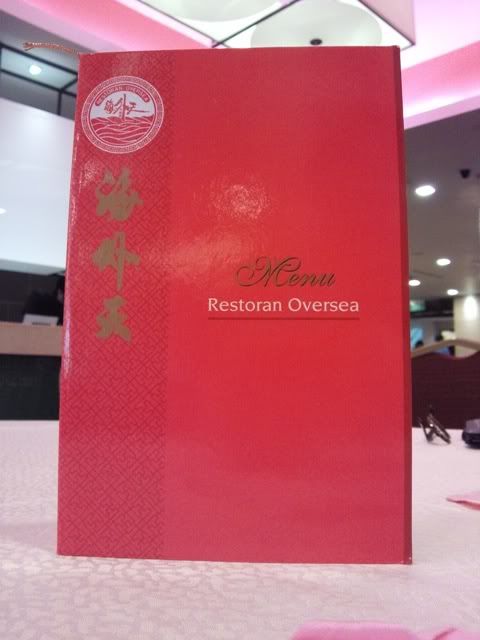 Oversea does not serves Tim Sum during lunch time, so be prepared to pay "dinner" price when coming here for lunch.
Our lunch started with their in-house Pickles (S$2). It's marinated black fungus with some vegetables.
When we called to reserve seats, the first thing the service staff asked over the phone is whether we want to pre-order their BBQ Pork Char Siew (S$20 for small) because it is selling out fast. Like any other Singaporeans, we quickly reserve a portion. But when we reached there, we saw many many Char Siew hanging at the roast meat corner. Nevertheless, Oversea's Char Siew is one of the best in Singapore. It's done KL style without the artificial red food colouring. The Char Siew has a caramelized crust and the pork is very tender and juicy. It's expensive, but worth the price.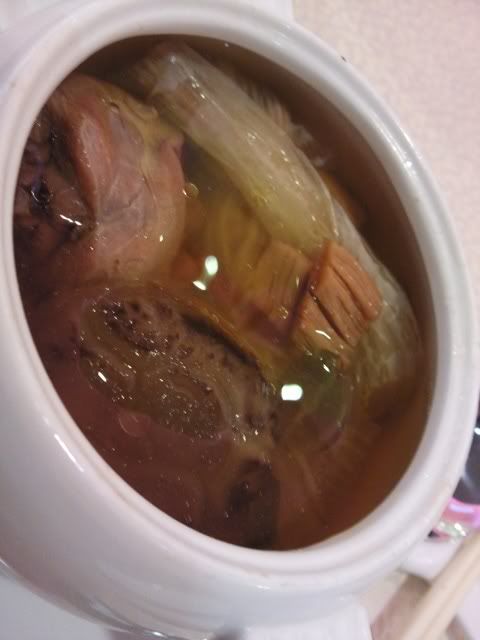 We also ordered the Chicken Soup with Scallops (S$8.80 per person). This non-herbal clear soup was good with lot's of ingredients inside.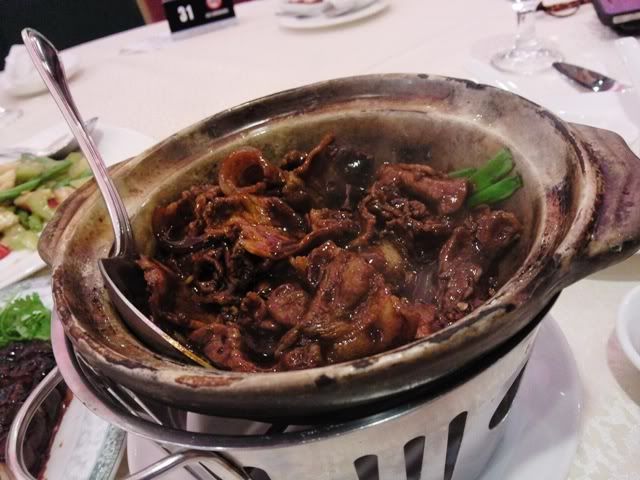 Initially, we didn't want to order white rice. But when we saw this pipping hot Braised Pork with Salted Fish in Claypot (S$16) brought to our table, we could not resist ordering rice to go with this. Lot's of tender pork braised with their special black sauce. Although the dish says there is salted fish, but in the end we only found a few pieces in the claypot. Still, it was yummy.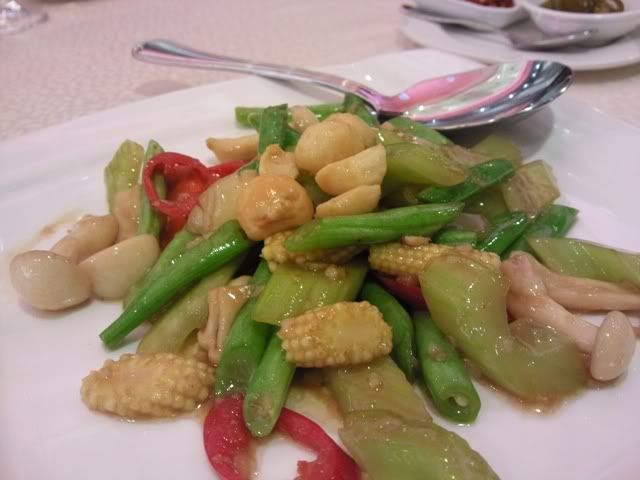 Also had a serving of the Stir Fried String Bean Macadamia Nut (S$9.80). The taste of this veegtable dish is similar to the fillings inside a Yam Ring dish.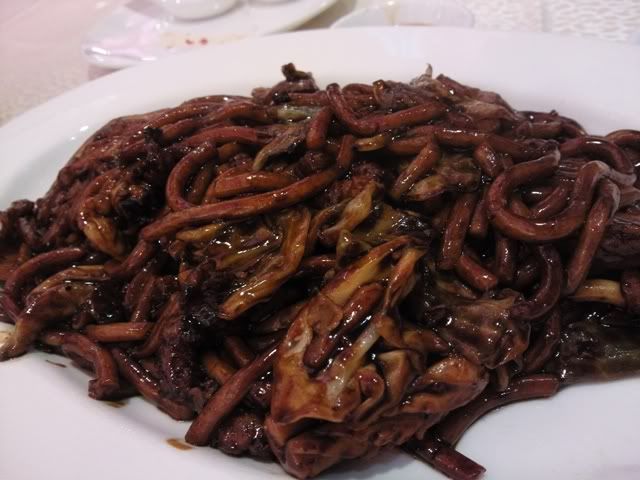 We saw a table being served this black noodles dish when we first entered the restaurant. And we knew we had to order one. The K.L. Black Hokkien Udon (S$15 for small), was one of the most authentic KL black hokkien noodles you can find in Singapore. As this is a Malaysian restaurant, you can be sure that this is as authentic as what you can find in their Malaysia branch. However, as they could not find similar yellow noodles in Singapore, udon was used to replaced the KL noodles. To me, Oversea managed to retain the taste and "wok hei" of the black KL noodles. Worth a try if you miss this dish from KL.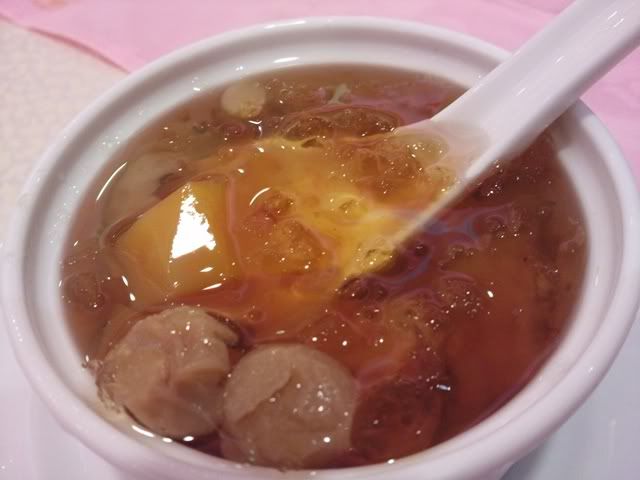 Ended lunch with this Fruit Jelly Almonds Seeds (S$5)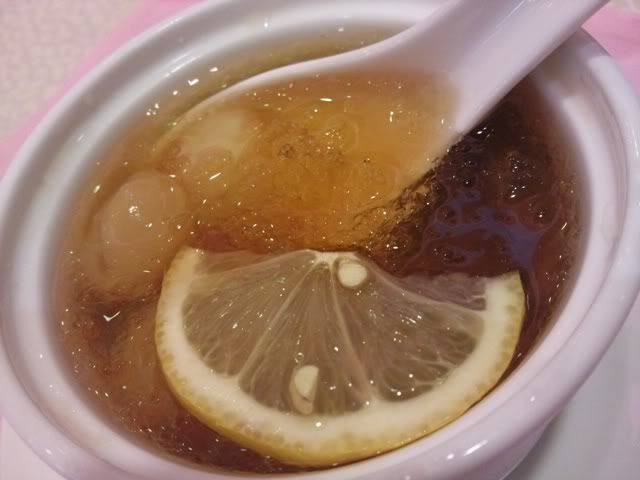 and Sea Coconut with Longan (S$3.80)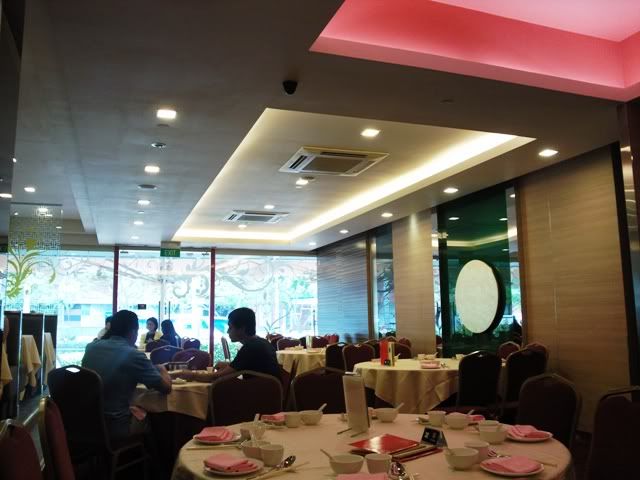 We are usually here for lunch, hence we do not know what the crowd is like during dinner time. However, it is always better to call and book before coming here as Chinese restaurants in the CBD area tends to be crowded during dinner time.
Oversea Restaurant
100 Beach Road,
#01-27
Shaw Leisure Gallery,
Shaw Towers