Went to O'Gambinos for dinner on a weekday night. It is situated outside of Raffles City, facing the junction where Carlton Hotel and Chijmes are. (next to Brozeit)

It is quite dark inside, and they are playing those black and white "Dick Tracy" kind of movies inside! Totally reminded me of this 1920s Great Depression era in New York. The food served here are a mixture of Irish and Italian food.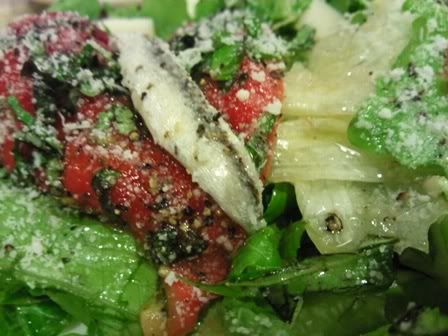 Roasted Peppers with Anchovies (S$12) - Marinated roasted peppers, anchovy fillets, provolone cheese. Quite a few Italian dishes use anchovies as ingredients. I like the roasted peppers as it tasted tangy, most likely marinated in vinegar before. A healthy and refreshing dish. I like the generous black peppers over the salad.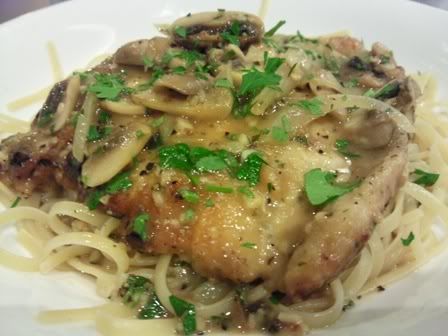 Pork Scallopine (S$24) - Pork tenderloin sauteed, lemon, butter, onions, mushrooms, white wine(served with pasta). Generous amount of vinegar is used all over the pork and pasta. One of the more tasty Italian pasta I had in recent months. Pork was really tender.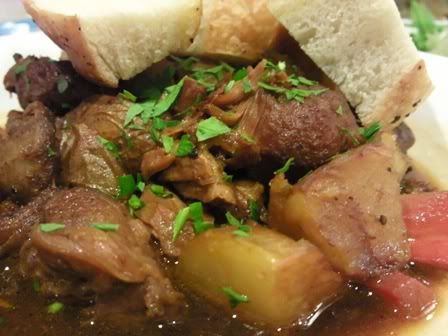 Gambinos Irish Stew (S$29) - Lamb, carrots & Foccacia. Stews and rainy season goes hand in hand. The lamb is tender and flavourful. Would be better if more gravy was given to allow the bread to soak up the goodness.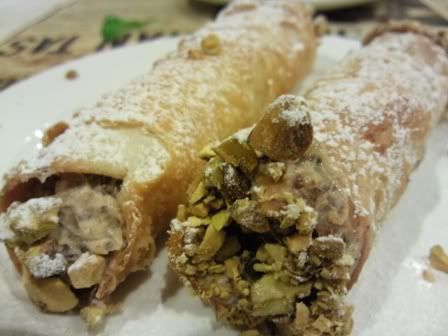 Cannoli (S$12) - A Sicilian dessert from Italy, is a fried dessert with an outer fried crispy dough pastry shell and filled with creamy fillings such as ricotta cheese and chopped succade. I am not sure how authentic this dessert is, but I like the different texture such as the crispiness of the shell and the creamy fillings.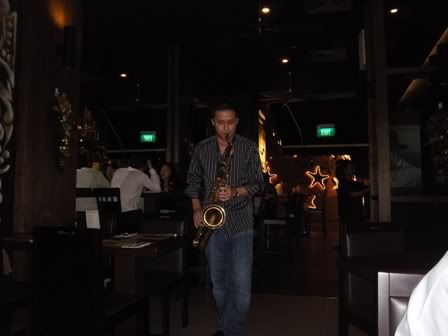 Around 8:30pm, a guy starts to play the sax. Quite a special weekdau treat for diners in the restaurant.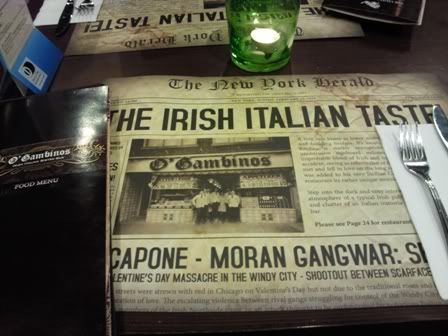 One of the better Italian and Irish restaurant in Singapore. Food portion are hearty and price is average. Great for friends gathering or for couples to dine.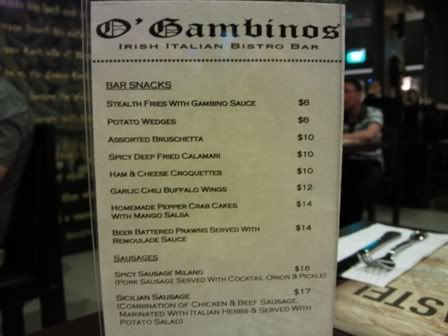 O'Gambinos also serves bar food all day long.
O'Gambinos
252 North Bridge Road
#01-17A Raffles City Shopping Centre