This week is APEC week in Singapore and I thought I shall introduce what the delegates are eating for one of the lunch, kindly sponsored by HSBC.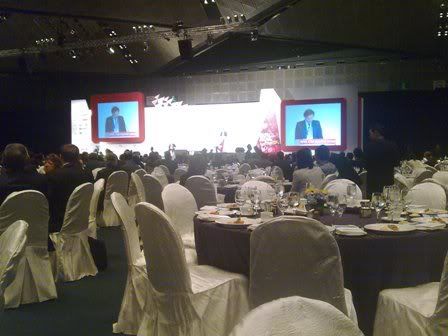 No time is wasted during lunch as speakers continue to talk about the global recession and whether we should withdraw stimulus plas now or later. The sound system is pretty bad as the metal cutlery noise nearly covered the loudspeakers.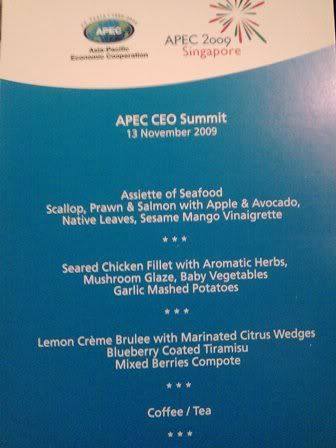 Each delegate is given a small menu card informing him or her of the food. All food served at Suntec City is Halal to cater for Muslim delegates.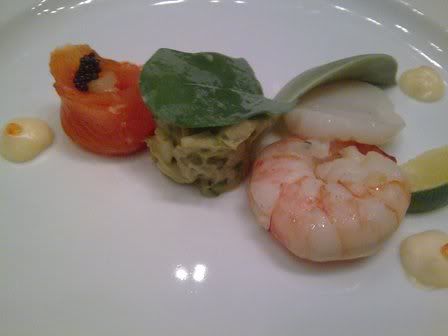 Appetizer was prawn, scallop, smoked salmon with caviar served with native leaves and sesame mango vinaigrette. The seafood is crunchy and fresh, But I didn't enjoy the sesame mango vinaigrette, and I left the "native leaves" untouched because there was a whole mini avocado leave there which I did not know how to eat it.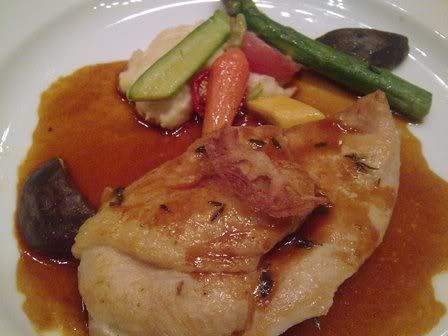 Seared chicken fillet with herbs, mushroom glazed, baby vegetables and garlic mashed potatoes. I like the baby vegetables as it was sweet and not too soggy. But the chicken fillet was too dry and only lukewarm. I was hungry so I just finished everything up.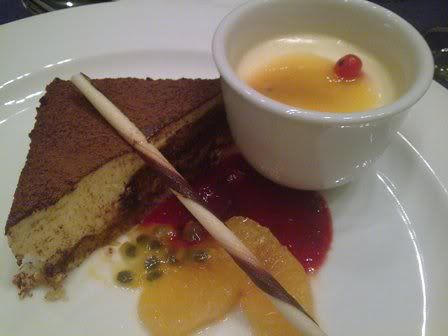 Lemon Creme Brulee with Marinated Citrus wedges, blueberry coated tiramisu and mixed berry compote. The Lemon Creme Brulee was superb, really enjoyed that a lot. However, I didn't like the tiramisu but the sour citrus wedges contrasted well with the tiramisu.
Overall, I hope next time if Suntec host such big scale event again, perhaps they could consider serving something local to international delegates such as Chinese, Malay, Peranakan or Indian food.