After reading a food review of Heart Bistro and an interview done at Heart Bistro all on the same day's edition of The Sunday Times, we decided to explore this restaurant, which occupies the space left vacant by Marmalade Pantry at Palais Renaissance.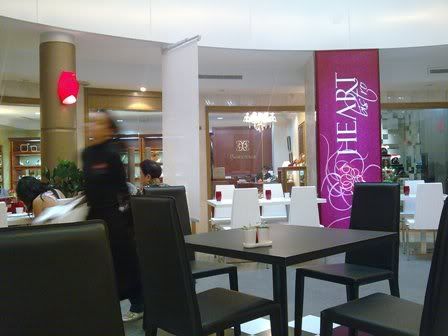 According to the press release from the bistro, 2 famous F&B personels are involved in Heart Bistro:
"William Tan (formerly COO of Tung Lok Group and President of BreadTalk Pte Ltd) is the Concept Creator and Managing Partner.
Alice Low-Ang is his business Partner/ Director and the owner of the award-winning Au Petit Salut French Restaurant at Dempsey, as well as Bistro Petit Salut at Chip Bee Gardens. "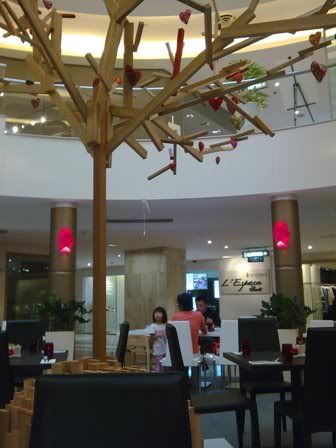 All shops at Palais Renaissance cater to one particular kind of shoppers - the rich and famous Tai Tais. During our 45 mins lunch at Heart Bistro, about 50% of tables are occupied by at least 1 Tai Tai in their Tai Tai wear.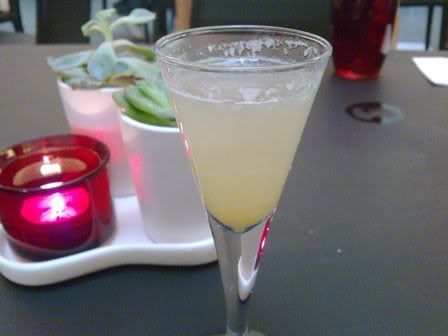 Heart Bistro aims to provide healthy food, hence most of its food are steamed, cooked in soup or pan fried. We started off our lunch with a complimentary serving of white pear drink.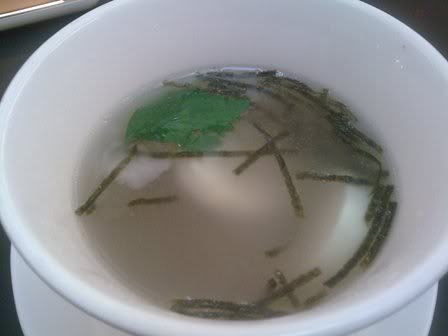 Tofu and Seafood soup from the Set Lunch menu.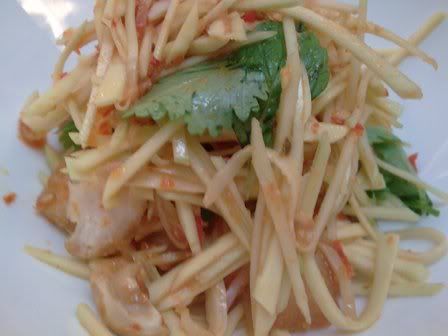 Meanwhile, I had the Green mango salad with crunchy snapper fillet. It's quite spicy to my standard, but the slices of green mango were quite flavourful. However, the pieces of fish fillet was a bit dry for my liking.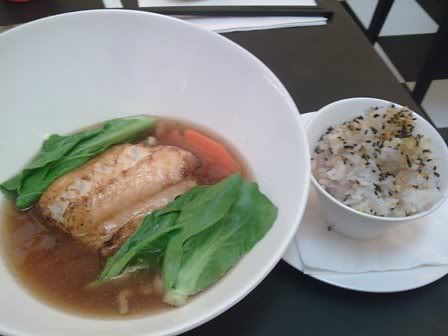 Braised black cod with mushrooms and vegetables - If you are looking for home cooked meal, you will find it in this dish. The taste of the sauce and fish taste like what you would cooked from home. In fact, this dish is so simple in taste that one would hope for some surprise or special taste coming out from this dish.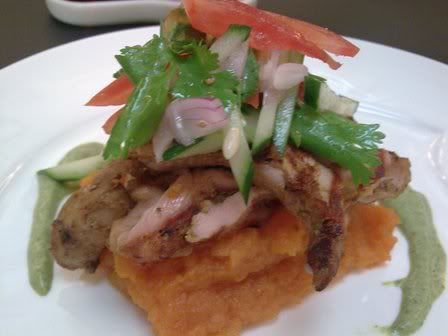 I like my Grilled spring chicken (Tandoori style) on a bed of mashed sweet potato. The mashed sweet potato is unique and quite filling. Chicken is flavourful, tender and moist.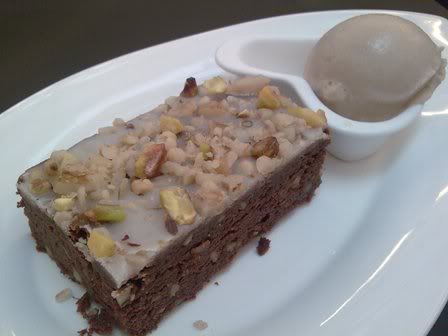 Dessert was Brownie with ice-cream. The brownie was decent, but a bit too dry for my liking.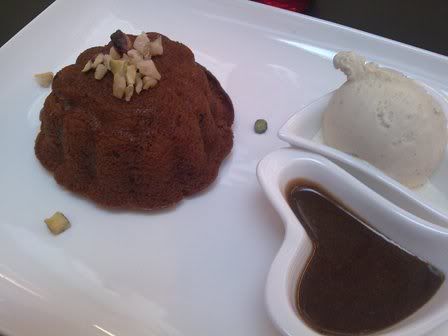 Since Heart Bistro is situated at the former Marmalade Pantry, I just had to order this Sticky date pudding with home-made vanilla ice-cream which made Marmalade Pantry famous in the same place. I am glad to report that the pudding is almost as good as that of Marmalade Pantry. Makes me wonder if they indeed retained a chef or two from Marmalade Pantry.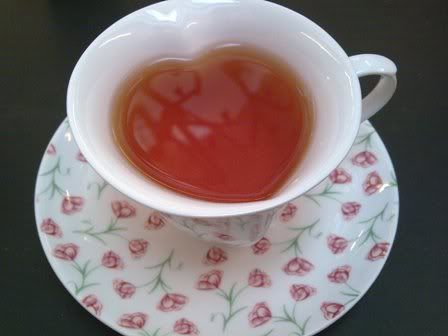 Ended our meal with tea which was served in a lovely heart shape cup and saucer.
My verdict is that Heart Bistro can try to create some exciting dishes. I think maybe they should forgo their healthy food mantra and aim to serve dishes similar to that of Marmalade Pantry. Anyway I doubt the Tai Tais there really want to healthy food in the first place.
Heart Bistro
390 Orchard Road,
Palais Renaissance,
#B1-98/09/10c