Since "Mimigar" means "pig's ears" in Okinawan dialect, it doesn't take a rocket scientist to know that Mimigar serves Okinawan food, and one of its specialty is pig's ears.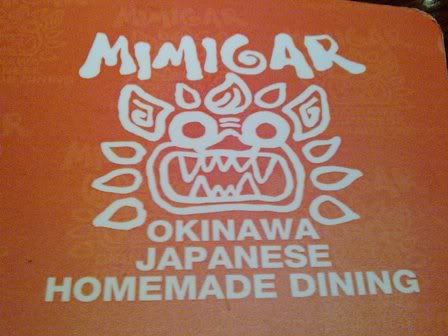 The restaurant is located outside of Gallery Hotel, and the whole restaurant resembles that of a crescent moon.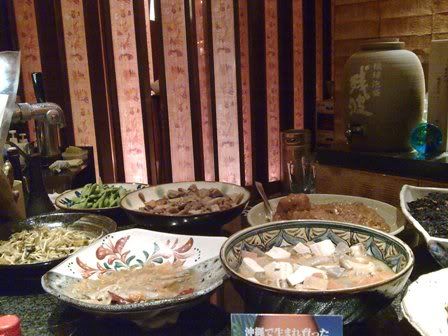 Patrons can choose to sit around the bar counter or table seats. A wide variety of ready cooked Japanese bar food is on display around the bar counter. Some of the bar food includes Seasoned Iwashi fish, Stew pork intestines (miso based) and others.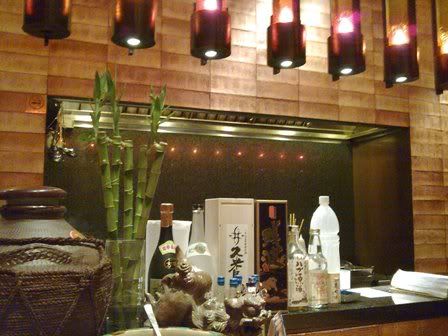 I like the hanging candles from the ceiling, adds some atmosphere to the restaurant. Okinawa wine are also prominantly displayed around the bar counter.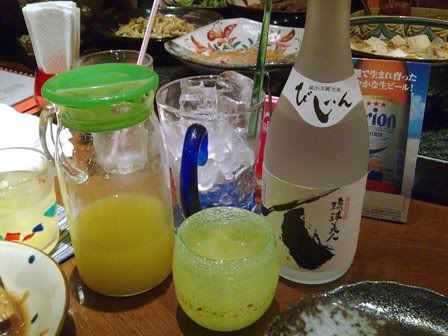 So here we have a bottle of Ryuukyuu Bijin (S$85), a brand of Awarnori. It's supposedly easy to drink and suitable for beginners or ladies. Awarnori is an alcoholic beverage unique to Okinawa. It is made of rice but is not brewed (like sake) but is of distillation (like shochu).
We had the Awarnori like how the Japanese does - Half Awarnori and half lemonade. It becomes a refreshing and sweet beverage for dinner.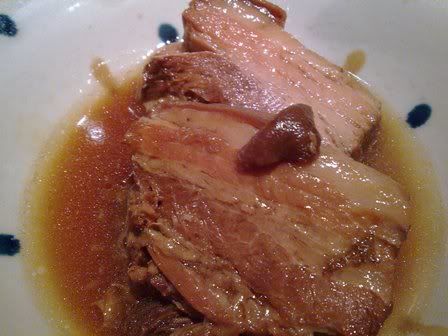 First to arrive is the stewed pork belly (S$16). The meat and flesh is so tender that they virtually melts in your mouth. The sauce goes really well with plain white rice.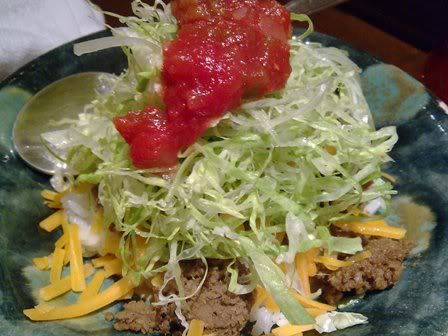 Next up is Taco rice. As Okinawa has been a US military base for years, some American tastes were added to Okinawan food. Thus, you have unique food like a mixture of Japanese rice with American taco ingredients. I find the Taco rice delicious after having mixed everything together.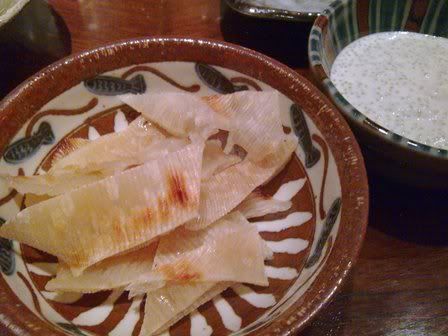 Dried seasoned stingray fins (S$12) - The fins are grilled to chewey and hints of crispiness, and it very tasty when dipped in the mayo sauce with fish roe and little hints of wasabi.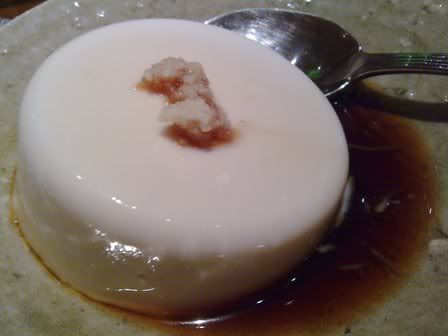 Homemade peanut tofu with sweet sauce (S$8) is a unique and surprise hit. The tofu has strong peanut flavours yet is as soft and creamy like tofu. And to set the record, it doesn't taste like peanut butter at all.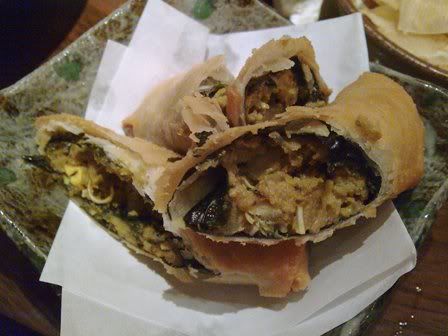 Crunchy curry flavour pig's ear springroll (S$13) is a great beer food. The crispiness of the spring roll and intense Japanese curry flavours match perfectly.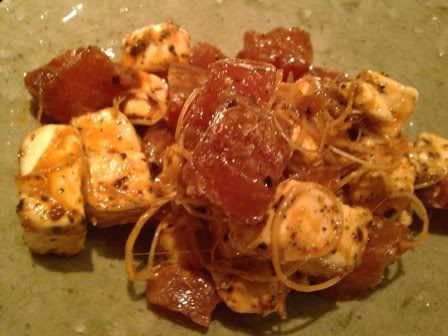 Tuna, cream cheese and leek dressed with special chilli oil from Ishigaki Island (S$15.80) - This is a very intensely flavoured dish. It is both salty, spicy, creamy and sweet. Another surprise hit.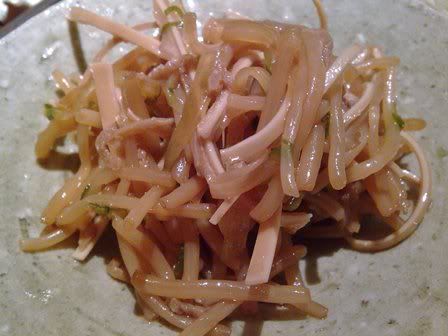 Pig's ear with citrus-based sauce (S$10) - A mixture of chewy pig's ear slices with crunchy beansprouts in a tangy sauce based. By now, you would have noticed that most of the food served here are good to go with alcoholic drinks.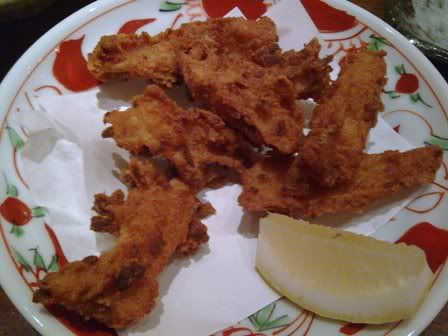 Fried chicken cartilage (S$12) - A bit too salty for our taste, but the soft bones are crunchy yet chewy to the mouth.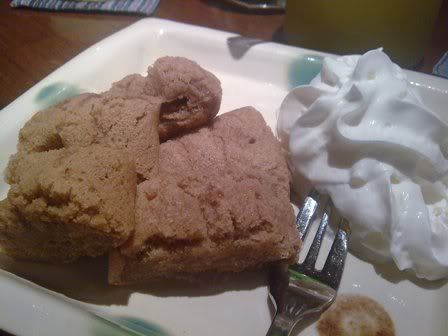 Finally our dessert of brown sugar flavour rolls (S$8). Although the rolls taste a bit like our "Huat Kuay", but the use of the unique brown sugar and whipped cream made this dessert an enjoyable one which is only unique to Mimigar.
A unique Japanese restaurant serving authentic Okinawan food which even frequent visitors to Japan may not have tried before.
Mimigar
1 Nanson Road
#01-08 Gallery Hotel
(S) 238909
Tel: 6235-1511