One of the most famous restaurant in Singapore is Jaan which commands one of the best view in Singapore.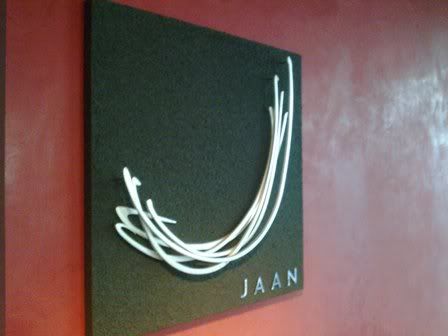 Not only that, the current chef de cuisine of Jaan is Andre Chiang, a 33 years old Chinese born in Taiwan and moved to France at the age of 13 to learn how to cook French food.
Many women come here just to see the chef due to his dashing good looks. But I think his food is equally good too. If not, one of the best French food in town.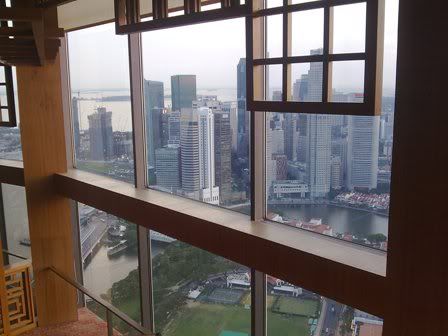 When exiting the lift, you are greated by a paranomic view of the Singapore skyline.
The view from the Equinox restaurant is fabulous. But of course, the view from Jaan is even better.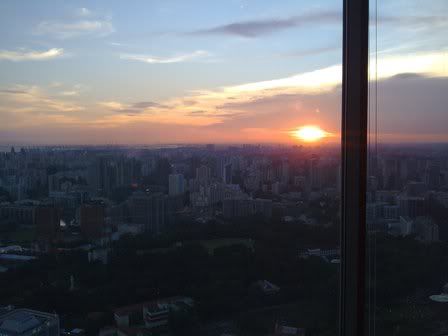 As the sun sets in the west, it also herald the start of dinner.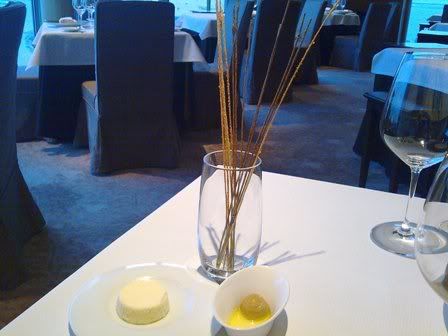 Other than these crispy sticks of bread served at Jaan, the waitresses also served minature breads to all tables. The onion bread and crossaint are one of the best breads I have eaten. I think I must have asked for multiple servings of the onion bread.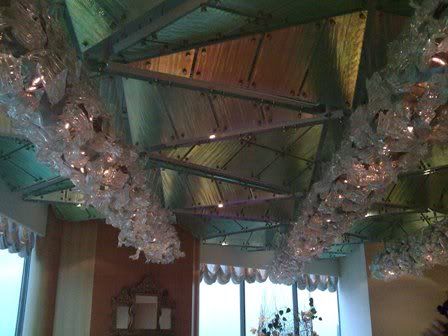 The ceiling of Jaan is decorated with Murano Wave crystals, very dreamy and beautiful at night with the city skyline lights.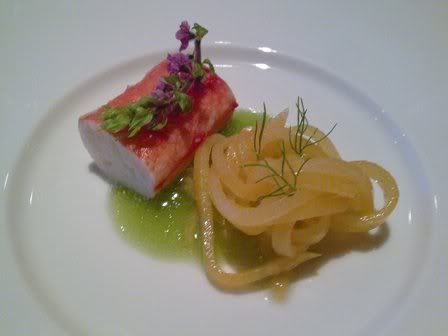 Amuse Bouche - the crab leg meat is very fresh and sweet.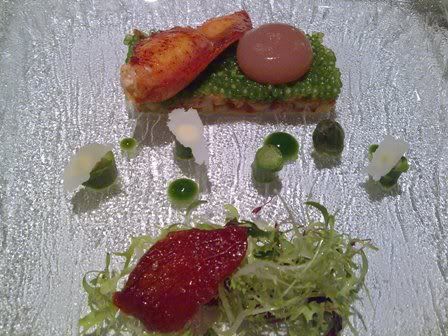 Duo of Britiany blue lobster, apple basil tapioca tartar and white peach ravioli - I was surprised that the white peach concentrate was infused in a bubble, and when it burst in your mouth, you can enjoy the sweet white peach juice flowing into your throat. Lobster meat is sweet and fresh too.
The little green spheres you see are not peas! They are actually little spheres of apple basil sauce.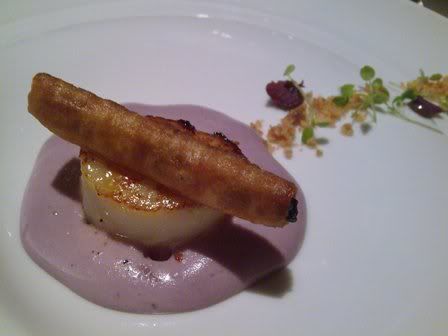 Roasted giant live scallop on vitelotte parmentier and wild mushroom cigar - I love the mushroom cigar. Very intense flavour, yet interesting texture.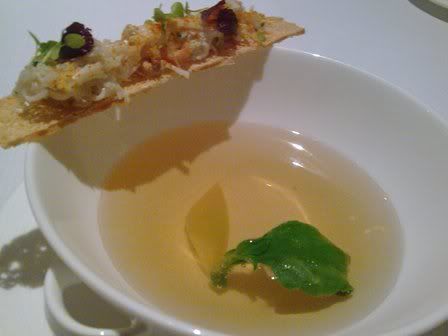 Kaffir lime consomme served with stone crab tartine - I am not sure how to eat this dish. Wondered for a while if I am to put the stone crab tartine into the soup. In the end, just simply had a spoonful of soup and a bite of the stone crab tartine.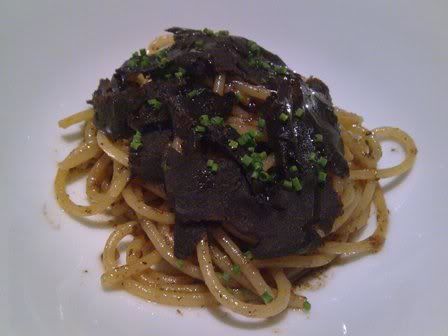 Spaghetti simply cooked in black truffle butter - this is spectacular. Black truffle pan fried with butter and served on a bed of spaghetti. It's amazing how a simple ingredient like truffle is able to create one of the most well loved taste in the world.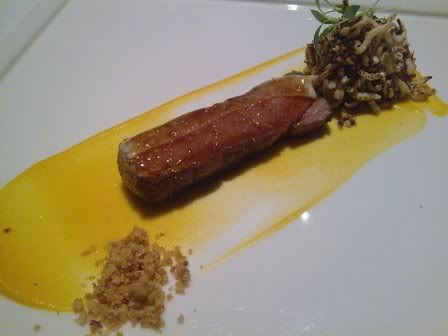 Slow roasted lamb fillet, crispy wild rice souffle "carbonara", cumin scented pumpkin and sauce "Deglacage" - So what is Delglacage? Well, it is a technical term in French cookery for the operation of pouring any liquid into the pan in which food has been cooked in butter or some other fat.
http://food.oregonstate.edu/glossary/d/deglacage.html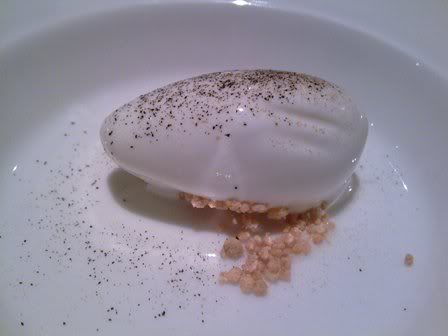 Pre Dessert - White Asparagus ice-cream. Intially, I am unsure how vegetable ice-cream would taste like. But the subtle taste of asparagus actually matches with the creamy vanilla taste.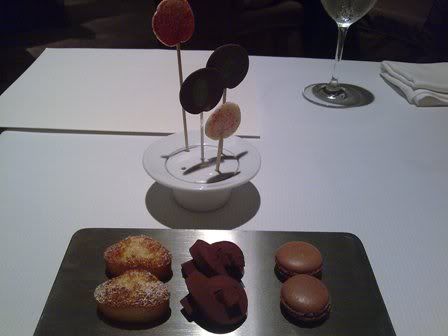 Petit Fours - Like the Macarons.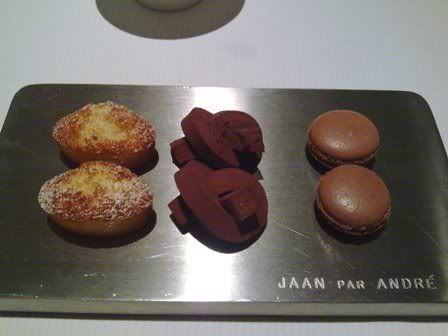 Held up the solid stainless steel platter. It is really heavy.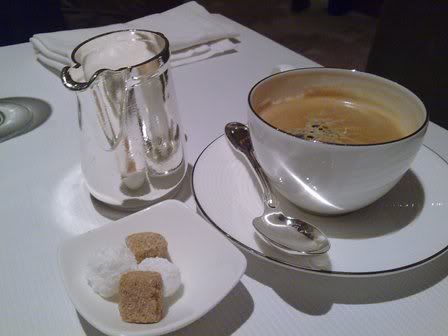 Coffee and...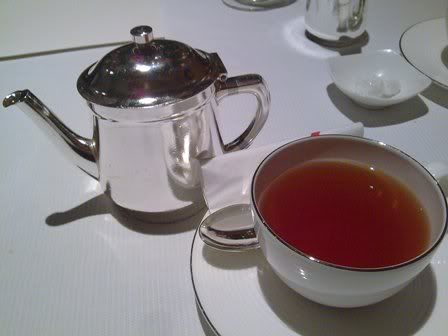 ... tea to a wonderful dinner at Jaan.
It's an expensive dinner, but worth every penny.
Jaan

Swissotel Stamford
Level 70
Tel: 6837-3322