GQ magazine once voted 4 Fingers Bonchon as the BEST Fried Chicken in USA. And this vote of confidence is good enough for me to make a trip to Basement 4 of ION Orchard to try out this out of a kind fried chicken wings.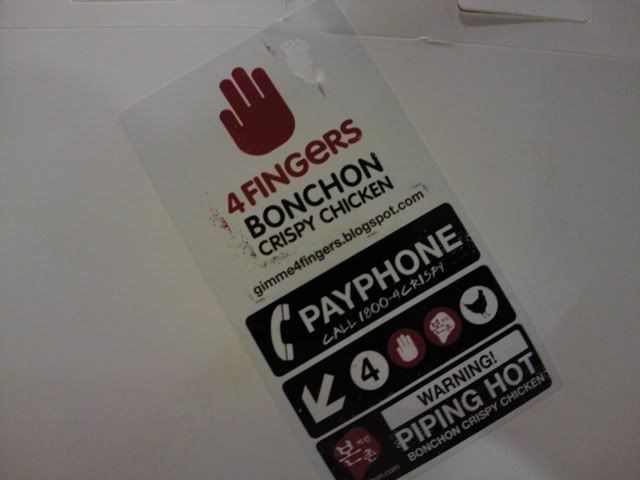 The eatery is very small. Only 1 long table and about 10 seats. That's all. So unless you are very lucky to get a seat, most buy the takeaways. And even if you are lucky to get a seat, they are very uncomfortable.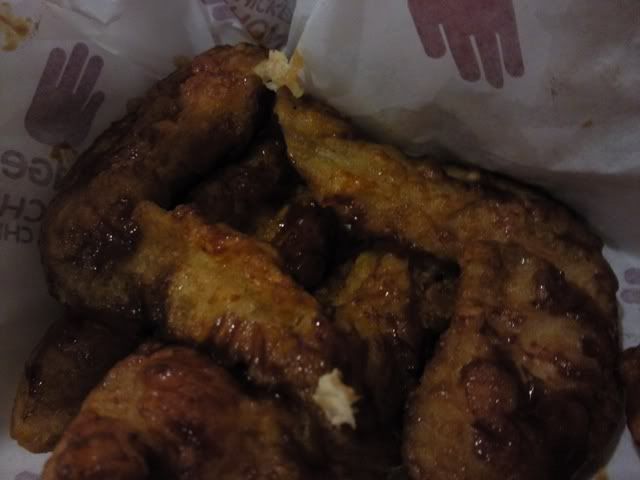 They ran out of their signature Soya Garlic flavour, so we got 6 Teriyaki and 6 Spicy chicken. Each piece is actually either 1 drumlet or 1 wing. So 12 pieces = 6 full chicken wings. But they are quite big in portion.
First bite - Wow, the chicken is REALLY CRISPY. The spicy version is REALLY SPICY. No kidding. Full of tabasco flavour. Your mouth and fingers burn after holding on to the wings for too long. But the taste is really wonderful. Non chilli-eaters, you have been warned.
For a less spicy and also less exciting choice, order the Teriyaki version. I find it less tasty compared to the spicy version.
I will be back to try their signature soya garlic versions once stocks of their soya garlic sauce arrive in Singapore! Also heard that their Kimchi coleslaw is equally good too.
4 Fingers Bonchon Crispy Chicken

2 Orchard Turn
#B4-06A
ION Orchard