The original Club Chinois opened in 1997 after a collaboration between Tung Lok and chef Susur Lee around 1997 in Orchard.
Last year Club Chinois at Orchard gave way to Tung Lok Classics after 12 years in Orchard. But it was not the end of the Chinois name. In fact, on 01 Feb 2010, the brand new Chinois opened here at Resorts World Sentosa, where the city state's first casino opened its door a few days ago.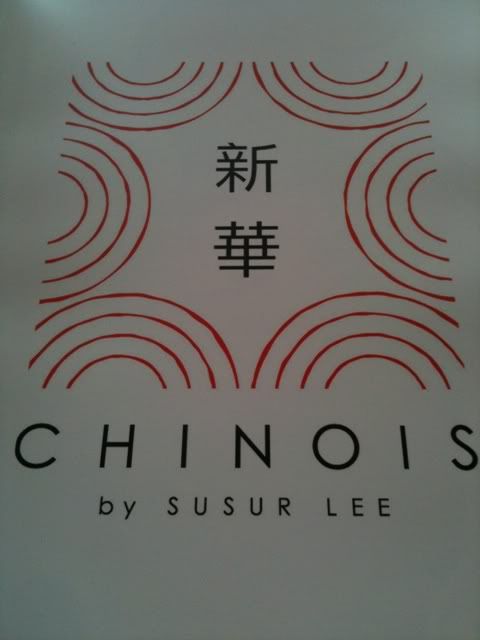 The word Chinois resembles that of a French word, which referred to a cone shape strainer used to strain sauces while cooking.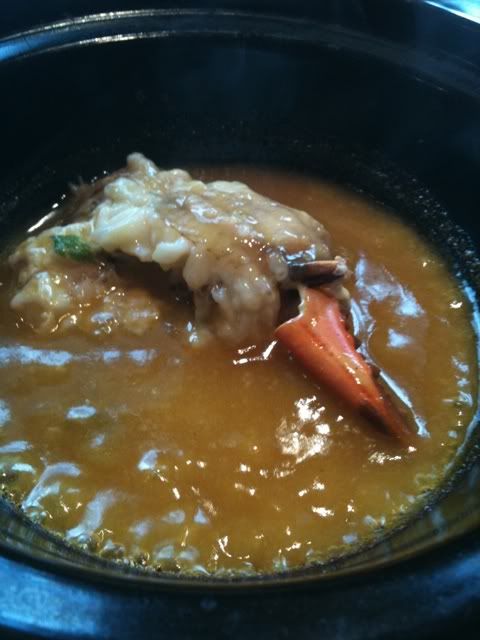 The first dish was this Braised shredded abalone stuffed in crab claw topped with sea urchin sauce (S$28). It was served bubbling hot and the sauce was very tasty. The claw has been deshelled, making it easier for diners to enjoy this dish.
It's difficult to describe how the sea urchin can be cooked into such a nice sauce, but logic is that the roe is removed from the spikey shell, and cooked and simmered with sauces till it becomes a thick gravy. The end product is a gravy which has the unique taste of seafood.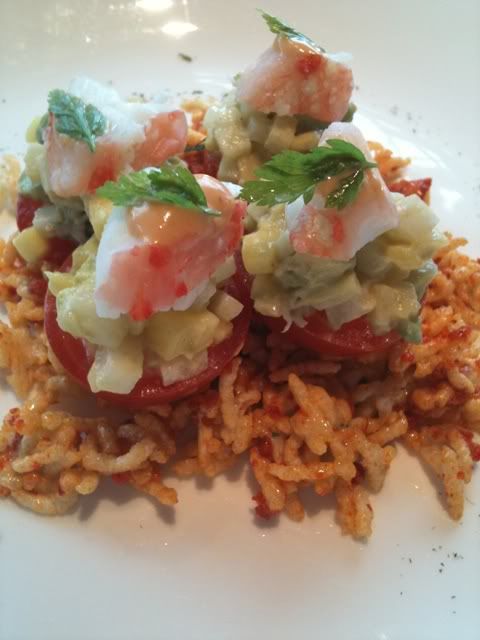 Next, was the chilled Momotaro Tomato with Fresh Alaska crab meat (S$24). Momotaro tomatoes originated from Japan, and the name Momotaro is named after a Japanese ancient hero. The sweet Alaska crab meat is served on half a juicy tomato which sits on a bed of crispy rice.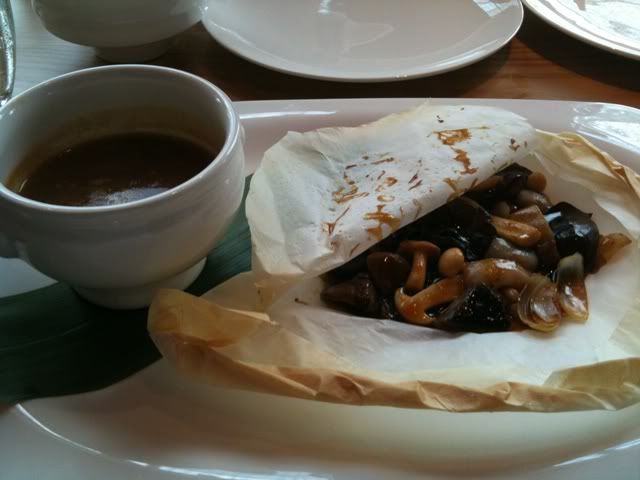 Braised assorted wild mushrooms wrapped in paper bag and served with a morel mushroom and soy milk consomme (S$18 per person). Regulars of Jiang Nan Chun restaurant would have come across a similar dish served at Four Seasons Hotel.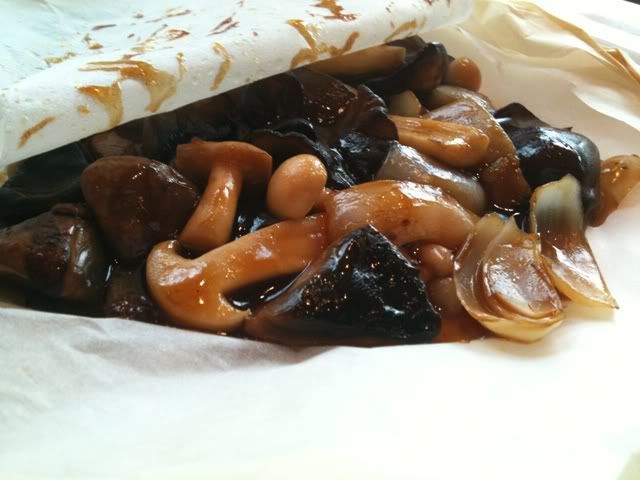 The version here is better than that of Jiang Nan Chun. Those transparent bulbs are actually lily bulbs and not onions as some would have thought. The mushrooms are wrapped in a paper bag (similar to those used in paper chicken packets) and then baked till they are cooked and flavourful.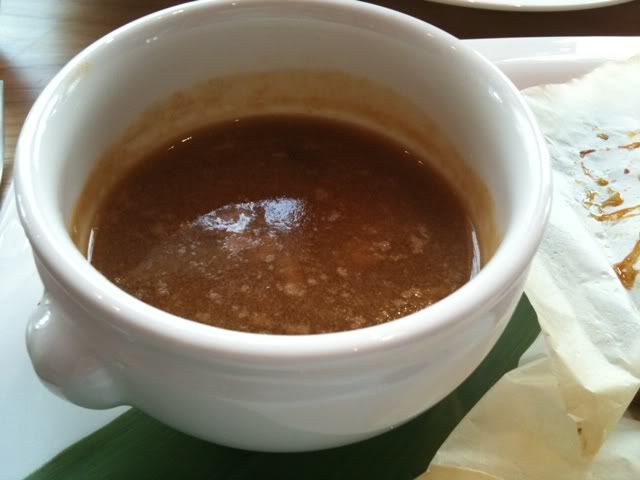 The soymilk consomme was very smooth. Every mouthful is full of the flavours of the mushroom and smoothness of the soymilk.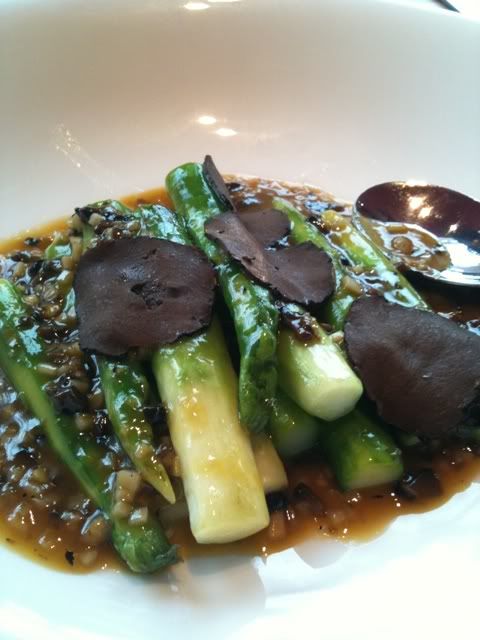 We asked the lovely waitress for a vegetable dish recommendation. She recommended White Asparagus. However she came back and apologised and said they were running low on the white asparagus. Thus the dish was changed to Green Asparagus (S$24). But this is no ordinary vegetable dish as large pieces of the black truffle were added to the vegetables. We were all surprised to see large pieces of shave black truffle generously added to our fresh and tender green asparagus.
The asparagus were indeed tender and the sauce was tasty too. Unfortunately, the truffle is of low quality, with very little hints of the lovely truffle perfumey smell.... I miss the cold angel hair pasta with heavy truffle taste at Gunther's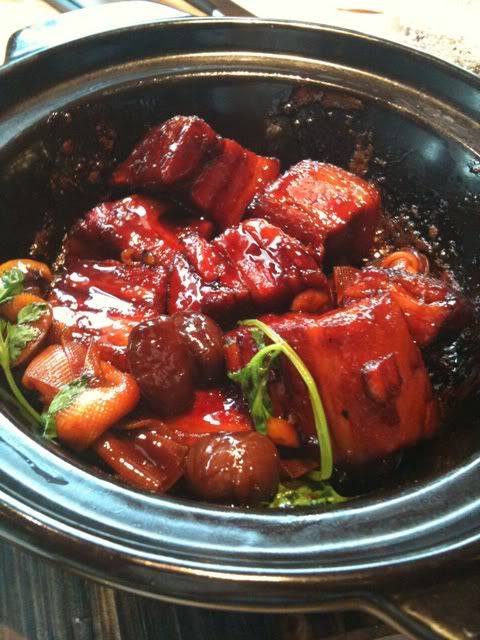 One of the signature dish of Chinois is the Braised Pork Belly with Beancurd Knots and Chestnuts (S$25). The pork is braised till it melts in your mouth. Although similar versions of this dish is served at Tung Lok Signature, but this is a world's apart from others. The fatty parts of the pork does not taste oily upon first bite. And the braised sauce will go wel with bowls of white rice.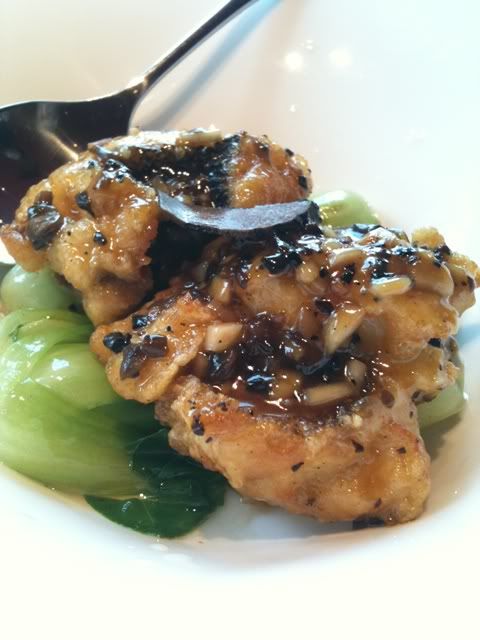 Braised Marble Goby with Black Truffle (S$22 per person) - Another excellent black truffle dish. Unfortunately, the black truffle taste was overshadowed by the sauce. Still the marble goby was of very fresh standards.
A Shanghainese dish - Shanghai-style friend "nian-gao" (S$18). A carbo dish to replace white rice. The nian gao, a rice product eaten during everyday life in China, is sliced and stir fry with various aromatic vegetables such as bell peppers and onions.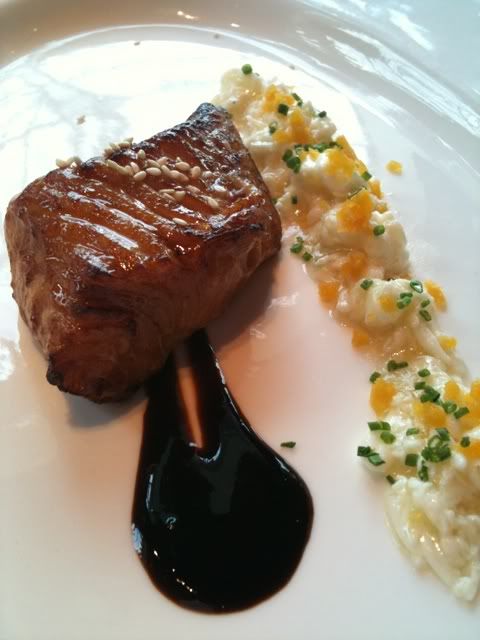 The last dish is the Oven baked fillet of cod with sauteed egg white and dark vinegar reduction (S$16). Again, only the freshest cut of the cod fish is used. 赛螃 refers to the egg white which is is stir fry over boiling oil until it resembles that of crab meat.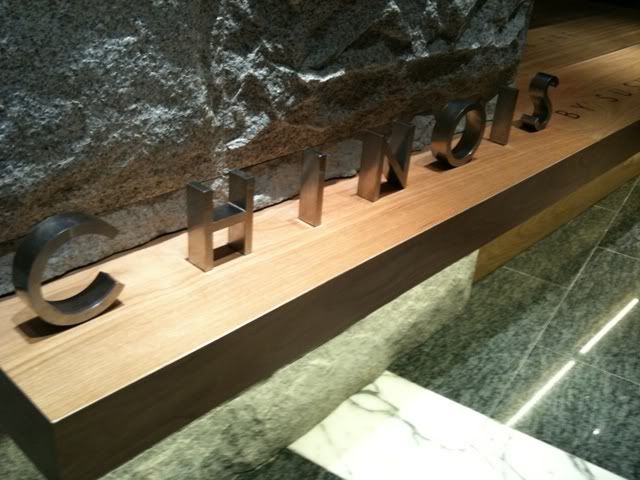 According to media reports, Chef Lee will be at Chinois once every few months to whip up his latest creations for diners and high rollers here at Resorts World Sentosa.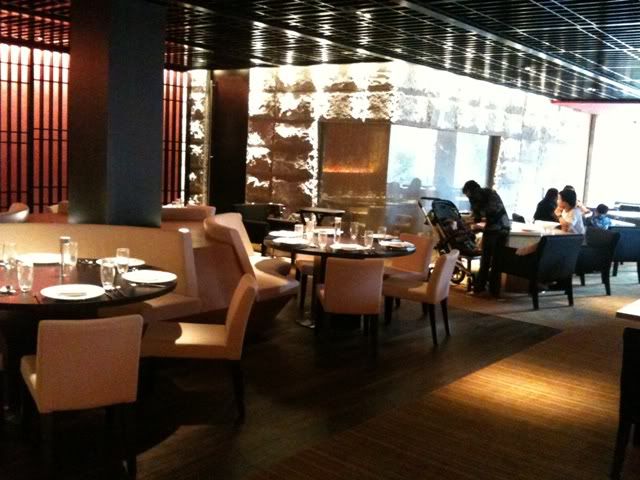 And from the looks of the restaurant, Chinois aims to be a cut above the rest of the Tung Lok range of restaurants.
With one of the best Cantonese Chinese food in town and a nice ambience, expect huge crowds here when the IR officially opens in a few months time.
Chinois Restaurant

8 Sentosa Gateway
Lobby Level, Hotel Michael,
Resorts World Sentosa