Was attracted by the review done by IS magazine on Skinny Pizza's Savoury Ice-Cream. It was mentioned that their Mexican Chilli ice-cream was really good.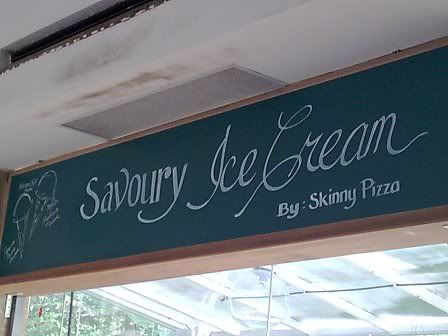 Skinny Pizza had an outlet at Suntec City, but instead we went to Barracks Cafe at Dempsey which also serves Skinny Pizza.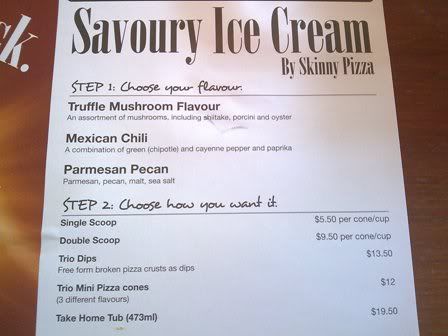 There were 3 flavours of the ice-cream. We had the Mexican Chili which was highly recommended, and the Truffle Mushroom flavour.
Do have it in a cone. The cone is actually thin pizza crust rolled into a cone shape and baked till very crispy.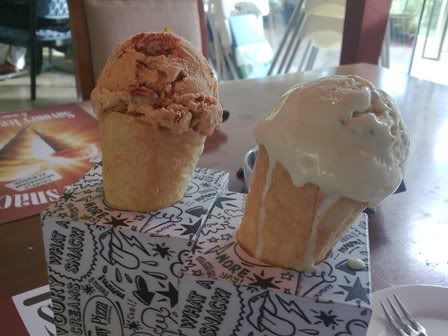 Indeed, the Mexican Chili flavour was very very good. Every bite is full of flavour. It's not very spicy yet you can eat the chilli inside the ice-cream. Compared to the milder flavoured but equally delicious Mushroom Truffle, I prefer the Chili version. But fans of creamy ice-cream would prefer the Mushroom Truffle taste.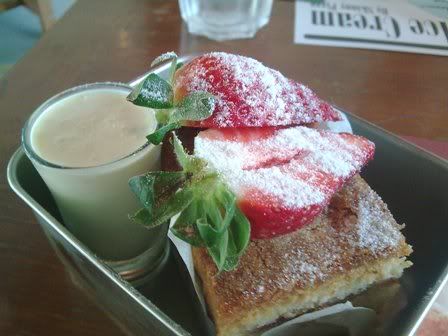 No trip to Barracks Cafe is complete without eating their famous Strawberry Shortcake. Warmed in the oven before serving, the shortcake is moist and flavourful.
The savoury ice-cream is also available at their shop in Suntec City too.
Barracks Cafe
8D Dempsey Road
#01-01 to 06 Tanglin Village (Dempsey Road)
Skinny Pizza
3 Temasek Boulevard
#01-002 Suntec City Galleria