My 1st time at Thanying Restaurant at The Amara. It has been in Singapore for quite some time, serving authentic Thai food to Singaporeans for years.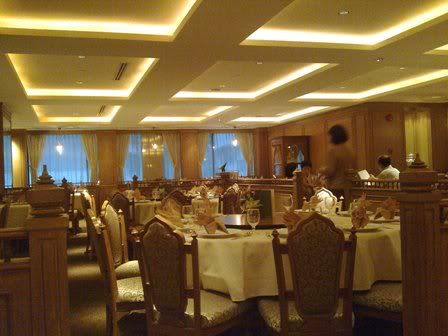 The design inside is spacious, with hints of Thai royalty on the chairs, tables and walls. But the whole place was quite empty on a weekend evening.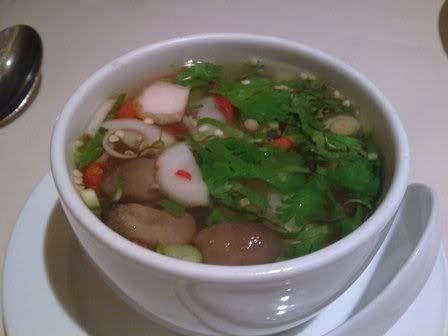 Tom Yam Soup (clear). This is very very spicy due to the chilli padi. Even though we asked the kitchen to go easy with the chilli, but it is still very spicy. Ingredients inside are fresh though. Can't taste the soup well due to the spiciness.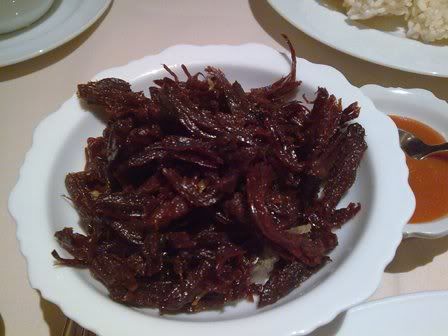 Dried grilled beef - Very tasty snack. The beef taste like beef bak kwa from Lim Chee Guan, just that it is more dry and more fragrant. Goes well with the chilli dip.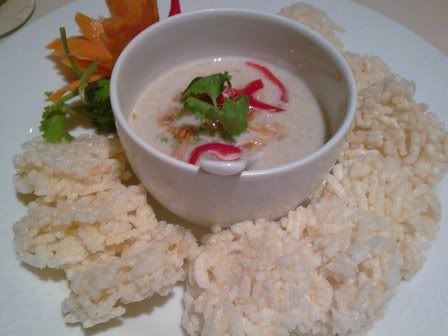 Crispy rice with spicy coconut milk dip. Very special, first time eating this dish. The rice crackers is crunchy, and the spicy coconut dip goes well with the rice crackers.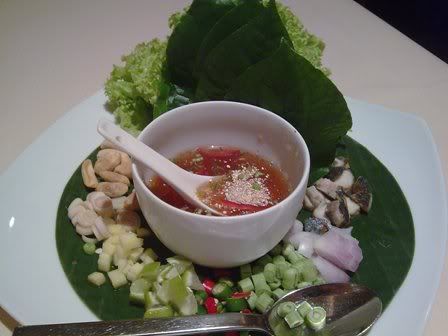 After watching this TVBS Asia show on Thai food, we decided to order this which is an assortment of fillings (salted fish, green lime, onions, peanuts, etc etc) wrapped in fresh green leaves. The tangy chilli sauce have the rolls an extra ommph. Refreshing and healthy dish.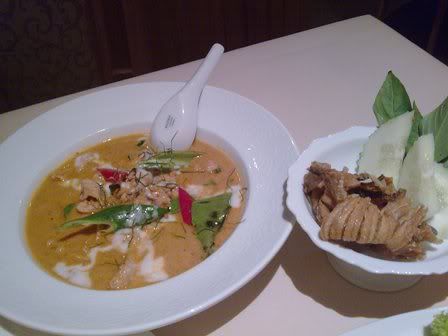 Special Thai pork curry. Comes with a plate of crispy fried fish. The bones and fins are very crispy.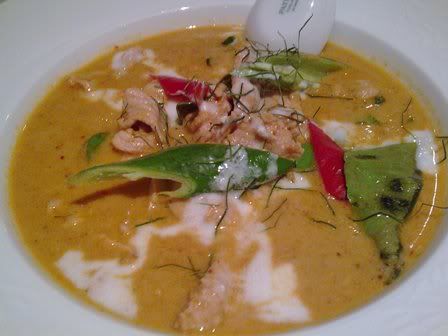 The pork is very tender, and the curry gravy goes well with plain white rice. Something to order again next time when we are back!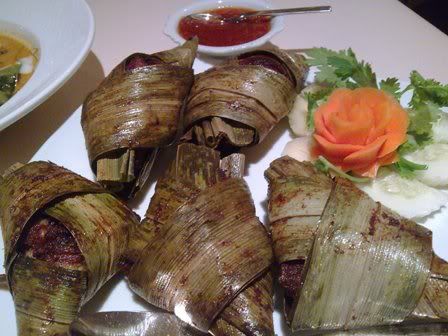 By now, we are very full. But we still have to polish off these Pandan Chickens, a favourite among Singaporeans. The ones here are very very big in portion. One Pandan chicken is good enough for one diner. Very flavourful and tender. But the chef should maybe skin off some fats from the chicken.
Overall, one of the best Thai food restaurant in Singapore, in terms of taste and experience.
Thanying Restaurant

165 Tanjong Pagar Road
#02-00 The Amara