Assisi, birthplace of St Francis and St Clare, is located on Mount Subasio in the Umbria region in Italy. It is about 2 hours drive from Rome. It reminded me of Taiwan's Jiu Fen which is situated on a mountain with interesting shops along the way.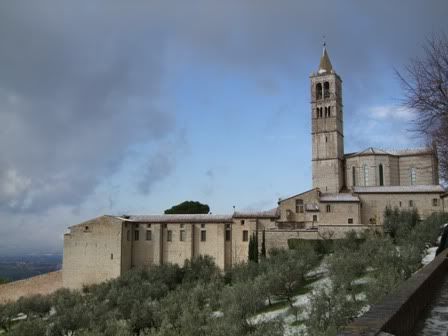 The entire Assisi is carved out of limestone, and that explains the slightly pink facade adoring the churches, buildings and even the roads.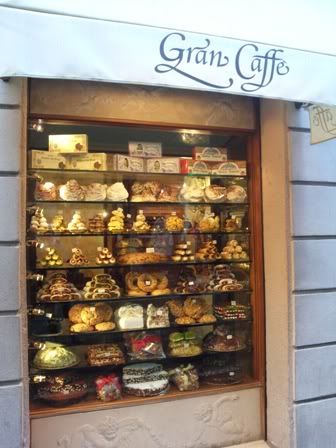 Gran Caffe caught my attention with all the sweets and pastries lining up behind the glass wall. I made a U turn into the cafe and decided to try out some of their goodies.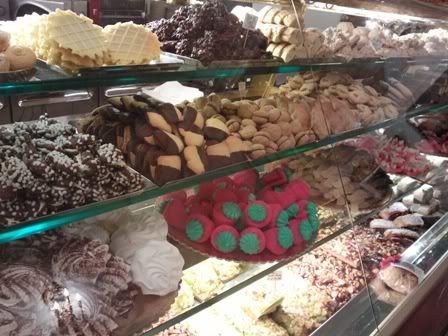 There is simply too much pastries and sweets to choose from. I did not know what to choose, so I asked the friendly cashier what is good here. Her reply? Everything!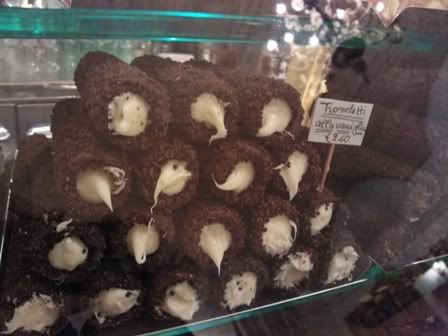 So I had this chocolately pastry item. It was actually crunchy chocolate flakes rolled into a roll and stuffed with thick vanilla cream. It's sweeter than what we are used to, but it's very yummy.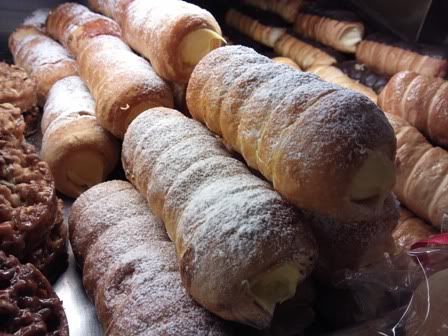 On the other hand, this horn pastry was a disappointment. The cream tasted like Khong Guan's lemon cream in their biscuits, and the horn pastry wasn't the best I've tried.
So, some hits and misses. I wonder if I would ever have the chance to come here again. Probably my first and last time here.
Gran Caffe
(Located along the road of shops after the Basilica of Santa Chiara)
Asissi
Italy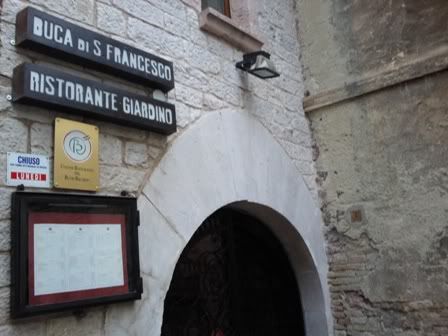 It's lunch time in Assisi, and we were ushered into this restaurant called Buca Di S Francesco Restaurant, after visiting St Francis church.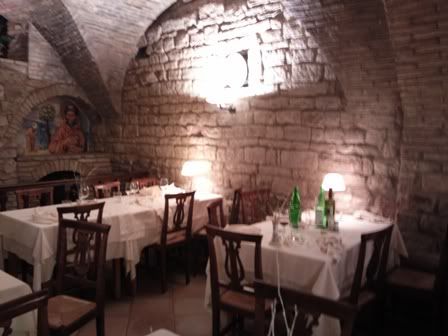 The Buca Di S. Francesco Restaurant is in the historical centre of Assisi, and has a medieval atmosphere. Umbria's cuisine is alternated with various specialties such as bruschette, spaghetti, sfogliatelle with porcines and so on.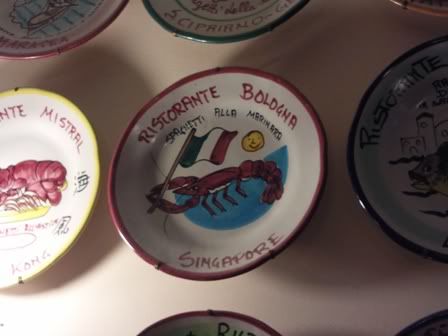 This restaurant is sister restaurant of quite a few Italian restaurants around the world, including Marina Mandarin's Ristorante Bologna in Singapore.
Our 1st course is a vegetable soup. What can be better than eating into hearty soup on a cold snowing day.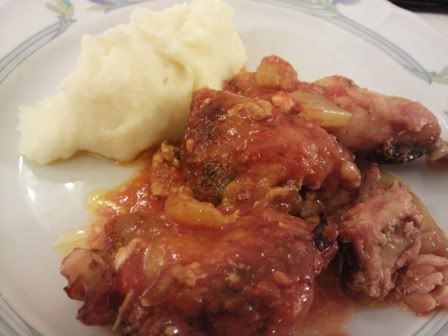 Main course is grilled chicken with a tangy tomato sauce and mashed potato. Chicken was tender, the the sauce was delicious.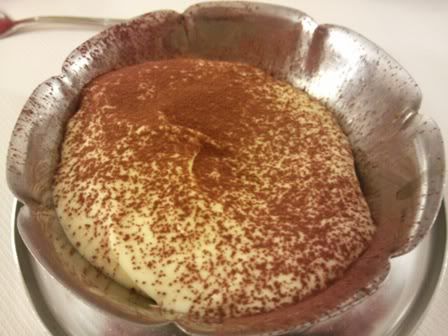 Dessert was the traditional Tiramisu served in this exquisite metal plate shaped like flower petals.
Before we left, I took a picture of these pears poached in red wine sitting on the dessert tables.
Ristorante Buca Di San Francesco
,
Assisi
Via E. Brizi 1,
Via A. Cristofani, 26
Tel: (075) 812 204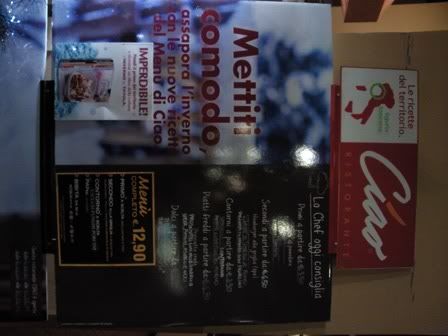 Coming up, our worst meal in the trip.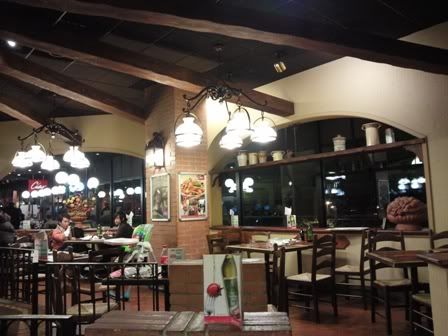 Ciao is a self service eatery under the Autogrill empire. Autogrill originated from Italy, and now has eateries in over 40 countries with the majority in Europe. It is mostly found next to highways and also in some airports.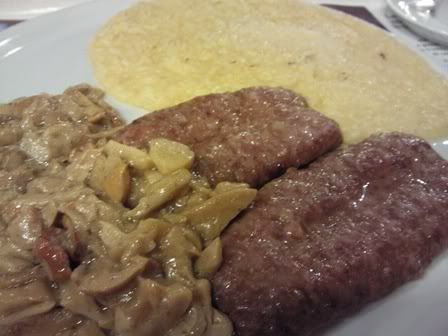 Most of us had this grilled pork sausage patty with the sourish vinegar mushroom sauce and risotto paste. The sausage patties were very salty, and didn't go well with the mushrooms. One of the worst food I have tasted in Europe. I would urge anyone not to order this when eating at Autogrill when travelling.
Ordered the Espresso by mistake. What a small cup. Should have gotten Cappacino.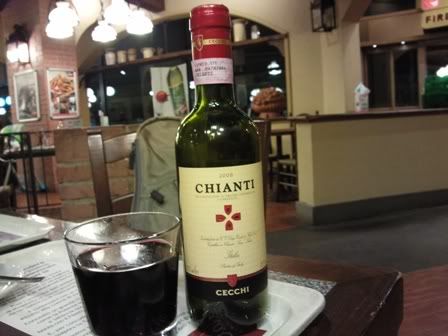 Luckily there were wine to wash the awful food down.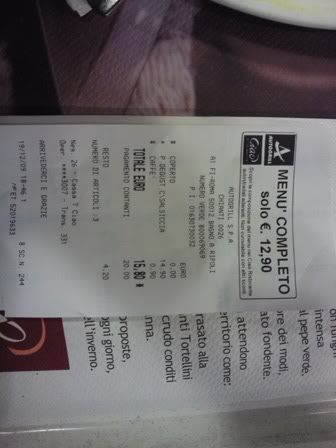 Would suggest going for their pizza instead at Autogrill.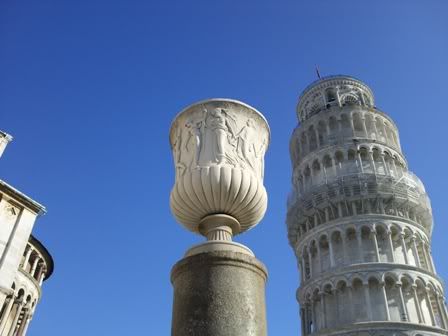 And finally, we visited the Leaning Towers of Pisa, one of the wonders of the world. I wasn't awed by the leaning tower, but instead preferred the church next to the leaning tower.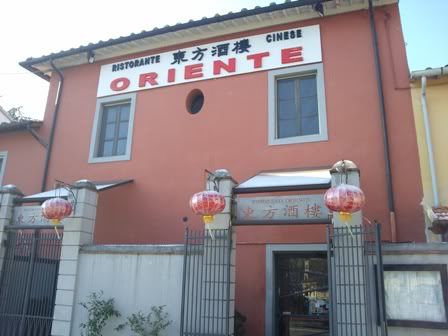 Lunch was at this Chinese restaurant next to the Leaning Tower of Pisa.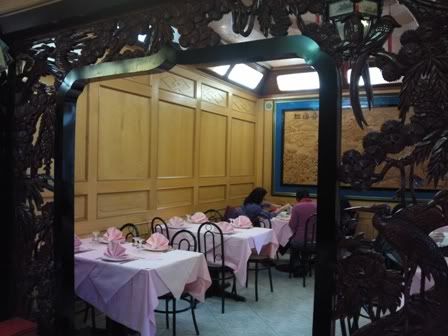 It was quite empty when we arrived, but soon busloads of Chinese tourists arrived and packed the entire restaurant to the brim.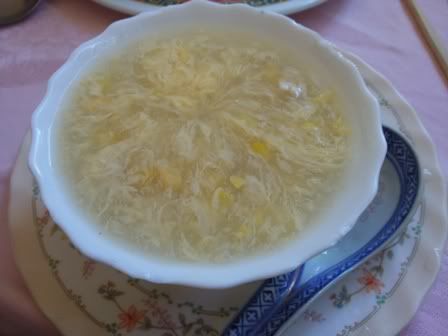 As it was very cold outside, we have to get some warm soup. So I ordered the corn soup. It was the starchy kind, and I couldn't find faults with the soup.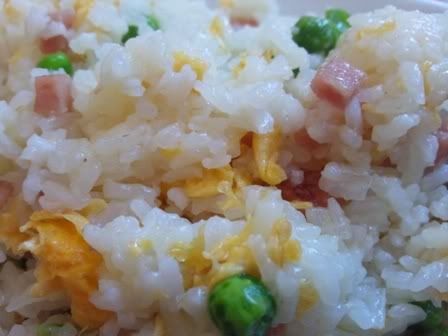 When you go to any Chinese restaurants in Italy and order fried rice, basically the 3 basic fried rice will be Cantonese (Guang Dong) Fried Rice, Prawns Fried Rice and Curry Fried Rice.
The Cantonese fried rice used the rissoto grain, which was quite special for me. The rice was still sticky, but was fragrant.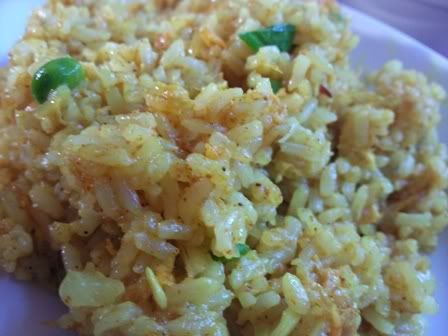 The curry fried rice used indian curry spice. Took some getting used to it.
Ristorante Cinese Oriente 东方酒楼
Via C. Cammeo 66
L.go Cocco Griffi
56100 Pisa
Italy