It's Christmas Eve in Lucern. As almost all the shops (except McDonald's) is closed, we had dinner in the hotel.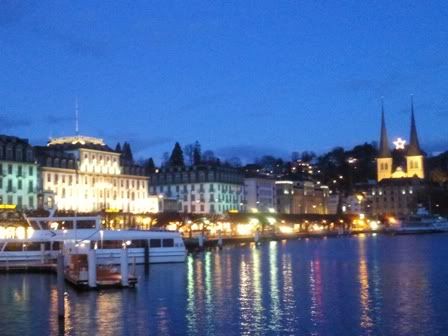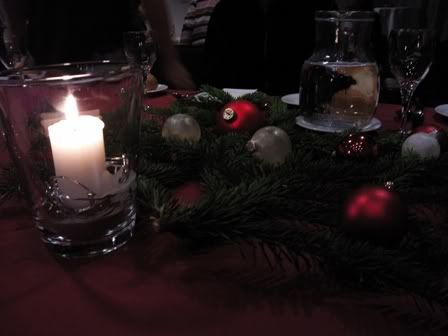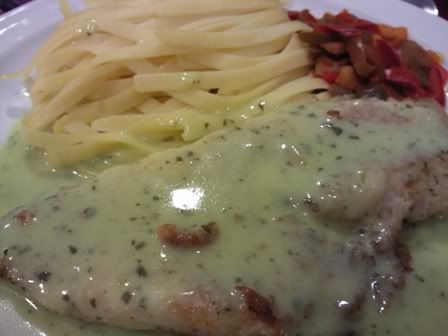 Our main course is grilled fish with cream sauce, a serving of pasta and some vegetables.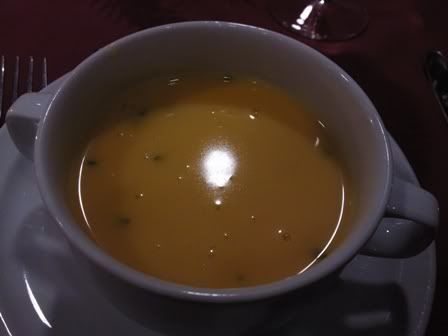 A bowl of soup (taste like Campbell soup)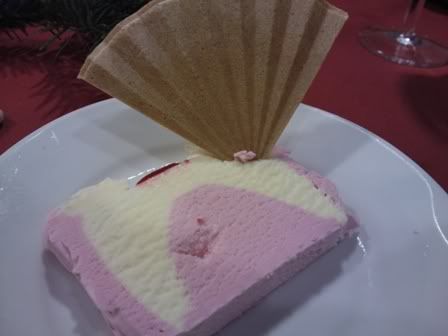 And an ice-cream for dessert.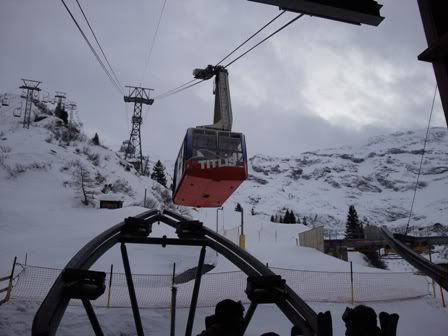 The next day we took the cable cars to Mt Titlis. To reach the summit of Mt Titlis, you need to take 3 different cable cars. First is a small one, like our Sentosa cable car. 2nd is the above rectangular cable car which can fit about 40 people. 3rd is the world's famous rotating cable car where you can see 360 degrees just by standing on 1 spot on the cable car. The summit is about 3020 meters, and some people do get giddy due to the lack of oxygen at the top of the moutain.

As it was freezing cold outside, we had lunch at the small restaurant on the mountain top.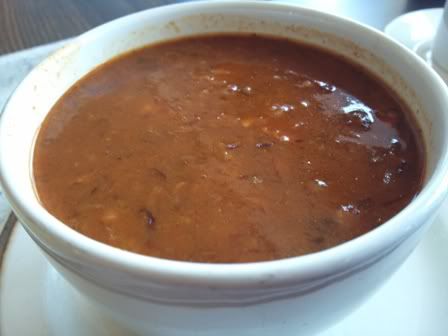 Beef Goulash soup (CHF 10.50) - Soup was surprisingly good. Nice flavourful broth.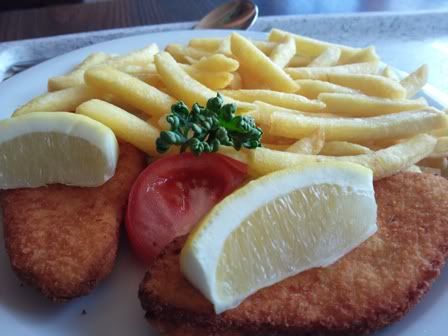 Breaded chicken escalope with fries (CHF 18) - Chicken was a bit dry, and it was processed chicken patties. Fries ok good. For 18 Swiss Francs, I felt it was too expensive.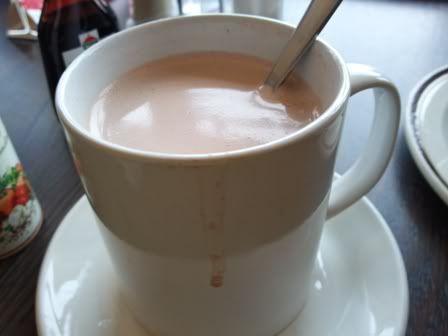 Hot chocolate (CHF 4.50)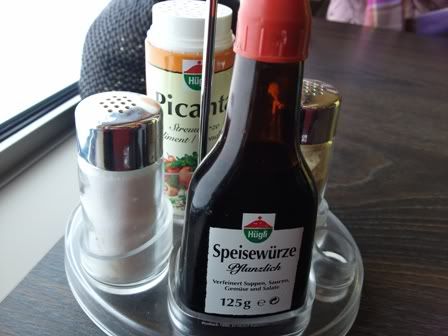 Similar condiments of flavoured salt and seasoning sauce on the table.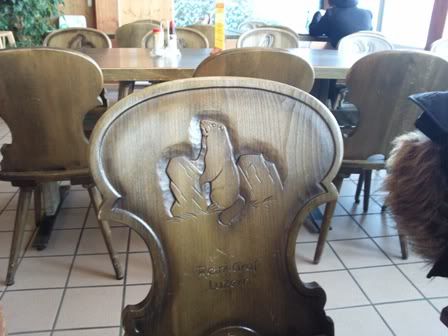 Each of the chair had different animals which represented different cantons in Switzerland. This was for Lucern.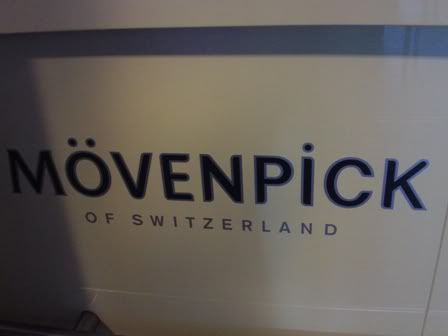 Afterwards, we had Movenpick ice-cream on the mountain.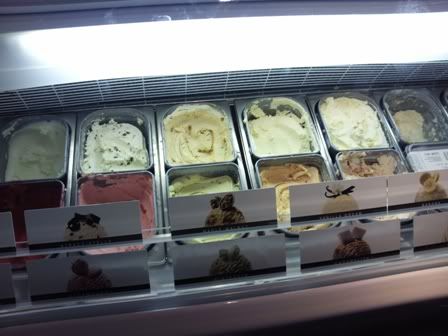 Lot's of flavours to choose from. Each scoop with the freshly made wafer cone cost about CHF 3.80.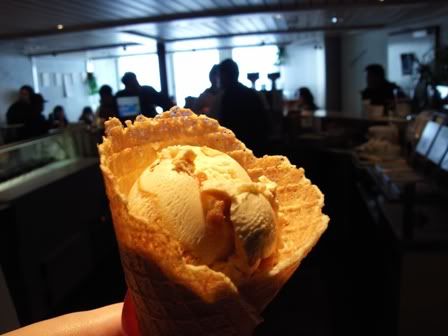 I had this maple syrup one which fortunately is not too sweet as I expected. Cone was warm and crispy.

After coming back from the mountains to Lucern, we walked around the town again on Christmas day. Some shops and restaurants were opened during the holiday.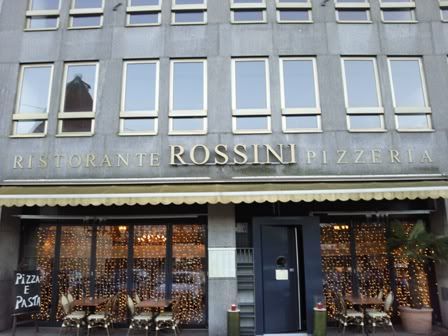 One such restaurant was Rossini, which is ideally located just next to the Chapel bridge. It is located on Bahnhofstrasse.

It is an Italian restaurant selling pastas and pizzas. As we were going to have dinner in a few hours time, we thought we would just come in for some hot drinks and soup.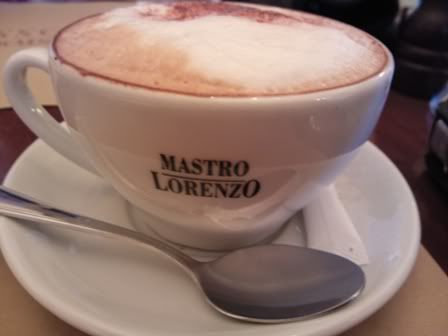 Our Cappucino (CHF4.50)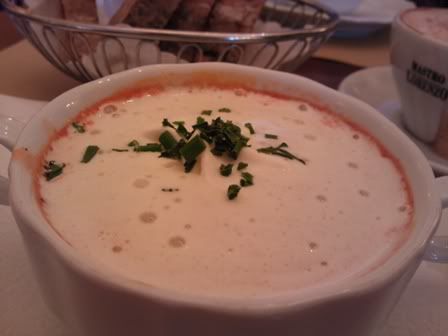 Tomato Soup, or Tomatensuppe (CHF 9.50). This is one of the best tomato soup I have tried. It's not too thick and tangy, yet there were hints of creaminess in the soup. Really enjoyed this.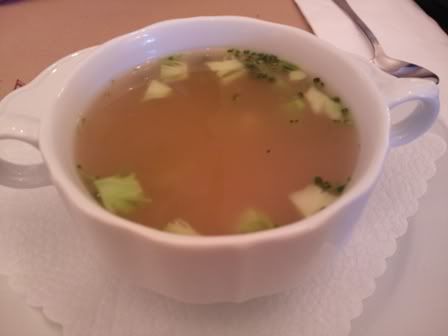 The fish soup (Fishsuppe) was equally good. Costin CHF 10.50, it had good amounts of seafood chunks beneath the broth, and the broth tasted like it was cooked with prawns and seafood. Light and hearty.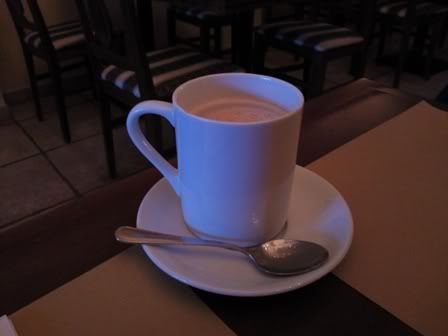 Hot chocolate, or warme schocko (CHF 4.20)
Ristorante Rossini
Bahnhofstrasse 7
6003 Luzern
Switzerland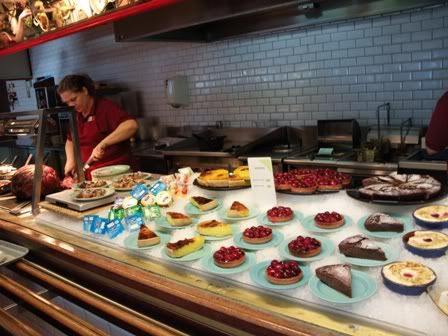 The next day, we bid farewell to Switzerland and made our way to the last stop of our holiday - Paris.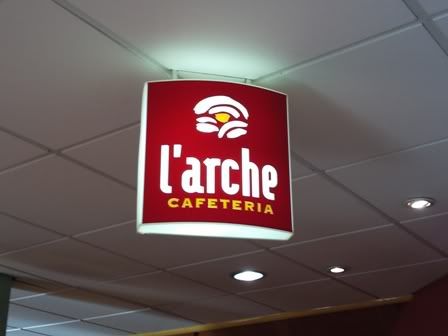 Stopped by at L'arche for lunch.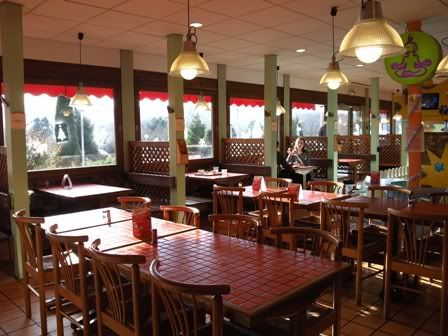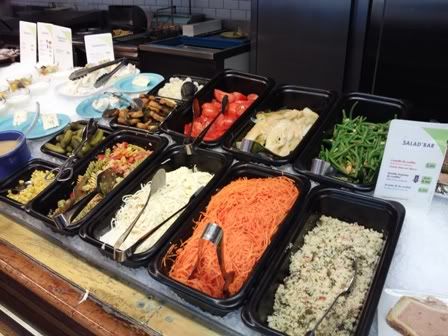 Lot's of salad sides to choose from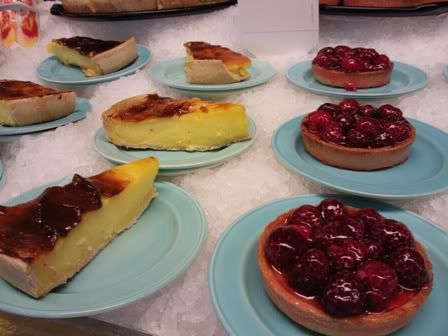 plus tarts and pies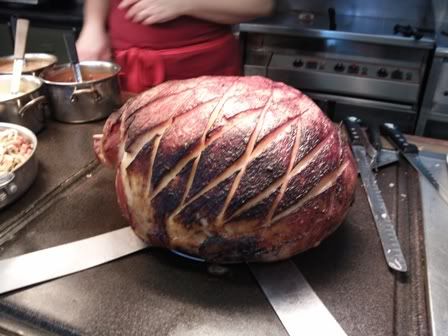 and a big ham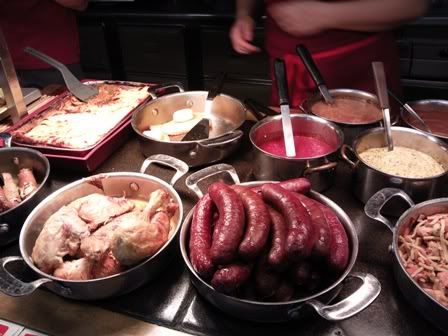 and sausages and roast chicken
got myself a soup too. think was chicken and vegetable cream soup. quite nice.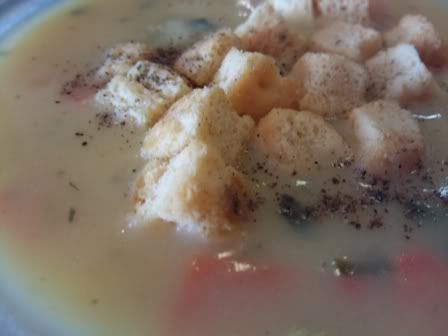 my order of roast chicken with half a potato and vegetables. Lot's of thigh meat left over and very little breast meat. Kind of the opposite from here in Asia.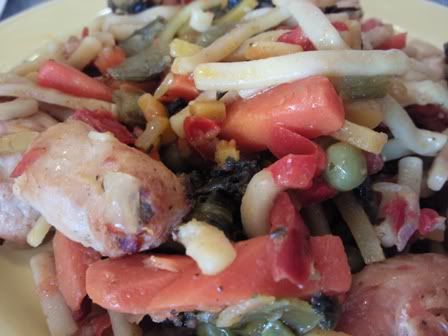 Fried pasta with vegetables. Did not taste good to me.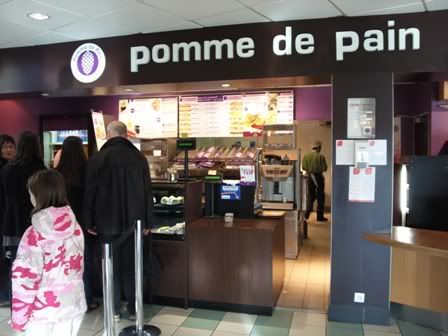 Also had another dessert snack at this Pomme De Pain, which means "Apple Bread" in French.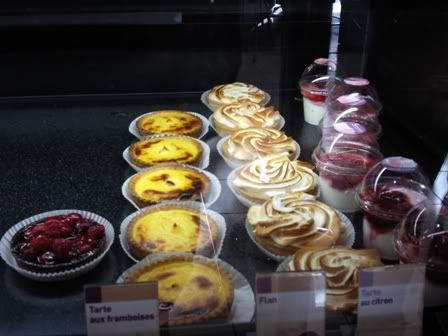 They had cheesecakes and tarts available, resembles those desserts and pastries sold at Delifrance here in Singapore.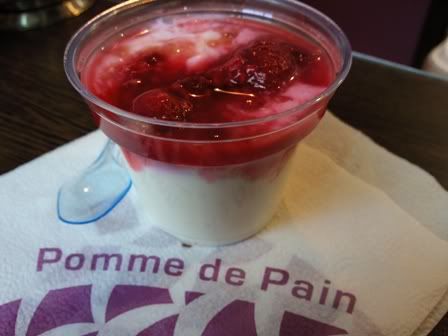 Had this yogurt with strawberry toppings. A bit too sour for me.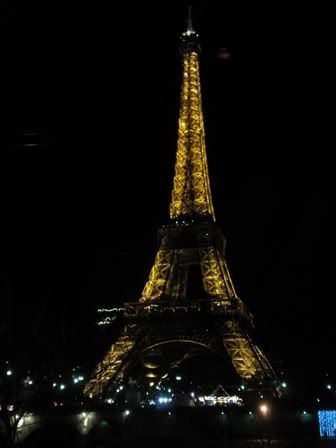 After a 10 hours journey (including a little traffic jam), we finally arrived at our final stop - Paris.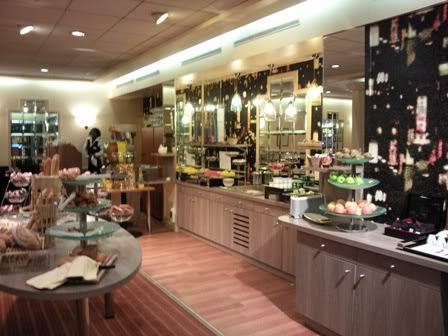 The next morning, we were treated to one of the most sumptuous breakfast buffet.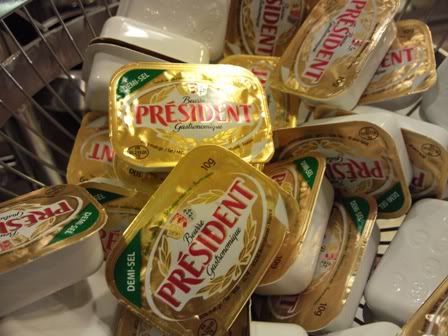 We are in France, and everyone here eats pure butter from President.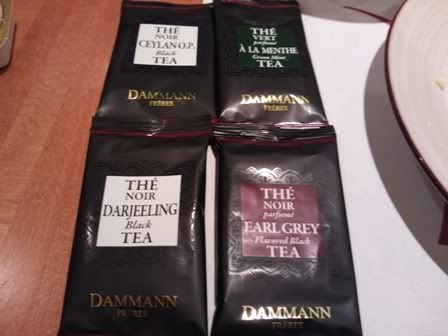 And drink tea from Dammann Freres (supposedly first brought in to Singapore by St Regis)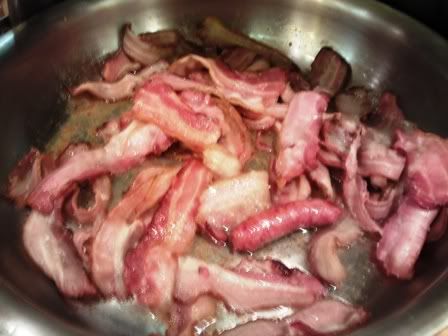 Sizzling bacon and sausages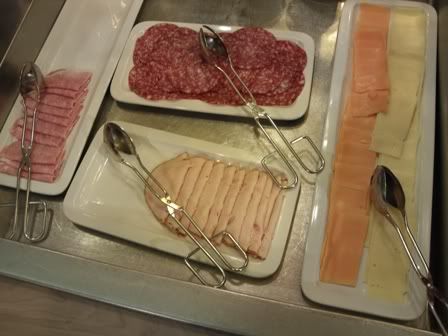 Assortment of hams, salami and cheese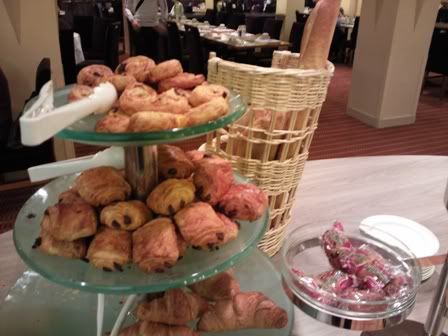 Breads (the crossaint was very buttery)
Lot's of choices of drinks and coffee and tea with pure honey.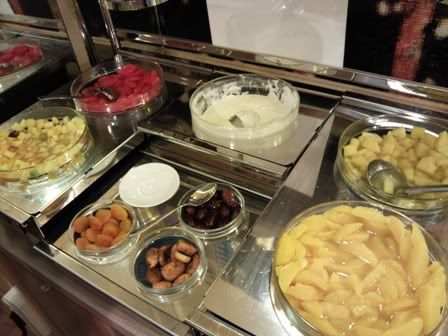 Fruits and yogurt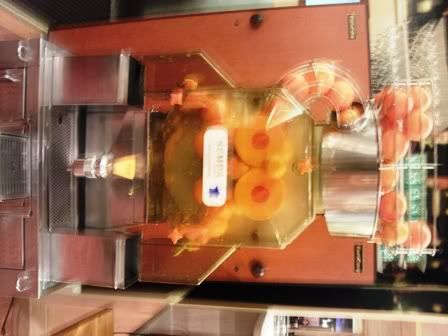 And this machine which squeezes fresh orange juice.