Even though I have been back from Paris for almost 2 weeks, but I still miss the charm of France. To pacify myself, decided to have dinner at L'Angelus which serves rustic French food.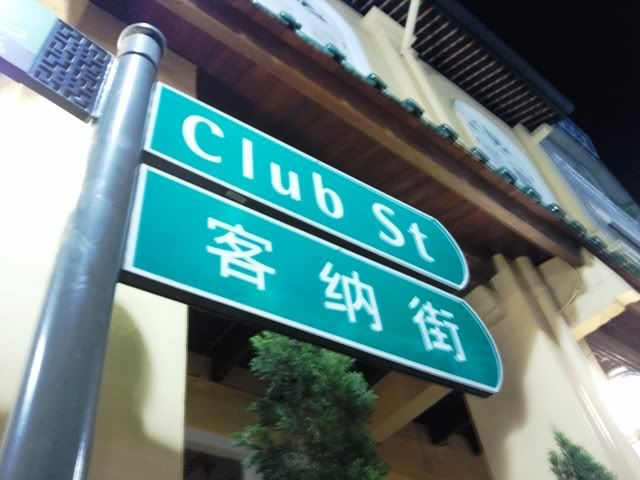 Many diners love to admire the French movie posters on the wall of L'Angelus. These pictures and posters do make one feel as though you are eating in Paris.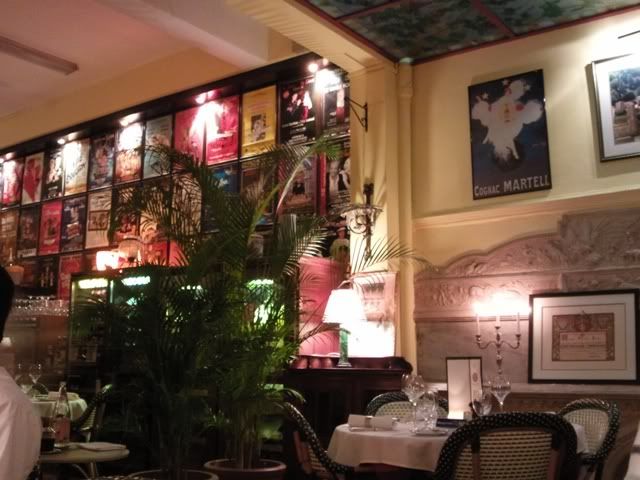 Guess what these pigeon holes are for? They are actually engraved with the names of their regular customers, so a set of their regular cutlery will be kept in these pigeon holes for these regulars. I think this is the 1st time I see this in Singapore!
We were served slices of salami with white bread and pickles while browsing through the menu.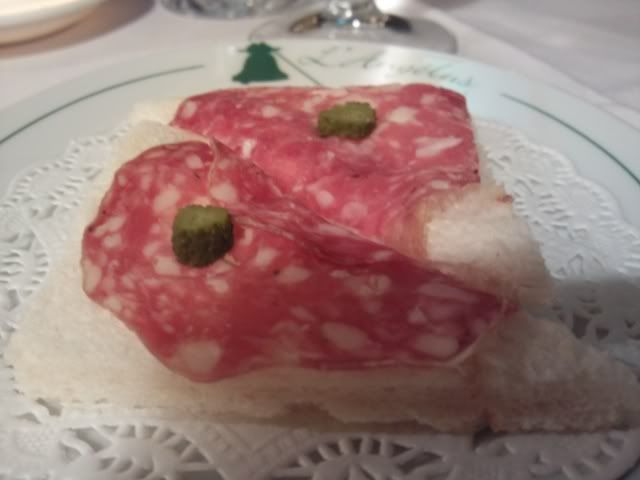 Don't you adore these cute little candle lamps on the tables? Our lamp was in the design of Cupid. Other lamps featured the scenes in Paris.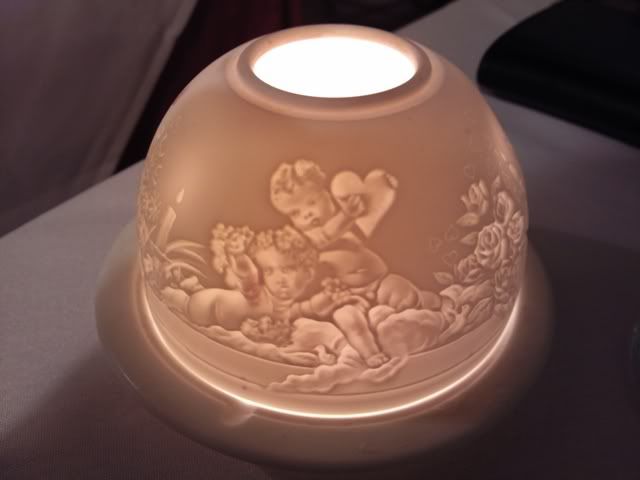 I like the bread and butter. They were very generous with the butter, and it was so creamy and not too salty. The bread was slightly warm too.
Ordered Salade Grande Ferme after reading this highly recommended salad from Gastronomic Ruminations blog. Indeed, this is a very good salad with crisp salad leaves, crispy but not oily bacon a bit salty though) and blue cheese (which some people may not be able to accept the strong cheese taste). I like how all the flavours compliment one another. And the portion is huge, perhaps best to be shared.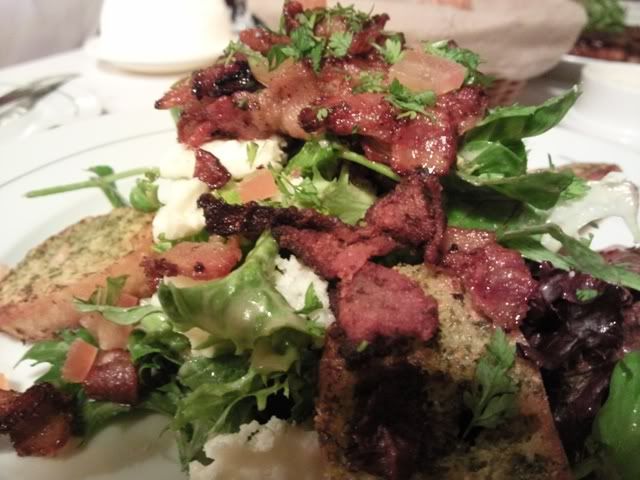 The very generous foie gras, which was panfried. 3 huge pieces of foie gras which definitely must be shared among at least 3 to 4 diners. Foie Gras lover will be in heaven when they order this dish.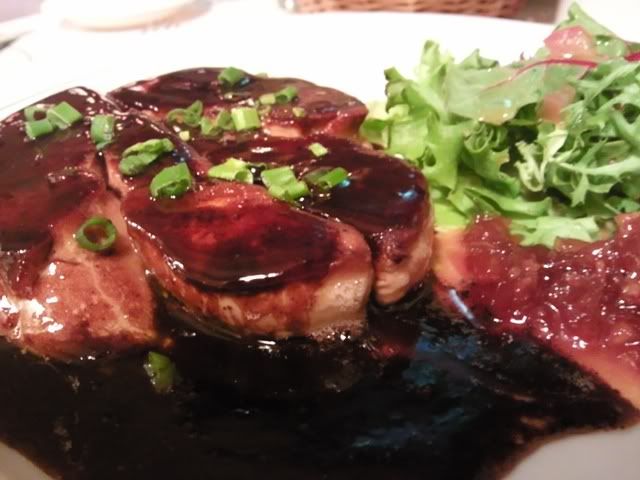 Main course was panfried seabass. The fish was fresh but this dish was not outstandingly good.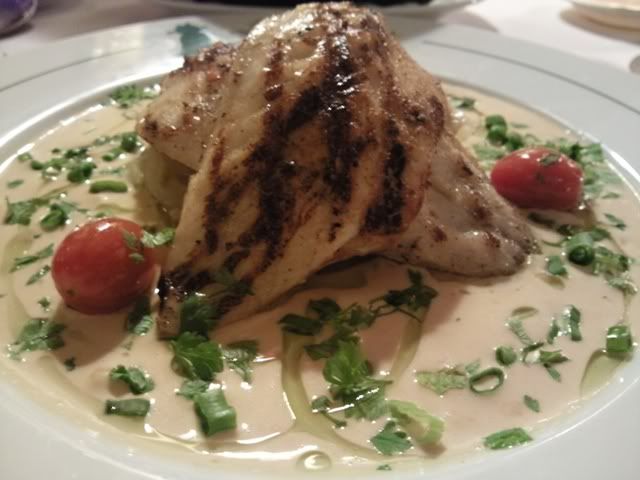 And again, another highly recommended food from the Gastronomic Ruminations blog - Cassoulet. While in Paris, I regretted not ordering the pot of stew rabbit. So now, I ordered this French version of baked beans with various kinds of sausages and meats cooked in Staub's La Cocotte which is a cast iron pot and it can really retain heat for a long long time, maybe even better than our claypots?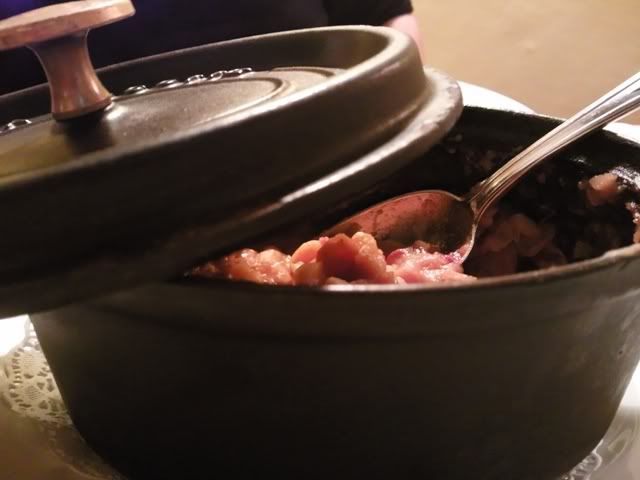 The Cassoulet contain one big duck drumstick, big pieces of chicken meat and various sausages. Again, the serving is huge and this pot of baked beans is best shared among a few diners.
This is a good place for a queit French food dinner in town. But best to avoid during the Chinese New Year season as roads outside will be full of people and cars.
L'Angelus
85 Club Street