After driving for about 2 hours, we finally reached Switzerland. Switzerland is very familiar to Singaporeans because since young, our political leaders have always branded Singapore as the "Switzerland of Asia". We are always on the quest to push our standards of living to that of the Swiss, and amending our banking laws (especially our secrecy laws) to follow Switzerland, until some countries complained about us.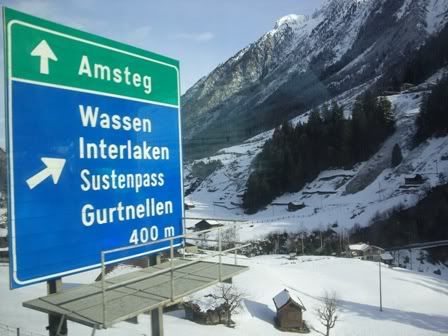 The change in view from Italy to Switzerland is very dramatic. Once we reach the roads of Switzerland, we see endless lakes and Swiss Alps. Everywhere you turn, there is a lake and endless Alps. It is really beautiful.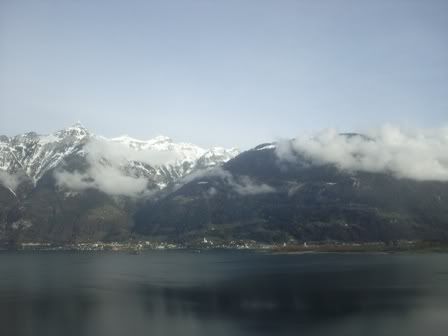 We settled for lunch at a "Marche" style roadside restaurant. We were told beforehand that food in Switzerland is expensive, and a simple self service lunch will cost about 20 to 30 Singapore Dollars.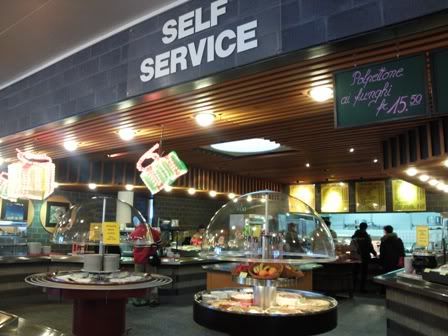 There are ausages, roast pork, baked potatoes, team vegetables etc.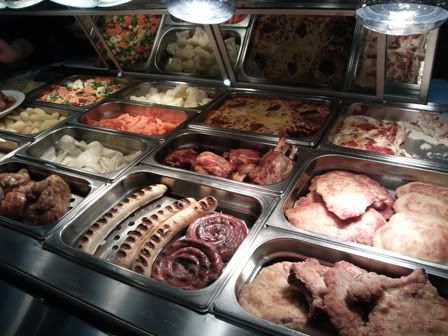 And you pick the cakes you want for desserts from another counter.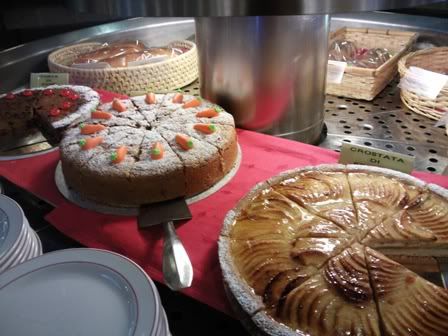 Lot's of foreign looking drinks here, and the drinks here are also very expensive. A bottle of Coco Cola is about 4 to 5 Singapore dollars.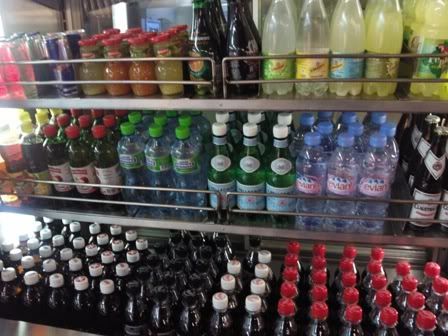 Here we have roast pork with the lump of mashed flour something something. The pork was juicy and tender, but I didn't like that lump of mashed flour.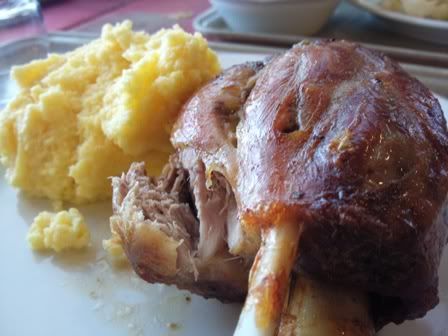 For myself, I ordered a serving of Lasagna. It was tasty and they were generous with the beef.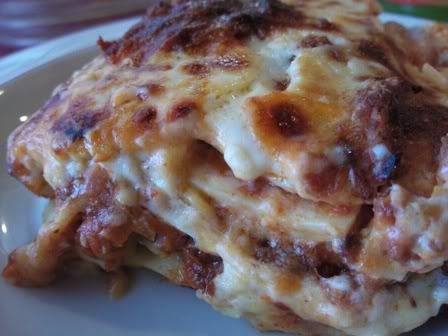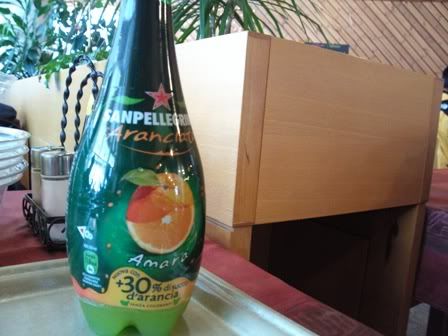 Knorr is big in Switzerland. Almost all their condiments are from Knorr. The "Aromatic" is actually chicken flavoured salt, while the "Condimento" taste like Maggi seasoning sauce.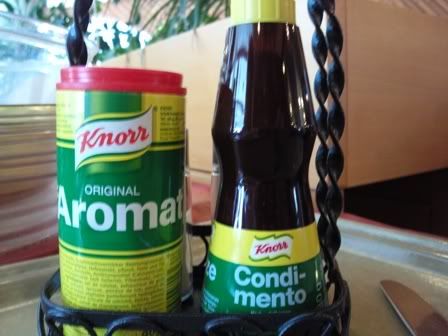 After lunch, we continue our journey to Interlaken.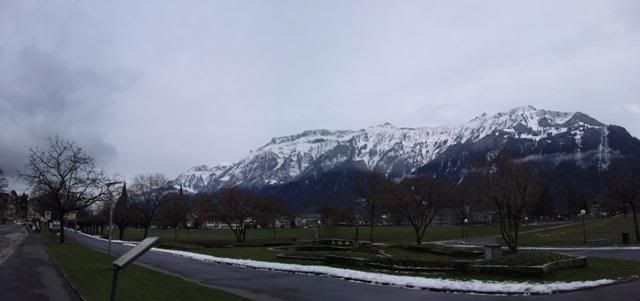 Interlaken is one of the most visited town for people who are visiting the Berner Oberland.
It reminded me of a town centre among the mountains. It is formed after deposits split a huge lake between the mluntains into 2 smaller lakes - Lake Brienz and Lake Thun.
It is very small, and there are 2 rows of shops, cafes and hotels along this road. And that is pretty much. You can walk from one end of the road to the other end in just 20 minutes. The only fastfood there is Macs. There is a small casino there too.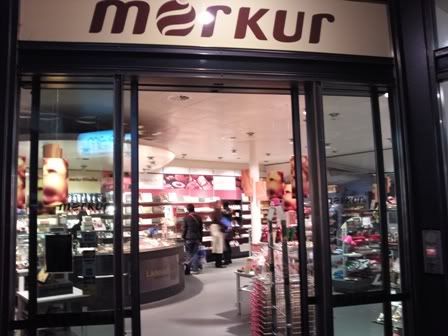 Chocolates chocolates! Switzerland is the home of all Chocolates in the world. And Merkur, one of Switzerland's largest chain of chocolate shops, have 1 big outlet in Interlaken.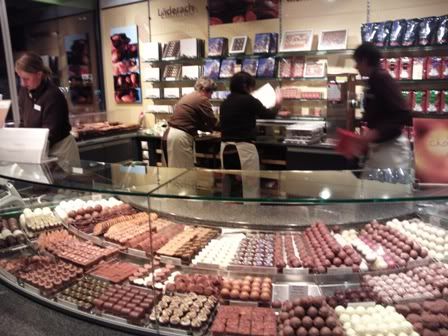 Merkur is now owned by Läderach AG, which is known for its exquisite and fresh chocolate and confectionery specialities which are mostly made by hand.
There are so many chocolates varieties! It's heaven for all chocolate lovers.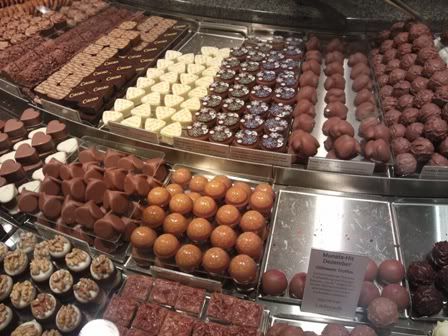 To be frank, I think some chocolate shops in Singapore also offer equally as much varieties of chocolates. But because they are made fresh in Switzerland, I personally feel they are still far more superior than our local made ones.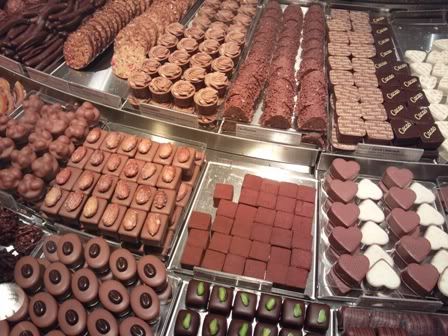 I chose some chocolates. About 7 to 8 pieces makes up 100g.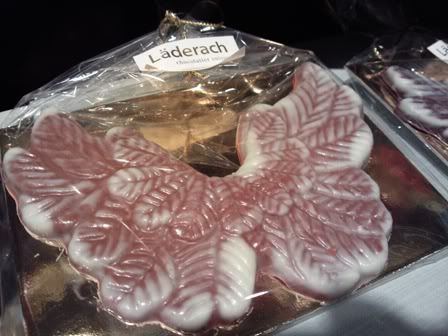 Saw this pretty "wings" chocolates specially made for Christmas.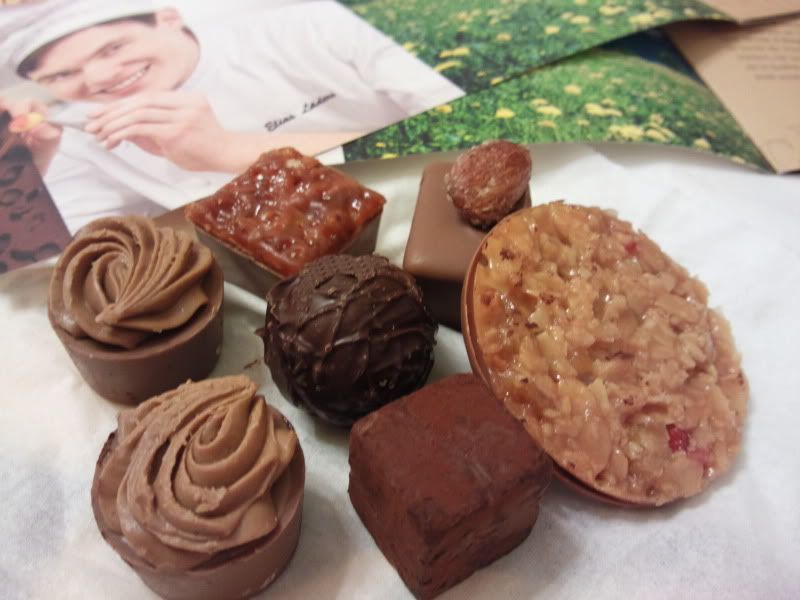 Bought them back to the hotel room. The chocolates are made fresh. The truffles are quite good. I hope someone will bring them in to Singapore one day, as Singaporeans who have travelled to Switzerland would know this brand.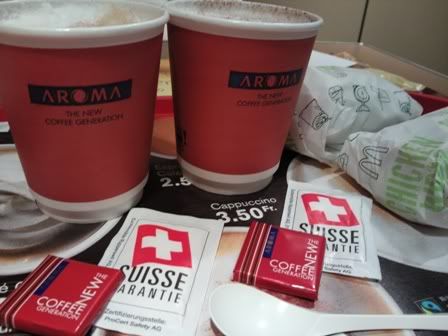 As dinner was some time away, we decided to have some coffee and snacks at McDonald's Interlaken. Ordered their Cappaccino which is way better than those found in McCafe here. 2 small squares of chocolates were also given with our coffee.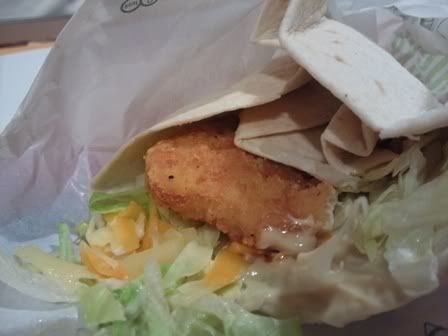 They also had chicken wraps, which cost 2.50 Swiss Francs each. The chicken meat inside is actually half of the McChicken meat patty, with lettuce and this mustard mayo sauce.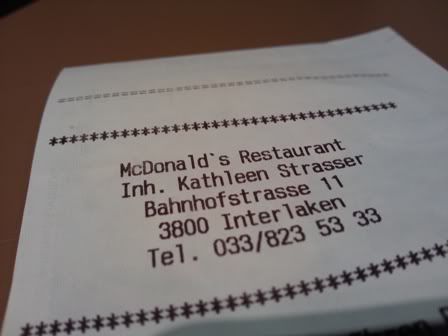 Dinner was at Bebbie's restaurant at the end of Interlaken. It serves traditional Swiss food such as cheese fondue and other Swiss delicacies. The owner of the restaurant entertained us throughout our meal with his witty humour.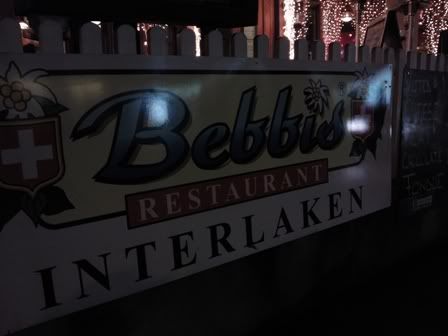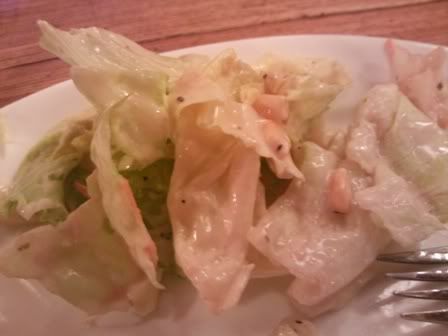 Appetizer was this salad. The salad leaves were fresh, and came mixed with this sourish dressing, which I suspect some vinegar was added. Crispy and refreshing.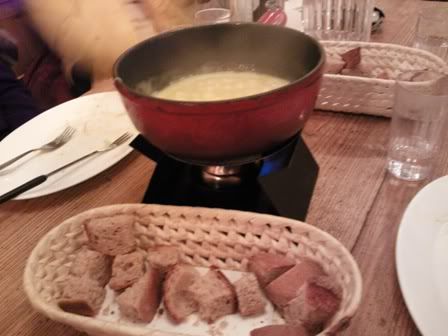 Next up was the cheese fondue. The cheese was not too pungent, but I didn't think there was anything special with this cheese fondue. Basically, you use a metal skewer, and dip the bread into the cheese. Twirl it around and eat it.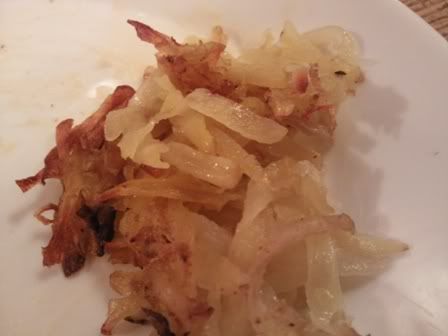 Rosti, a famous Swiss pan fried potato dish, was also served with the cheese fondue.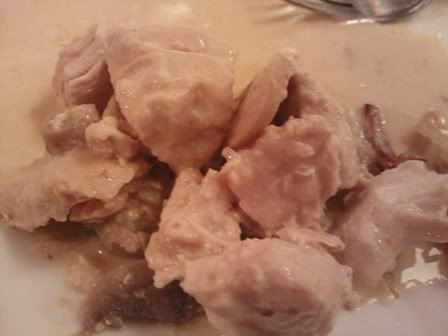 There was a meat dish which I believed was chicken cubes cooked in cream sauce. The meat was not too dry.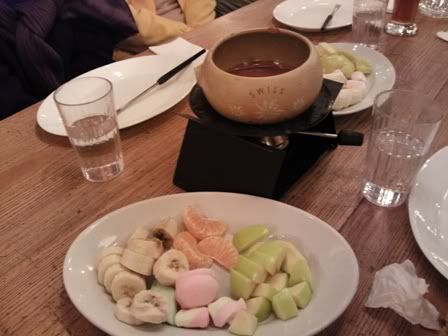 And finally, dessert was chocolate fondue. Small pieces of apples, mashmallows, bananas and oranges were given for us to dip into the warm chocolate sauce. My favourite was the slices of oranges dipped into the chocolate sauce.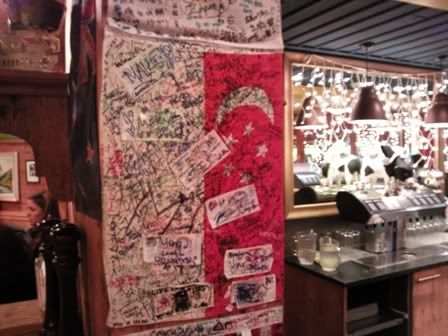 Look at how many Singaporeans have visited this restaurant in Interlaken.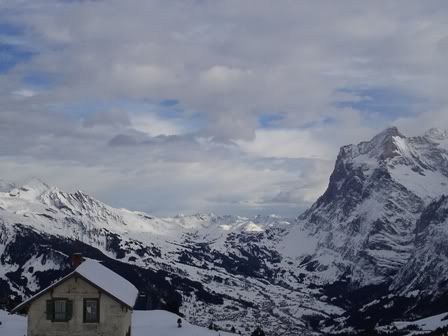 The next day, we took the Jungfrau railyway up. This is one of the most panoramic train ride in the world as passengers can see the amazing alps and spectacular scenery. However, as the weather condition up at the summit of Jungfrau is not ideal, we decided to stop at Kleine Scheidegg, which was 2061m high.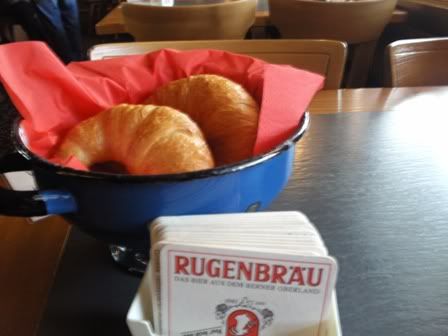 There was a little cafe near the train station and it seems like a good place to replenish our energy.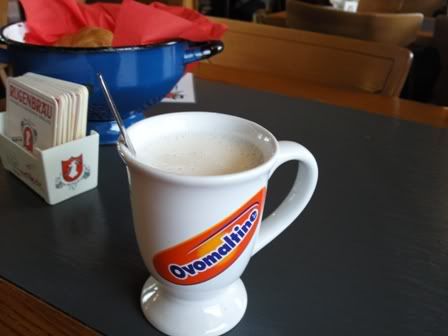 Ordered a glass of warm milk as I was getting tired of all the hot chocolate and coffee I had in Italy. To last long out in the snow, a warm drink is in order for the body to readjust its temperature.

We arrived at Lucerne, a beautiful town overlooking River Reuss and the world famous Chapel Bridge. The river is really beautiful with sprakling blue water, and from here you can see the Swiss Plateau and the Alps.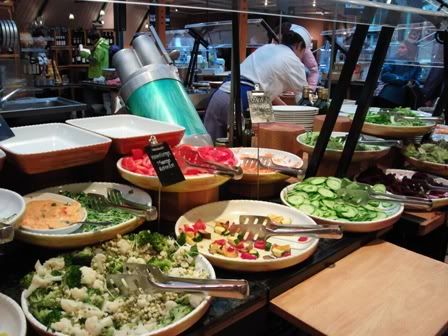 Lunch on Christmas Eve was at the food court of Manor, a major departmental store in Lucern. The food court here reminds you of Marche. Lot's of beautiful fresh vegetable and meat dishes lining the counters here.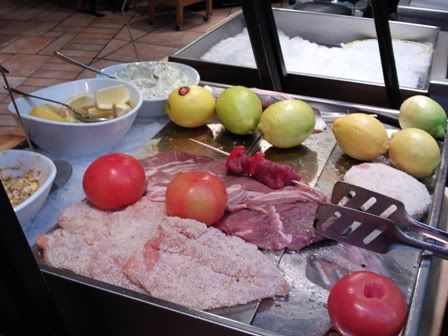 I ordered a "Jaegersteak" (Swiss Francs 14.20), which was quite good as the cook pan fry it on the hot plate stove.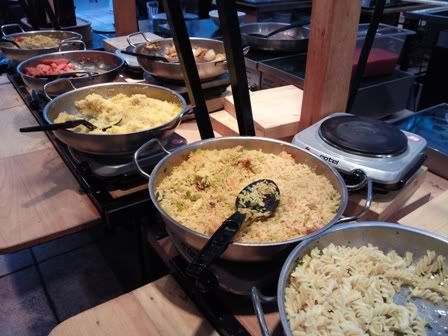 Also ordered 2 sides, which were stir fry vegetables and fried potato wedges.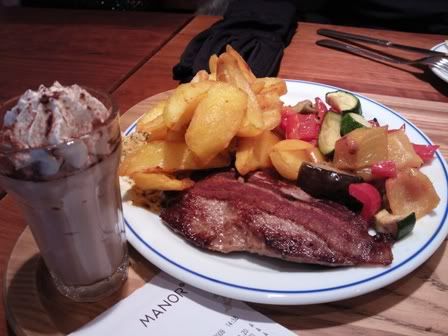 The wedges were quite dry and tough to eat. Think they were left on the table for too long. I love the sweet taste of the vegetables.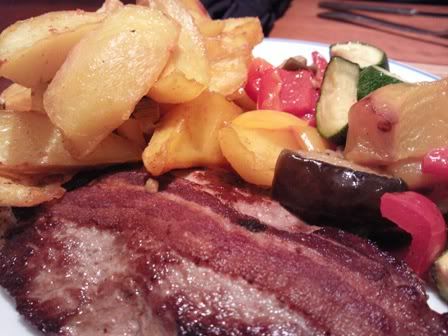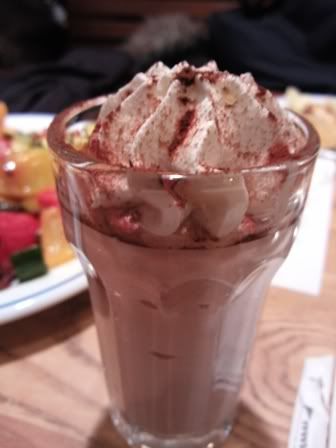 Also had a chocolate moouse dessert which was pretty good. (Swiss Franc 2.30)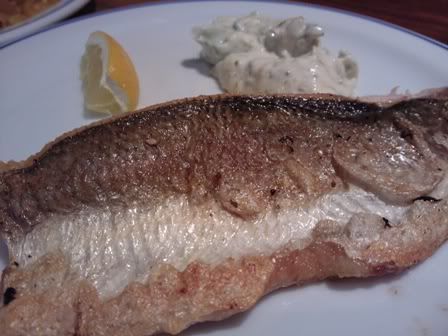 Also tried some of ths grilled fish. (Swiss Francs 12.50)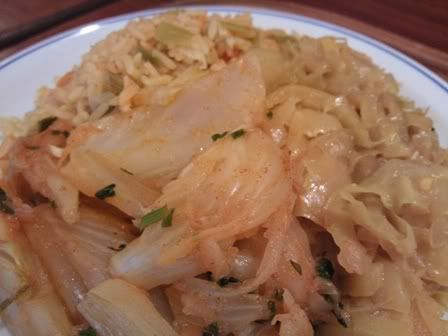 And this rice, onions mixture which I keep referring to as "Switzerland Chup Chye rice" (Swiss Francs 3.30)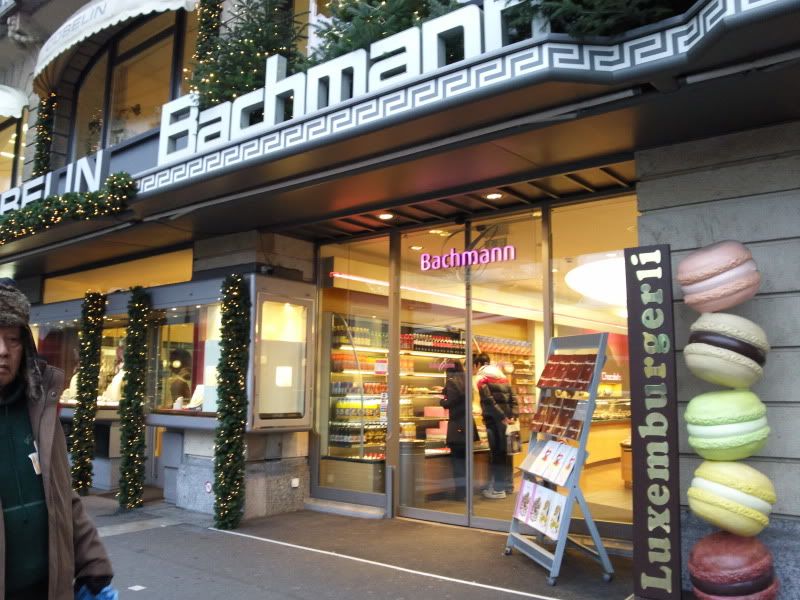 Nearby, there was a shop called Bachmann which sells homemade chocolates and pastry items and sandwiches.
There were also tiny Macrons which I did not try.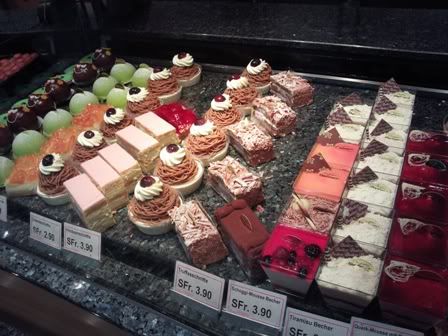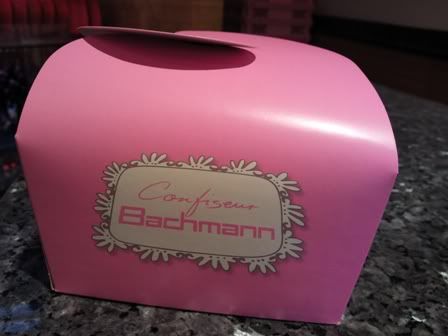 As I was still hungry (blame it on the cold weather), bought a ham sandwich and ate it on the spot.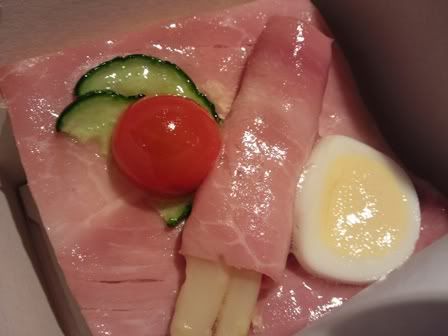 I like the pickled white asparagus. The ham was just normal picnic ham. Looks nice but taste is average.