Europe, the cradle of the Western civilisation.
And this is where for the first time, Sparkling or Still will be featuring some food eaten (good and bad) during a 14 days tour of Europe.
Our 1st stop was at Rome, Italy. Anyone interested in ancient Western civilisation history should make a visit to Rome and Vatican City, when it was the "Washington D.C. pf ancient times" when the Pope was the most powerful person on Earth.

Our 1st lunch was at the Fountain of Trevi. During the ancient times of 1629, the Pope ordered the construction of a fountain because the previous one was not as dramatic as he had wanted. It took quite a while before construction begun in 1732 and was completed in 1762. Neptune who was the God of all Water, was set in the centre of the fountain.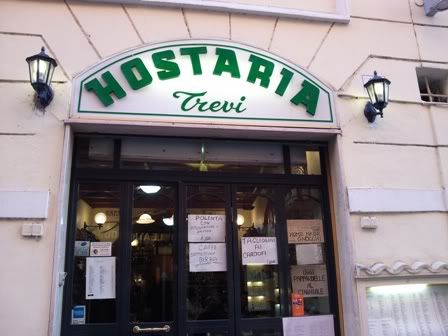 Restaurant lined around the Fountain of Trevi. It's something like the restaurants around our Boat Quay (i.e. Tourist Traps). But we were cold and hungry, and couldn't care anymore. Hostaria Trevi was located just next to the Fountain of Trevi.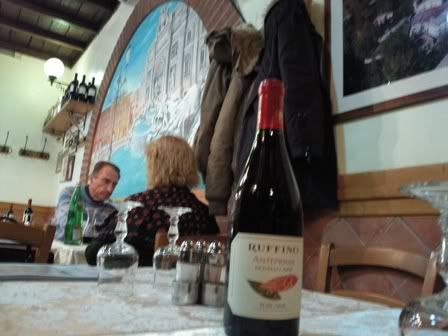 As we enter the restaurant, I was more assured by the sights of Italians eating here. Usually when locals eat at their restaurant, it is less likely that this is a tourist trap.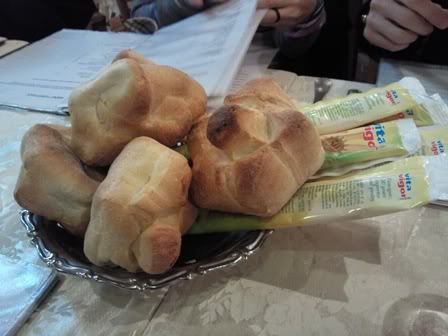 The bread sucks. It's cold, hard and dry. But I like the little sticks of crispy dough crisps. And all the bread served on the dining tables in Europe are not free. Do check with the serving staffs if your set meals include bread.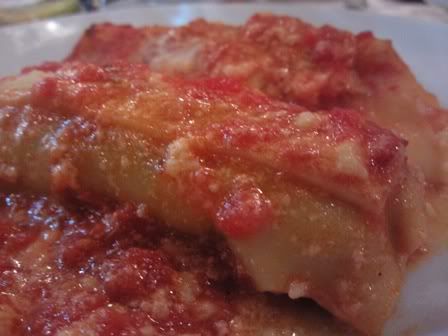 While everyone ordered ala carte, I went for their Tourist Menu. I read before that some European eateries offer set meals for tourists in tourist hot spots which are supposedly catered for the tourist's tight budget. My lunch of 18 Euro includes a soup or pasta, meat dish with a vegetable, dessert (cheese or fruits) and a drink. For my 1st course, I went for a Stuffed Cannelloni. Cannelloni is a flat pasta with a cheese and (or) meat filling. the Cannelloni served to me was good. The cheese was good and pasta sheets were done al-dente. The tomato paste was not too tangy, which is good for me.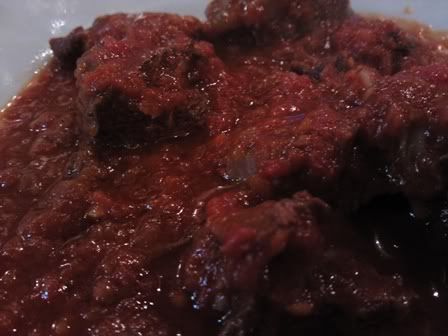 For my meat dish, I had the veal stew. The veal was stewed in a tomato paste. Meat was tender and flavourful.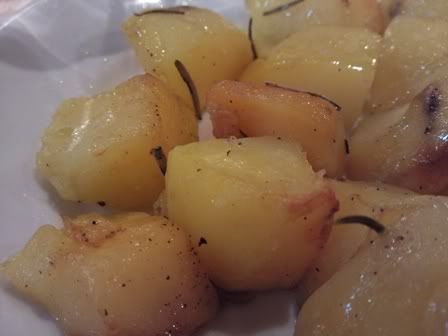 Roast potatoes were served. This was one of the best roast potatoes I had for a long time. It was creamy yet the outer layer was crispy. Some herbs and salt were used to season the baked potatoes.
Ended my meal with a portion of fruits. I noticed that restaurants here tend to serve all canned fruits and not fresh ones. Perhaps fresh fruits were more expensive during winter times.
Hostaria Trevi
da Aldo e Armando
Via Lavatore, 42,
Roma
Tel. 06-6791523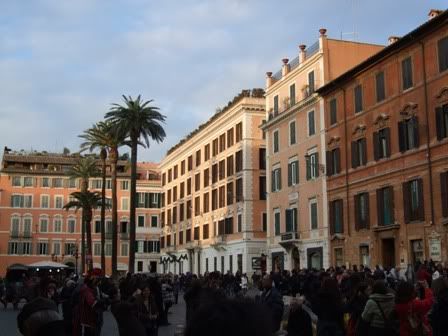 Next stop, the Spanish Steps which is the Orchard Road of Rome. It is called the Spanish Steps because a flight of stairs (the longest and widest in Europe) links the Spanish embassy to the Church of Trinità dei Monti at the top of the hill. All the top brands were here. LV, Hermes, Prada, Armani and even our neighbour's Jimmy Choo.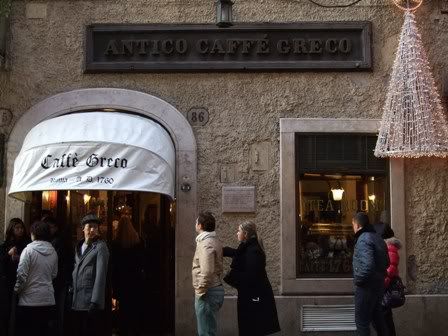 I have read in the Wallpaper's guide book to Rome that Antico Caffe Greco is a must visit when in Rome, especially if you are a coffee lover. This cafe opened its doors in the year 1760 and till today is still serving coffee to Italians.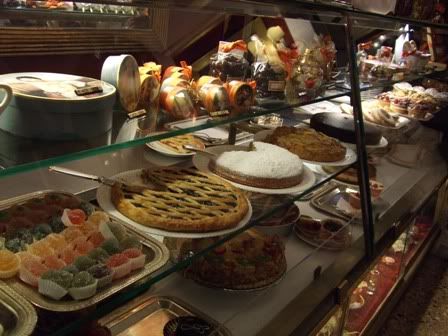 One reason why this cafe is so famous is that it was frequent by many historical famous people and writers. And of course, it serves lot's of Italian desserts and chocolates, and of course coffee.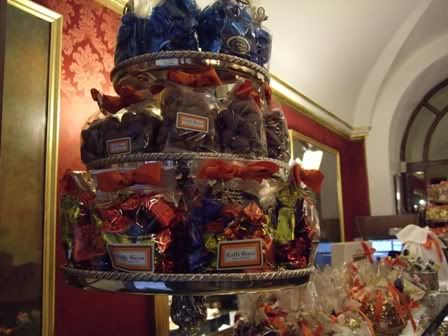 I bought some chocolates from Caffe Greco and they taste absolutely delicious. Much tasty than their Swiss or French counterparts. One of their best chocolates is this gold foil wrapped chocolate with a creamy hazelnut chocolate filling. I regretted not getting the larger pack.
At the end of the cafe, there is this VIP area in red. And next to the VIP area is their rest room. There is a toilet attendant outside of the toilet making sure that only people with receipts from the cafe are allowed to enter the toilet.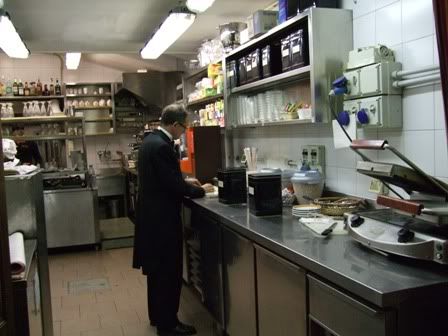 Their coffee and pastries are made in this tiny kitchen. It is quite amusing to find a serving staff in a coat making coffee in the kitchen.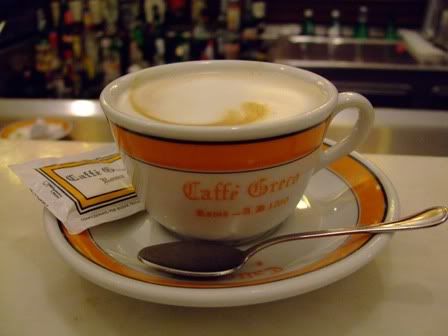 Well, here is the Cappuccino, and it is the BEST Cappuccino I have ever tasted in my entire life.
The milk foam on top is so creamy and the coffe is very smooth. I will definitely make a trip to the Spanish Steps just for this coffee if I am in Rome next time. Do note that ordering the coffee and drinking it at the standing bar counter is much cheaper than sitting inside the cafe. And this applies to all cafes in Europe.
Antico Caffè Greco
Via Condotti 84
Roma
Tel: 06-6791700
While in Rome, we had the chance to visit Vatican City. It was fascinating looking at the statues and arts pieces commissioned by Popes from the ancient times. The churches and chapels were of a scale unimaginable even today.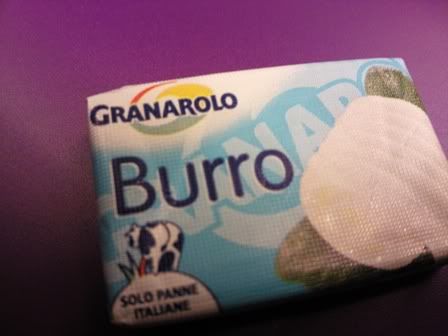 We had our dinner in the hotel. And it was the coldest night I have experienced. I believe it was minus 7 or 8 and it was said to be the coldest winter ever in Italy for the past 30 years. That is why it's important to stock up on some fattening butter to bulk up our fat ratio to fight the cold.
The pasta was, well pasta. Nothing special but nothing bad either.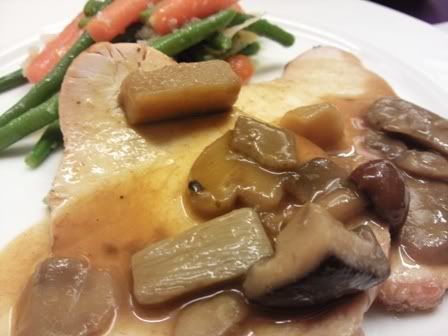 Turkey slices with mushroom sauce and vegetables. Fortunately the turkey slices were tender and not dry.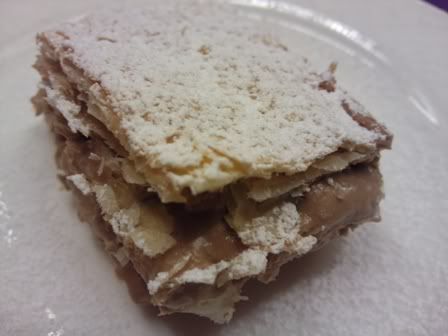 Dessert was this strudel pastry with chocolate mousse.
Hotel Novotel Roma La Rustica
Via Andrea Noale 291
00010 Rome
Tel: (+39)06 227661